What if you could start your week off with profits?
That might just take the edge off the rest of the week, letting you focus on your best trade setups without worrying so much about each tick.
Well, that's why I love my Profit Prism trading strategy…
I key in to specific patterns at the end of the day that have the potential to make big moves the next morning…
And it's no different on a Friday… I'm just cashing in Monday morning to start the week off with a bang.
Today, I just hit on 3 winners in a row with my picks for the long holiday weekend.
And it's not really that complicated either.
In fact I'll walk you through it in a matter of minutes…
Hexo shot up last Monday… and pulled back just as fast.
I actually see this a lot in penny stocks.
And when I do see it, I keep my eye on what happens next.
In this case Hexo pulled back but found support around the beginning of the move.
My entry on a setup like this is when the stock makes a good move off of the new support… and that's what I got on Friday going into the holiday weekend.
Notice the size of the candle on the move up and the big spike in volume.
This was telling me there are buyers getting behind this move and it's likely to carry over to the next day… likely with a gap up from the strong momentum.
And that's just what I got… waking up to a gap up and nice 19% gain after relaxing over the long weekend.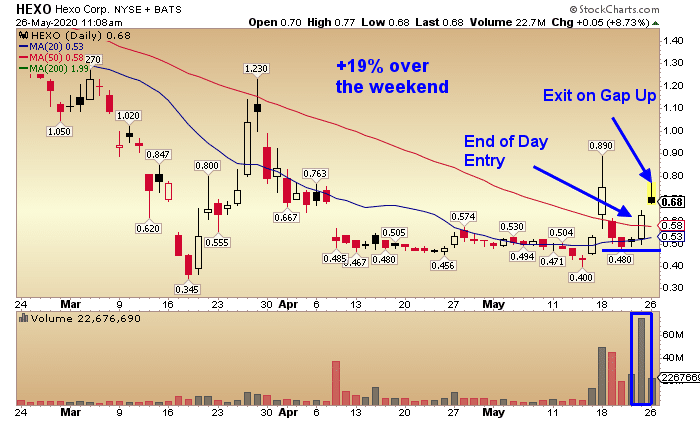 Of course my members are right there with me with trades of their own.*

Fred even took an options trade off the alert… with a bigger return than any of us.*

Transportation and Logistics Systems Inc. (TLSS)
Here's my second winner of the day.
TLSS set up last Wednesday. I entered at .062 as it was pulling out of a consolidation range and trading above the 50 day.
The key to getting me in was the large volume on the move up… and the fact that TLSS was trading strong into the close.
People wanted to be in this stock, and so did I.
The profit was there Thursday morning and I took some off early, but I really liked this stock so I held on to some of it for a bigger move.
And that's what I woke up to this morning… TLSS blasted off. Up 100% from my trade alert when typing this. Learn how to find stocks like TLSS
Of course I didn't capture all of that, but with quick double digit returns over and over… I don't need to.
I just need to get my profits and move on to the next trade. Hold on too long and you could be holding the bag when the stock pulls back just as fast as it went up.
My members know what I'm talking about.*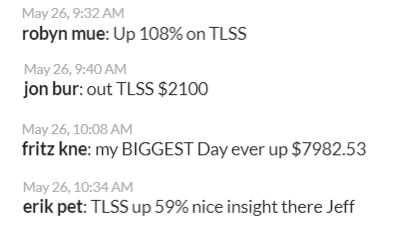 Heat Biologics Inc. (HTBX)
3 for 3 on the day… Heat Biologics…
After a good pop up a few days ago, HTBX paused staying in the upper range of the breakout bar.
Friday when it began another strong move up on strong volume, I jumped in to hold it over the holiday weekend.
This morning I cashed in for my 3rd win to get this week started fast.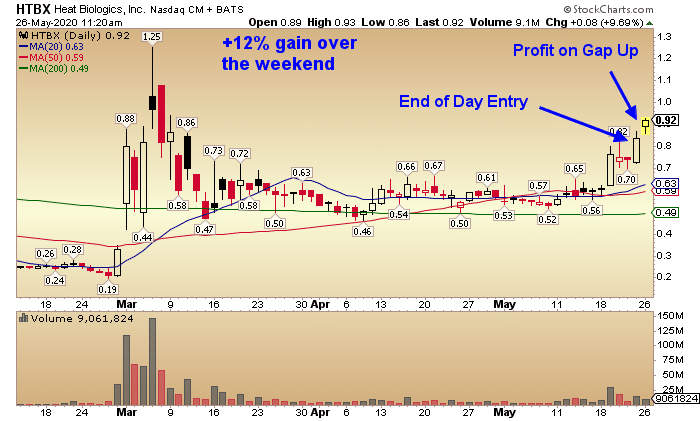 And of course my members find ways to trade alongside me.
But I encourage and teach them to make it their own.*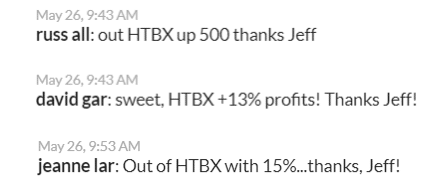 None of that is super complicated…
And this Thursday May 28 at 3pm EST, I will be going live to share all the details of my strategy…
Including the custom scan I use every day to find trades just like these.
Space is filling up fast, so register now and secure your front row seat to all the action.
*RagingBull.com, LLC utilizes select testimonials depicting profitability that are believed to be true based on the representations of the persons providing the testimonial. However, trading results have not been verified and will vary widely given a variety of factors such as experience, skill, risk mitigation practices, market dynamics and the amount of capital deployed. It is easy to lose money trading and we recommend educating yourself as much as possible before you even think about trying it. Past performance is not necessarily indicative of future results.