The market is trading pretty flat today…but that doesn't mean every stock is flat.
When the market isn't moving, it's time to key in on stock-specific news.
When a company releases good (or bad) news, the market's direction (or lack thereof) usually can't stop what's going to happen.
And today I've pulled up 3 stocks with their own reasons to move…company-specific news.
Do I just jump in when good news hits the wires?
Of course not…
I still follow my rules. If there's a setup within the confines of my strategy, with proper risk/reward, I'll take a trade.
If not…I just let it pass. There will always be another opportunity in the market, so I try not to let myself get caught up in the moment and stay away from FOMO trading.
Here's a look at the 3 news related stocks I'm eyeing today and what I'm seeing in the charts so far.
Announced a $90 million private placement at $3.70…
The stock popped up in October when the FDA lifted a clinical hold on its IGNITE DMD Phase I/II clinical trials.
SLDB then trailed off finding support at the 200-day moving average.
In December, the stock was consolidating in the 3's. And today it's up significantly on a gap out of the consolidation range.
While issuing more shares isn't always a good thing. Sometimes the capital raised is critical to the company's growth, and that's what investors focus on.
In this case, investors have pushed the stock up big. We'll see what happens next.
I'll keep an eye out for support at the consolidation range in the 3's, and resistance at the next chart high of $4.97. Well, when I started writing this, it was under $5.
It was running so fast, it blew right through the previous chart high at $4.97 and now it's facing the spike to $6.10 in early October, but hit resistance on its way.
I'll have to be patient and watch for new support levels to form for better view of what's next here.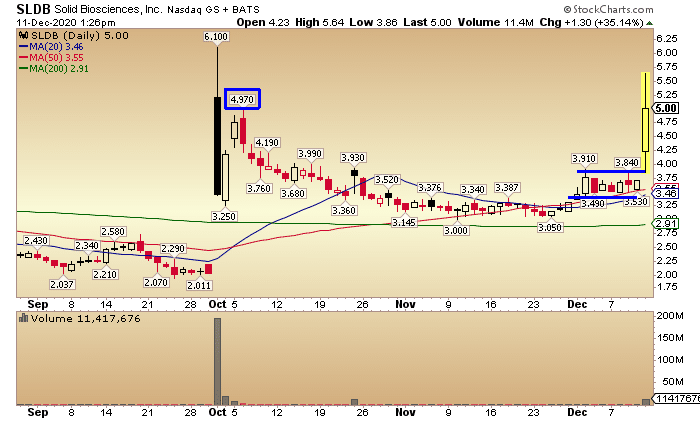 LiveXLive Media, Inc. (LIVX)
LiveXLive Media is a platform for livestream and on-demand audio, video and podcast content in music, comedy and pop culture, and owner of PodcastOne.
Yesterday the company announced that its board of directors has authorized the repurchase of up to two million shares of its outstanding common stock from time to time.
So it's not that it is automatically buying them, but that they are authorized to do so…and the CEO commented that they don't believe the current stock price reflects the value of the company.
On that news, the stock popped out of a flag pattern today, trading at about $3 at the moment.
LIVX stock was trending down since July before forming the flag pattern going into this announcement.
It's trading close to the next chart high of $3.26, so I will likely just keep an eye on it for now to see how it reacts at this level.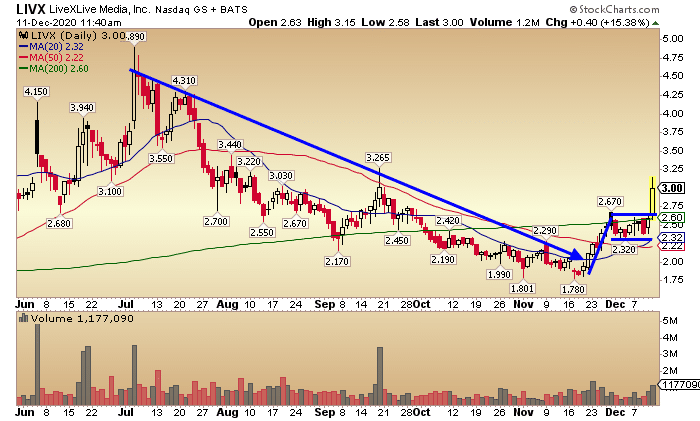 BioCryst Pharmaceuticals, Inc. (BCRX)
On December 4, BioCryst (BCRX) stock gapped up after receiving FDA approval for Orladeyo, a once-daily orally administered non-steroidal option for preventing hereditary angioedema attacks.
It continued that move for a few days before consolidating stalling out near $8, making a new 52-week high in the process.
Today BCRX broke above recent highs.
With news being favorable lately and a short interest of 21%, it has the possibility for some bulls to put a squeeze on the shorts.
I'll be watching it this afternoon to see if volume picks up and whether it can hold the highs or not.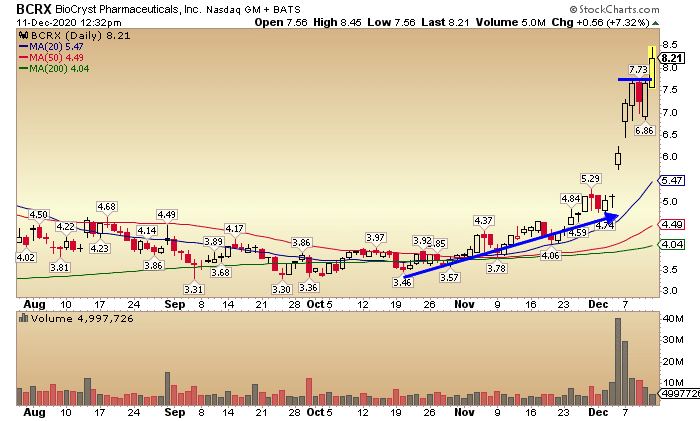 ---
Today's Stocks To Watch
VTVT         +54%
UAMY        +17%
TRCH        +17%
XXII           +16%
AMPE        +16%
AESE         +15%
ARDX         +13%
---