Bitcoin has been ripping up this past week.
The price per dollar is just over 11% below the spectacular all-time highs set back in 2018  when it sold off immediately after hitting almost $20k per Bitcoin.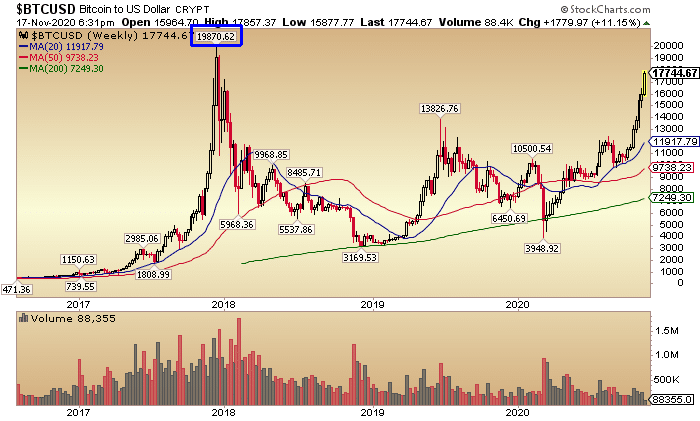 There's nothing fake about this move however…
The U.S. Treasury's printing presses put in a lot of overtime work this year…and will likely be picking back up on a renewed push for more stimulus…
Add in the fact that we are in the middle of a presidential regime change, one that leaves us guessing at how much more money will be thrown around and what the tax implications for corporations will be.
All of this makes for uncertainty in the U.S. dollar over the next year.
And with that…investors are flocking to Bitcoin…the once unknown speculative crypto-currency is now the new gold.
Well maybe that's a reach…but maybe not. Many would argue that side, which points to a big change in the way Bitcoin is being viewed by the mainstream.
And that is why we are seeing Bitcoin take off. It's the new hedge to an uncertain dollar…and then some.
So what if you can't bring yourself to buy Bitcoin? Afterall, you had plenty of opportunities down around $4k per coin.
Well as a trader, I don't need to be worrying about chasing things…
The fact is, there is renewed interest and that in turn brings trading opportunities.
So today, I'm sharing a list of stocks that I'm watching for trading opportunities based on the renewed love for Bitcoin.
Riot Blockchain focuses on building, supporting, and operating a Blockchain technologies ecosystem.
It is involved in digital currency mining operation, and holds interests in various activities, including purchasing and selling digital currencies; provides accounting, audit, and verification services for blockchain based assets, such as cryptocurrencies; and develops TessPay, a payments ecosystem for component and sub-component supply chain settlement solution, as well as other blockchain solutions for telecommunications companies.
The company was formerly known as Bioptix, Inc. and changed its name to Riot Blockchain, Inc. in October 2017. Riot Blockchain, Inc. was founded in 2000 and is based in Castle Rock, Colorado.
After hitting a low of just $0.51 in April, RIOT has been trending up nicely, now over 1,000% higher than the low.
That may seem insane but the recent rally is being fueled by the price of Bitcoin, which is on a tear.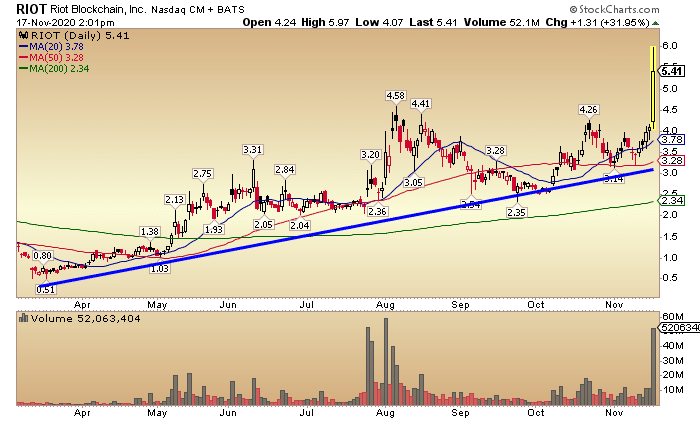 And if you go back to the insane valuations during the first Bitcoin craze…
RIOT hit a high in the mid 40's back then.
In no way am I pointing to those highs as what's to come…
With RIOT making new highs on the year, the next high on the chart is above $6 from 2019 and then mid 8's to the $10 range in 2018… 
Those are more realistic resistance areas to look at for me.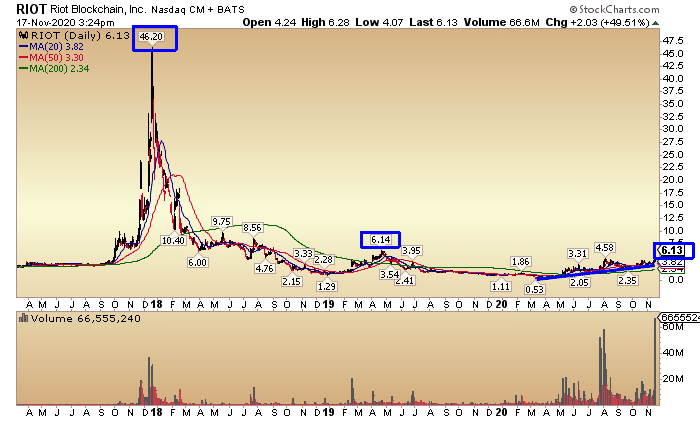 Marathon Patent Group (MARA)
Marathon Patent Group (MARA) operates as a digital asset technology company that mines cryptocurrencies.
It owns cryptocurrency mining machines and a data center to mine digital assets in Quebec, Canada.
The stock made a big move up in August hitting a high of $5.25 before falling back to $1.48 where the stock found support at the 200-day moving average.
From there MARA has set up in a stair step pattern with a higher-high and higher-low… set to make a new higher-high if it can hold a move above $3.11.
(learn how I use this pattern with my personal trading strategy)
From there the next chart-high is at $4.19.
Overstock.com Inc. (OSTK)
We all know Overstock.com…the online retailer.
But not everyone knows about their goals to develop and commercialize financial applications using blockchain technologies.
They are doing this under a wholly owned subsidiary, Medici Ventures…which holds a number of companies related to blockchain technology development, including the news worthy tZERO.
So while OSTK recently reported growth in retail sales during 2020, the year of the pandemic…
For those long-term blockchain and bitcoin enthusiasts, this is a potential longer term play in the space…and don't think that monster move to $128.50 was simply based on retail sales alone.
As far as today goes…
OSTK is down around 50% from it's high in August. The stock tested support at the 200-day moving average and is trading up from there.
Trades can be made off support at the 200-day, but the chart isn't showing me a specific setup here.
It's important to use proper risk management and have a strategy that you trust. (Learn my strategy Here…in my Stock Profit Pro Trading Room)
Without that, you're setting yourself up for failure.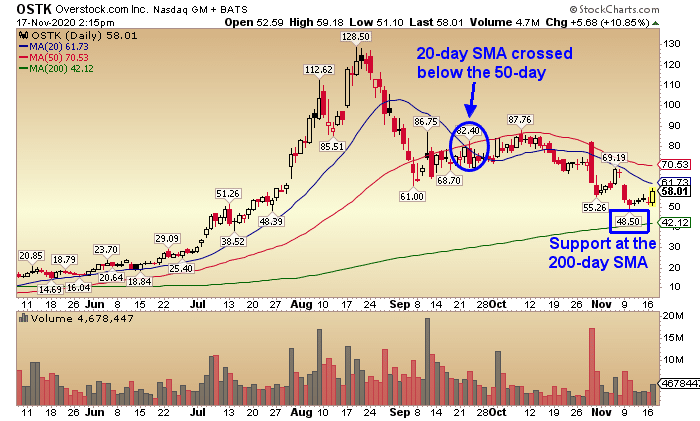 Bitcoin Services, Inc. (BTSC)
And then there's Bitcoin Services, Inc. (BTSC), a bitcoin mining and blockchain software company.
The stock has been trading in a really tight range for months and just spiked up to .0236 on the Bitcoin excitement.
Now trading back down into the range, I'll be watching for any signs of another spike to test those highs.
I wouldn't put their prospects of turning a big profit very high and when it comes to investing, this is the type of company I stay away from.
But I'm not investing here…I'm trading.
And little moves in a stock like this translate into big percentage gains.
Of course that's as long as I stick to my trade setups and risk management…and don't buy based simply on hope or hype.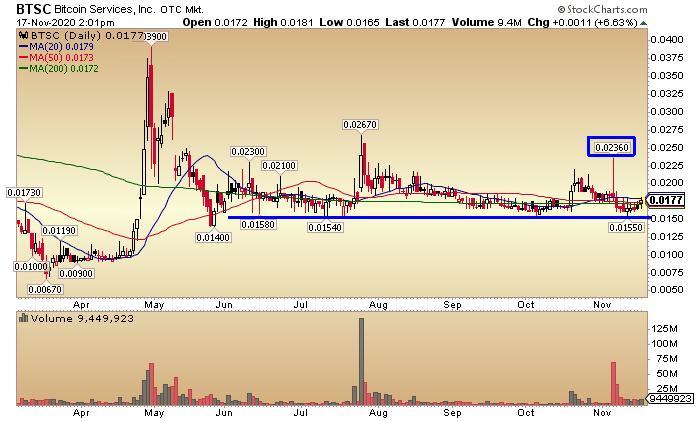 When it comes to the specifics of what gets me into a trade…
You can learn it all with Stock Profit Pro…click here to Join!
---
Stocks To Watch Tomorrow
ZOM        +47%EVGN      +23%
NETE      +23%
NXTD      +21%
PRTY      +19%
KNDI       +17%
---
To get the most out of your trading, you need to be in my Live Trading Room.
This is where I spend the majority of my day…trading, teaching, and having fun with over 1,000 members.
Learn the strategy, see it live, trade with friends, and do it every day…