Trading around key levels in stocks is fundamental to making money.
A key level is basically an area on a chart that could have increased or decreased buying or selling pressure.
This can be support and resistance levels, moving averages, gaps, consolidations, etc.
It's important to focus on areas like this so you aren't just spitting in the wind.
If you know that resistance is just 2% above, you don't want to buy going into resistance and potentially get knocked down when the sellers step in…
You would wait for the stock to break the resistance level on increased volume so you can take advantage of an increase in demand as the buyers push the sellers out.
For this reason, I've always got my eye on stocks that are picking up momentum around key levels like this.
And you can check out the 4 stocks I'm watching today.
United States Antimony Corporation (UAMY) produces and sells antimony, silver, gold, and zeolite products in the United States and Canada.
UAMY has been wedging over the past three months and is beginning to break the upper side of the wedge.
Next chart highs are at .52 and .73.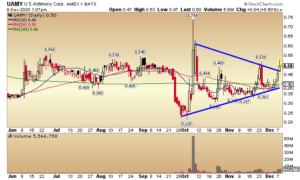 Oncternal Therapeutics, Inc. (ONCT)
ONCT gapped down to the $3 range in mid November on a secondary offering.
After consolidating in that range, the stock gapped back to $4 finding some support there it's trading up off that support today.
If it gets the momentum together to roll through yesterday's high, it could be looking at a move to $6 range.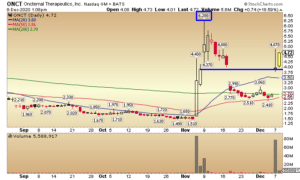 Ashford Hospitality Trust Inc. (AHT)
Bottoming out and consolidating in the mid 1's…AHT has been making quick moves into the 5's before pulling back and doing it again.
Most recently, the stock bounced off the 50-day moving average on Dec. 1 and is picking up momentum trading in the 3's today…currently up 15%.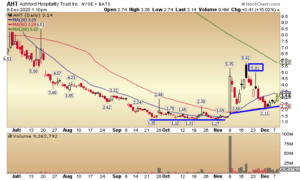 Cinedigm Digital Cinema Corp. (CIDM)
Cinedigm Corp. (CIDM) operates as distributor and aggregator of independent movie, television, and other short form content in the United States, Canada, and New Zealand.
CIDM is making a move on expansion and reduced debt.
After gapping up Friday and trading down from there…The stock broke above the high of the gap day this morning but has since pulled back a little.
The resistance level after the previous high is at the 200-day moving average of .94.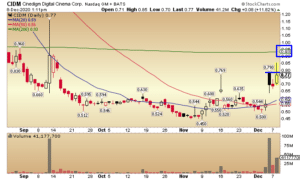 I break down the charts every single day in my Stock Profit Pro trading room…so you can learn live.
If you didn't join up during the last open enrollment period…you'll have to wait a little longer.
But that doesn't mean you'll have to wait to learn the strategy or start receiving alerts you can learn from…
Join Profit Prism Today…and you'll be on your way to trading like a boss.
---
Today's Stocks on the Move
LXRX        +101%
BDR          +25%
GTE          +21%
ARPO        +18%
BTU           +18%
RGLS         +16%
PLG           +15%
---
Don't waste any more time without a strategy or trading plan…
With Profit Prism, you'll get my nightly video watchlist with details on the exact levels I'm watching and what will get me into a trade.
You'll also get my full educational suite to learn everything you need to make this your own, along with trade alerts of trades I take with my own real money.
What are you waiting for?