The market has been going through a lot of twists and turns with a lot of bumps along the way… and traders are still trying to figure out what's been going on with the trade war, yields, the currency crisis, and whatnot.
I've actually been able to ignore those headlines by focusing on an area that simply doesn't care what the market does.
Just by doing that, I'm able to save time because I don't need to read between the lines and try to figure out what's going on with the overall market… that means I have the freedom to spend time with my family… and I don't need to stare at my screens all day.
Not only that, but I'm able to just focus on my best money-making opportunities out there… like this winner in TTCM using my latest strategy Boost.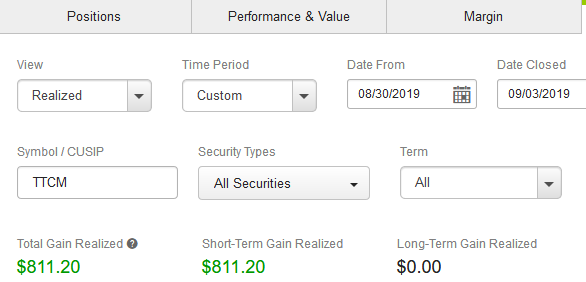 (I bought TTCM while I was on vacation and sold it just a few days later in my small account using the Boost System)
So how am I able to avoid getting whipsawed and sliced up by this market volatility?
Simple.
Focusing on penny stocks.
Just take a look at some of Wall Street's top gainers yesterday… while the market was selling off.

You'll notice a bulk of them were stocks trading under $5… and that's what my latest strategy focuses on… positioning yourself to take profits in these massive gainers.
So why do I primarily focus on penny stocks?
Well, if you don't know why yet… after you read this, you'll see why trading penny stocks is the one way to navigate through this volatility mess.
On any given day, you can check the scoreboard and you'll see penny stocks post some massive gainers… even when the market is down or bouncing all over the place.
Why?
Well, think about it like this… these companies don't really have anything to do with the market because they're in the early stages.
What that means is their revenues and earnings aren't really affected by tariffs and trade war headlines. 
Instead, penny stocks are valued primarily on their potential, as well as technicals (my bread and butter) and hype sometimes.
However, the solution isn't buying and holding a bunch of penny stocks… thinking you'll be able to find the next Apple Inc. (AAPL) or Amazon.com (AMZN) because that's one of the quickest ways to lose money.
Instead, I like to focus on charts and what's hot – trading in and out of these stocks. They're trading vehicles and don't make too much sense, in my opinion, to invest in them.
So how do you find penny stocks to trade?
Well, for the most part, I stick to my charts…
… and I look for things like moving average breakouts.
For example, take a look at SPY on the 15-minute chart when the market was selling off hard in mid-August.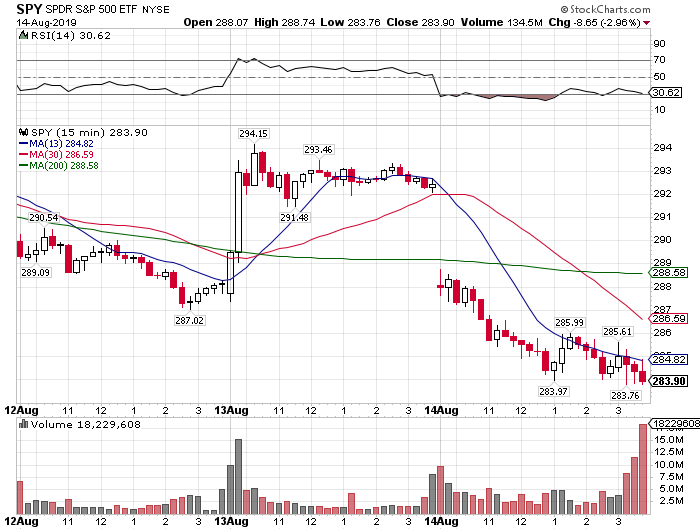 Now, take a look at this daily chart in Lans Holding Inc. (LAHO).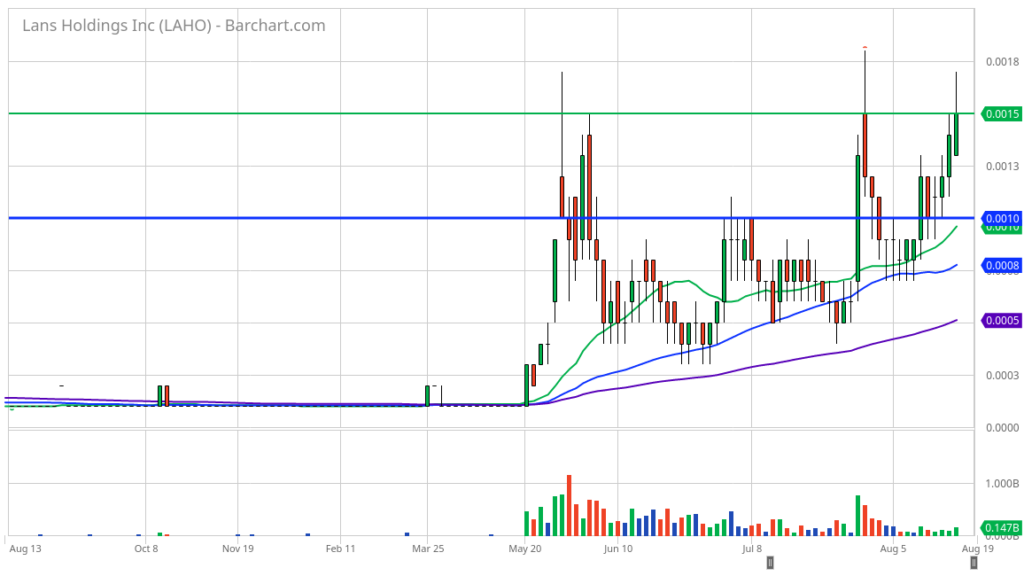 If you look, while the market was selling off… LAHO was actually going up and approaching a resistance level.
I actually bought this stock when SPY was getting hammered.
Why?
Well, it's a penny stock… and we know it doesn't care what the market does… but what actually got me into LAHO was the fact that it pulled back to the 50-day simple moving average (SMA)… and broke back above the 20-day SMA.
That let me know there was a lot of demand for the stock. Not only that, but LAHO looked like it was going to break above a key Fibonacci retracement level (right around $0.0010) – that was a resistance level.
So once I saw LAHO break above that… I figured it could run up to the green horizontal line (the next level of resistance. 
The very next day, LAHO actually got right near my target… and I was locking in a 27% return (or $900 on my small account).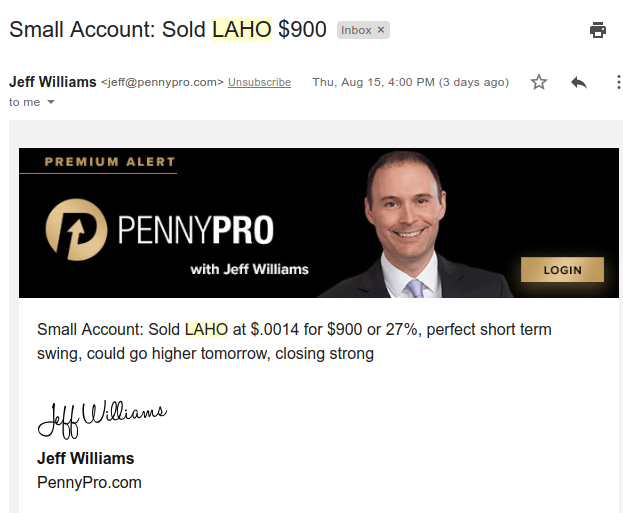 The thing is… I'm not the only one profiting off my patterns… in fact, some of my clients have been crushing it…
"got my small account up to 6k started at 3k" – Casey T.
"im almost at 6000 from 2000 start !! you guys are awesome !!!" – W.M.
"Been with Jeff for over 6 yrs he's the best a straight shooter for sure and awesome trader. What he does with small account challenges is incredible.. ! He also provides second to none teaching and makes it a fun place to be!" ~ Ian L.
The beauty of trading penny stocks is the fact that you don't have to focus on what the market pundits are saying… and whatever the overall market is doing doesn't affect your trading style.
Sure, I've found success trading penny stocks and returned 275%, 220%, and 600% ($5K into $35K) on three separate accounts in 2018…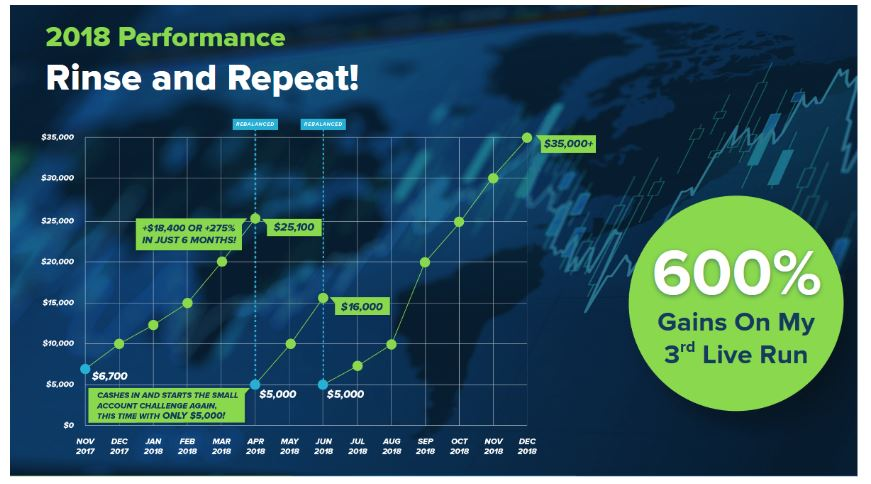 … but I've actually learned a lot from these small account challenges, as well as my most recent one.
I've finally come up with a way that can help you build your account at a FASTER PACE than EVER.
I've kept this a secret for a while so I could diligently work through all the kinks… and I'm finally ready to share ALL the details with you LIVE tomorrow at 8:30 PM EST.
I won't be holding anything back as I sit down in a rare interview with Jason Bond… and I will prove to you that you can "predict" your profits and find tomorrow's top gainers BEFORE they spike up.
If you think making $30K on a $5,000 account in just a few months can better your life, then you'll want to tune in for the reveal of my Boost System because I think it can perform a heck of a lot better than that.