Last Friday I keyed in on a little company called Westwater Resources, Inc. (WWR).
What's so special about them?
At first glance… Nothing.
It's just a little company that focuses on developing specialty minerals like lithium, graphite, uranium, and vanadium deposits.
And with just over 8 million shares outstanding and a stock price in the $2 – $3 range at the time, that's a market capitalization of just $20 million.
To put that in perspective… you're probably used to seeing companies with market caps in the trillions… think Apple, Google, and Amazon.
So I would be surprised if any of you had ever heard of Westwater before this.
But if you look at where the stock opened last Friday… it shot up over 400% to the high yesterday.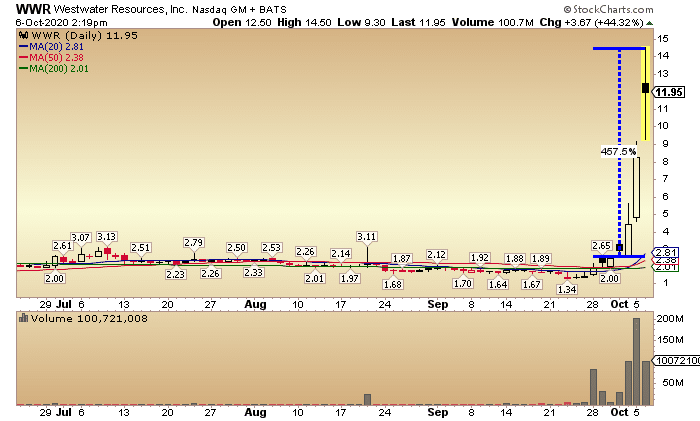 So while a couple weeks ago you probably wouldn't have paid any attention to a company like this…
Just one glance at that chart and you're certainly wondering how you missed it…
But don't worry, I'm going to walk you through what I saw last Friday that had me sending a trade alert to my Weekend Wiretaps members… 
…and jumping in for the weekend.
So now you know what they do… but what sent the stock flying?
Well it's all related to the President's Executive Order to address the threat of our reliance on critical materials from foreign sources.

                                  Source: White House
Critical minerals like the graphite found in a deposit in Alabama, which WWR is working to develop.
Westwater is now looking at the order to see how they can best use it to help open up new possibilities in financing and development.
Now that we have a catalyst, let's look at the chart setup.
The Setup
With my Weekend Wiretaps strategy, I'm using a specific set of criteria that keys in on stocks that have the potential to gap up on Monday…
By looking at volume, price action, and a few simple chart patterns… I am able to narrow in on the stocks I think have the best potential to start the week strong.
With the news release putting a catalyst behind the stock, now it's just about finding a setup that matches the criteria for a weekend run.
The order was signed on September 30…
After consolidating for months, you can see the stock began to react… breaking out of it's long down trend to the upper range of the consolidation… but it didn't totally take off yet.
It's a really small company so it can take some time for people to catch wind of it..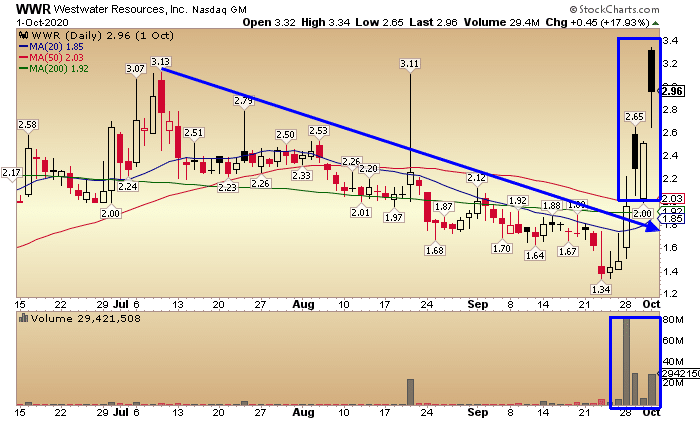 So moving on the chart below…
On Friday, volume spikes up even more as WWR breaks out of the consolidation range with a big move up.
This is when I get my signals to enter and send an alert to my Weekend Wiretaps members… grabbing shares at 4.60 and 4.79.
I trust my strategy and because of that… All I have to do now is go about my Weekend as usual.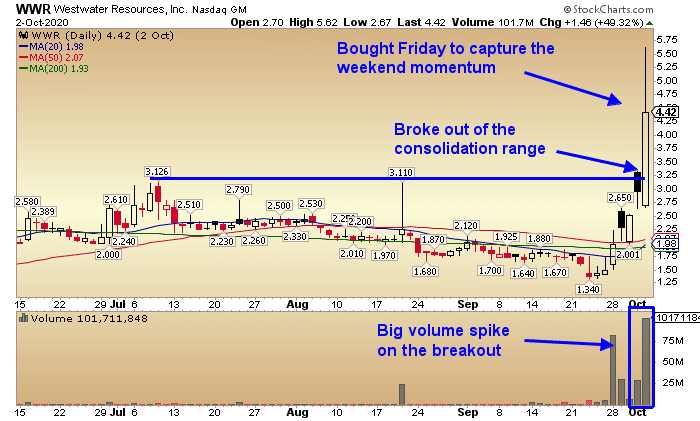 Then on Monday, the company announced their agreement with the order…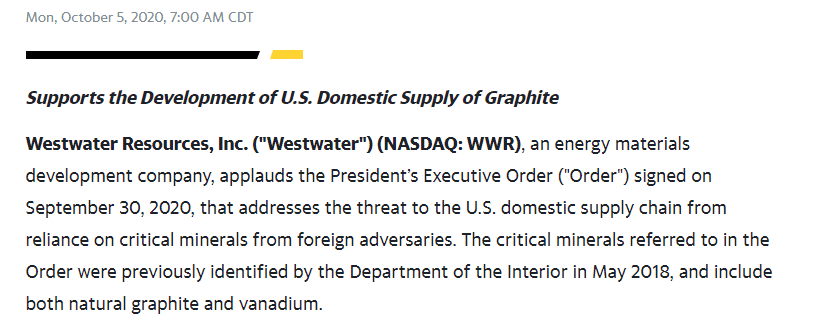 And just look at what happened next…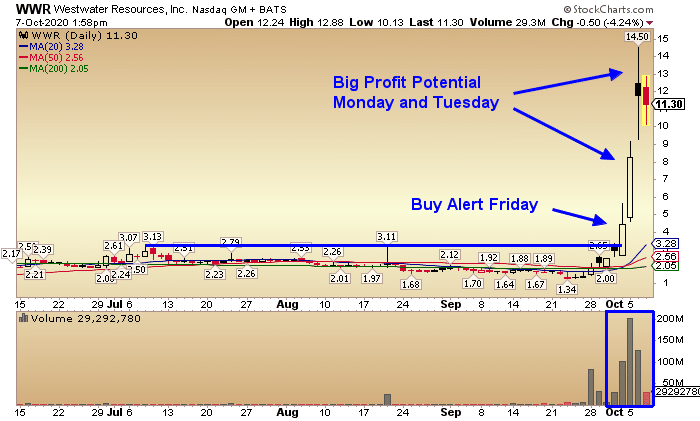 WWR shot up big time.
Now keep in mind, I didn't know the company was going to come out with their own press release to state their agreement…
Did anything material change from the actual order being signed to the time that the company released their statement?
No.
All they did was draw attention to their stock.
But by simply looking at the chart and waiting for my criteria to be met… I was able to get in the stock BEFORE the huge move.
The same criteria I use every Friday to find a stock that has the potential to gap up on Monday.
And the same criteria I teach my members**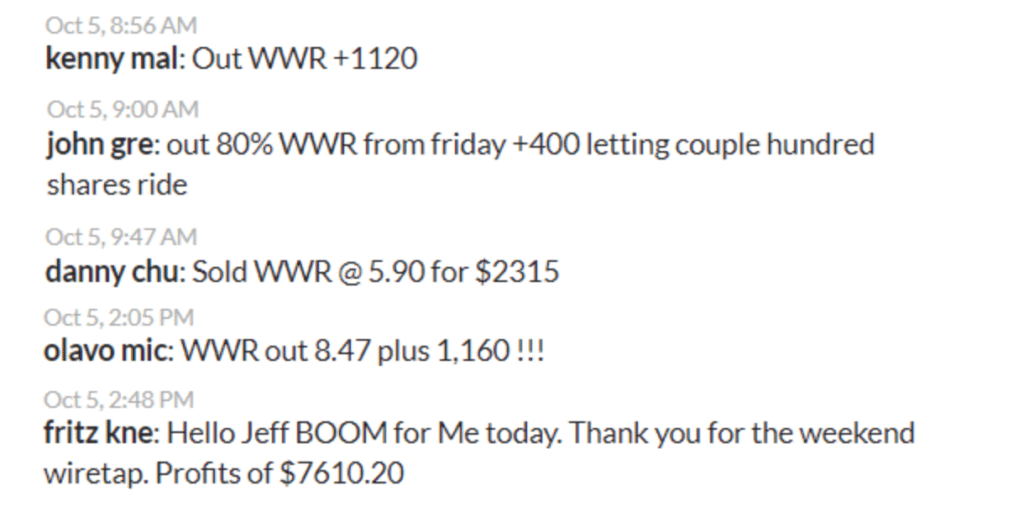 That's the beauty of it all…
I am able to run a quick scan to narrow in on the stocks fitting the criteria.
Then I just have to go to the charts to find the one with the best price action and setup.
The catalyst for WWR happened and it still took time to filter into the chart setup.
The chart told me to get in before the company made their own press release which just added to the frenzy.
In fact, their announcement isn't much of anything really… more of a pump just trying to point themselves out to traders.
But it worked… and using my Weekend Wiretaps strategy I was able to capitalize on it.
To learn more about these "Weekend Momentum" setups… check out Weekend Wiretaps Today.