Every day is a new day… and with each new day comes plenty of fresh catalysts that provide a plethora of trading opportunities.
However, not all catalysts are created equal…
Some are so powerful that they can completely shift the momentum of a stock and send them to the stars like a supernova. While others start strong and then fizzle. 
Especially when you're trading penny stocks… the last thing you want to do is blindly buy a stock because it has a news catalyst.
(Not all catalysts are the same… in this post you'll learn how to spot a supernova by using one simple indicator)
After all, there are hundreds of stocks that have "breaking news" in them… but how do you know which ones have legs?
Well, I'll show you a simple way to get on the right side of the catalyst trade… 
It's probably not what you think. But after you read this, it will make complete sense.
It's very easy to get caught up in this news-driven market and just slam into stocks when you see a headline hit the tape… but that's one of the quickest ways to get chopped up and let the blood out of your account.
The quick solution is to use a simple indicator that lets you know exactly whether a catalyst is real or whether it's just fake news.
Relative Volume (RVOL) is that very indicator.
RVOL tells you how current volume is compared to past trading volumes over a given period. It gives you a view of traders' interest in the stock. In other words, it lets you know how much a catalyst can impact the stock.
The higher the relative volume the more "in play" a stock is… as there are more traders moving into the stock than normal.
What creates all this volume?
An actual, meaningful catalyst…
You know what I say to that?… I say let's get our Boost on!
I have created an easy-to-use process to get me into and out of penny stocks with ease… and the great part, it tells me when to cash in my chips.
So every day I come in locked and loaded scanning for this type of volume in penny stocks. And once I see it… I pounce.
Okay so you know what it is, but you're probably still wondering how to use it.
Easy… so relative volume is displayed as a ratio. So let's say a stock's RVOL is 5… that is telling you that volume is trading at 5x the normal level.
RVOL of at least 2 tells us a stock is "in play."
But what I look for in the pennies I trade is RVOL of 3 plus or minus… the higher the better.
When this falls in line with my simple setups…  we have a recipe for parabolic moves, and one trade truly can make your month.
Relative Volume for Confirmation
Penny stocks might be hard to value… but I've found a new simple way to find money-making opportunities in penny stocks… and that's by looking at the charts.
Here's a look at the daily chart in Empire Oil Refineries (EORZ). This chart set up into one of my favorite patterns – the breakout.
Not only that, it had a catalyst that caused the stock to move higher… but the news isn't too important. The whole idea here is to focus on the charts because that's what can help you make money trading penny stocks.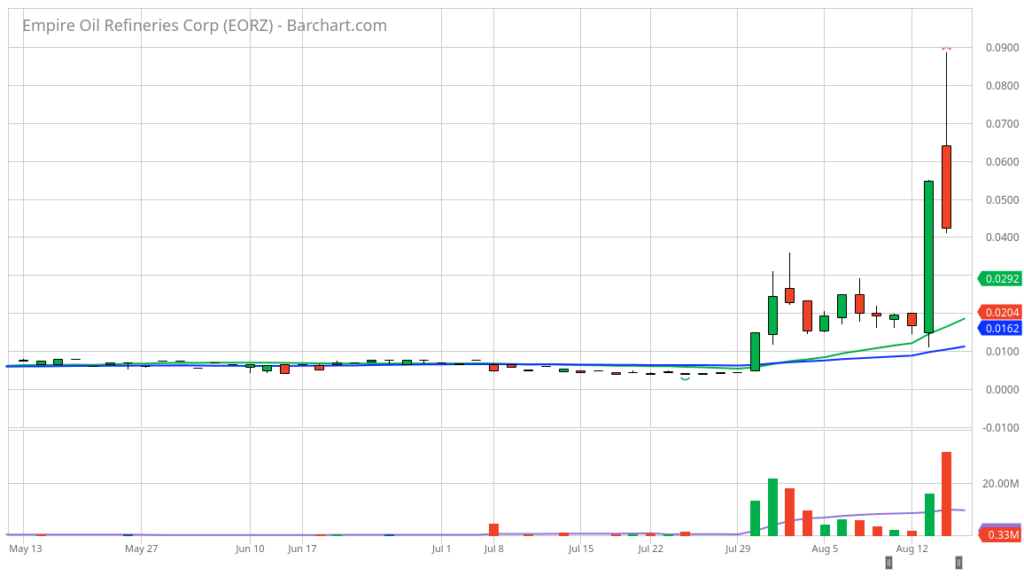 The first thing we saw was EORZ failing to break below the 20-day simple moving average (SMA), the green line in the chart.
That let me know the 20-day was a support level and there was a high probability that there would be traders looking to buy the stock as it bounced. Not only that, the stock had a key resistance level at $0.036 – its previous high.
With penny stocks, when there is a break of a recent high… whether it be weekly, monthly, quarterly, 52-week highs, etc.. it builds momentum and tends to breakout… and that's exactly what EORZ did.
I saw the stock break above that key resistance level – the signal telling me to buy the stock.
And the very next morning, I was actually taking profits shown by the arrow on the 15min chart below – locking in 70%, or $1,505 in less than 24 hours.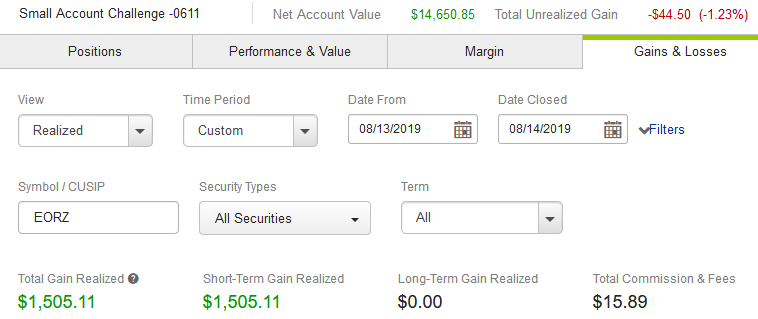 (Want to Boost your trading account with winners like these? Check this out.)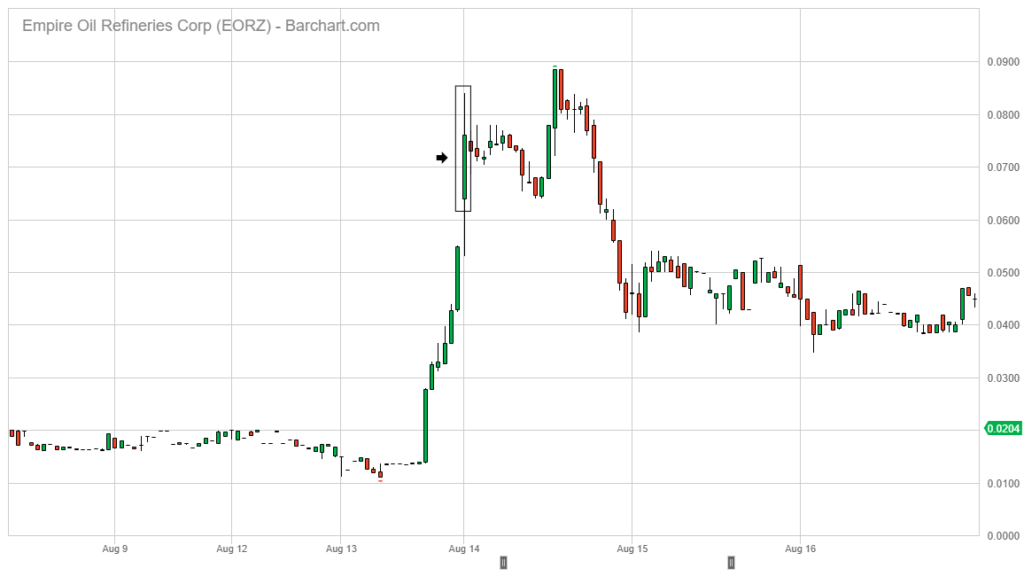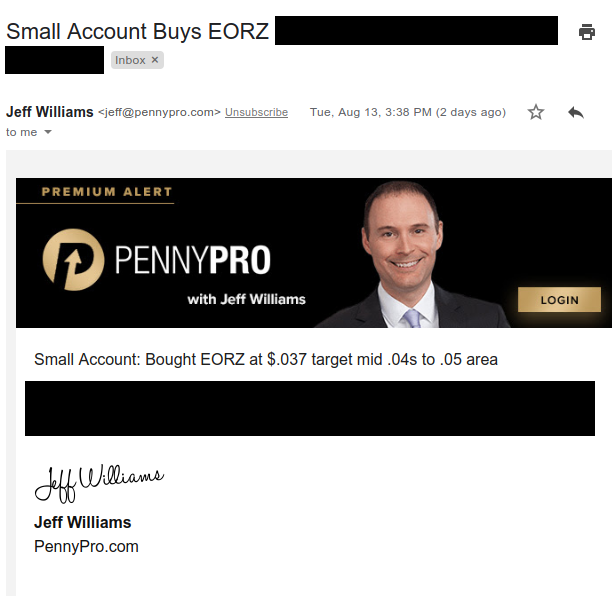 I'll show you where relative volume helped me know whether this breakout had legs or not… and the reason why I bought this stock.
Check out the chart below…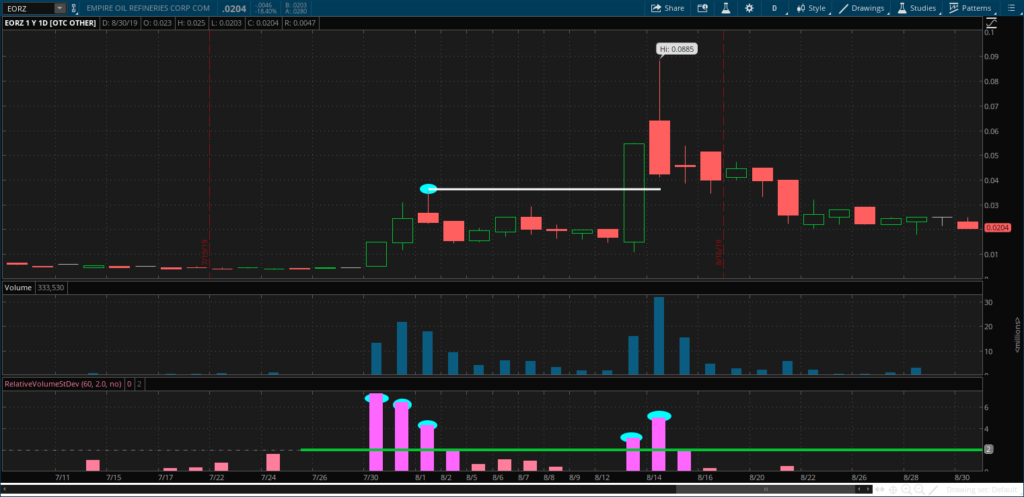 The bottom window with the pink bars shows us the relative volume. I set the green horizontal line at RVOL of 2 so you can see the minimum "in play" RVOL…
This is where things get interesting.
The first spikes in RVOL show a price breakout from its previous resistance level… and the volume spike let us know there is significance to the move… and all the buzz around the stock was true.
After that, the price stalls… and we go into wait-and-see mode. Patience is a virtue when you're trading penny stocks.
Now taking that into account.
I have drawn a white horizontal line at the high from that original spike. As you can see we get a second RVOL spike above 3 and at the same time the price breaks above that previous high… 
As I showed you earlier, this is where I entered the trade.
With the RVOL spiking above 3 (letting me know we've got some legs here) I was able to jump in for a beautiful spike in price and by using my proprietary system… I also knew when to cash in my chips… leaving me with a 70% return… not bad for such a simple to use strategy.
If you notice, you'll see the stock and RVOL pull back after EORZ had an enormous move… luckily, I was out of the trade before the stock cratered and sold off… and I let my clients know they shouldn't get caught up in the buzz when you see that happen.
I'm here to tell you… this is not hard. The market presents opportunities like this daily – and with my chart patterns, it's simple to find plays like EORZ.
With my chart patterns , you will know which trades I am taking and the exact entries and exits… as well as the details of what I am looking for and why I take my trades…
It doesn't get better than this… 
I've actually developed a new strategy… a strategy that can actually Boost your trading account – I'm doing a special live event showing you how my latest strategy allows you to "predict" your profits… and take profits in some of Wall Street's top gainers regularly.
It all goes down this Thursday, Sept. 5 at 8:30 PM EST – and you're one of the very first to hear about it… because I don't want you to get locked out – as seating will be limited – so don't delay and sign up today.