Hello Trader,
Update on the deadly coronavirus: 3000 cases with 80 deaths… as of yet, no known cure.
That said, companies are scrambling to create a vaccine to help end a virus that is threatening the whole world, and at the same time… jump on a major opportunity. 
Back in November I talked about the potential for a short squeeze in Novavax. (read the post here)
Take a look at the NVAX chart now. Novavax had the criteria met, all it needed was a catalyst to set it off. So obviously by the timing, there must be something related to the coronavirus here.
But what you don't know if there are actually 2 catalysts, one of which we actually knew was coming.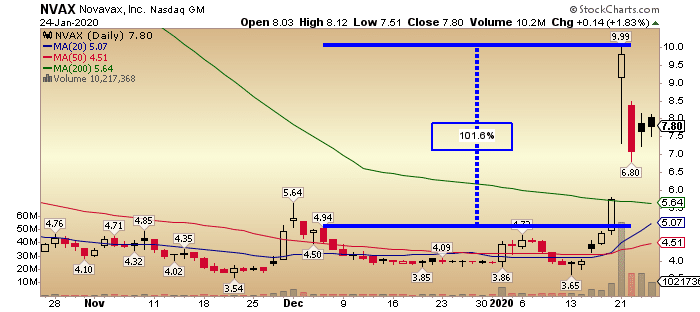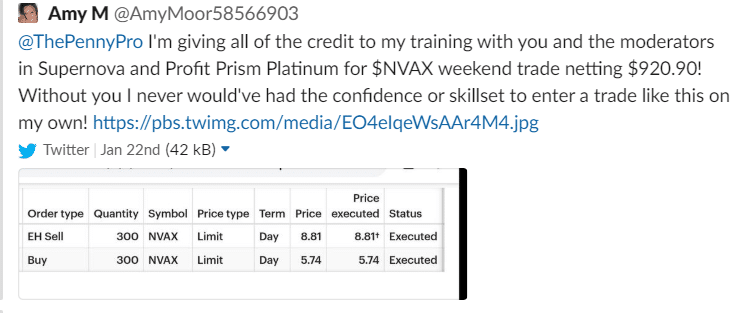 I'm going to walk you through exactly why NVAX was on my short squeeze radar, how both catalysts came together to set it off…
… and how you could have taken advantage of this massive move without even knowing about the 2nd catalyst.
Novavax, Inc. is a clinical-stage biotechnology company committed to delivering novel products to prevent a broad range of infectious diseases… soooo a biotech company.
But what's interesting with NVAX is that their main going concern right now happens to be a flu vaccine.
And it just so turns out they have experience with coronaviruses having worked on MERS and SARS in the past.
Now let's backtrack to November and set this trade up.
For short squeeze potential, I look at what I call the concentration of short interest. To determine this, I look at two things. The short ratio (days to cover) and the short percent of float.
To learn about my criteria for a short squeeze candidate, check out my post "The Art of the Squeeze."
I then look at the recent price action and potential for upcoming catalysts.
When I wrote about NVAX on November 11, it had a high concentration of short interest with…
Short Ratio (days to cover)   — 5.3
Short Percent of Float  — 20%
And below is a chart of the "Recent Price Action" on November 11: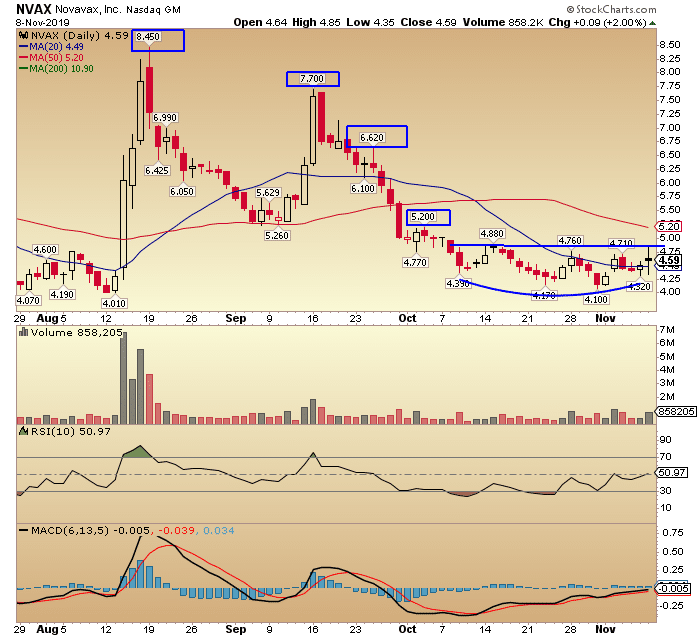 What I liked about this chart was the bottoming formation over the past month coming out of the downtrend… and the stock price was pushing up against a resistance level…
For real "squeeze" potential, I wanted to see it break above the low 5's as there are a couple points on the chart that come into play above that level.
Many things can set off a short squeeze such as a very large buyer coming in and putting the hurt on the shorts.
But nothing is more powerful than a catalyst entering the game… and NVAX got just that.
Catalyst Potential: 
Back in November, I mentioned that NVAX was expecting results from the company's late-stage clinical trial of a seasonal flu vaccine called NanoFlu… The results were expected in the first quarter of 2020.
This is huge for NVAX as it would be their first product to take to market… and you can imagine what the stock will do to the shorts if the data comes out positive…
Fast forward to now…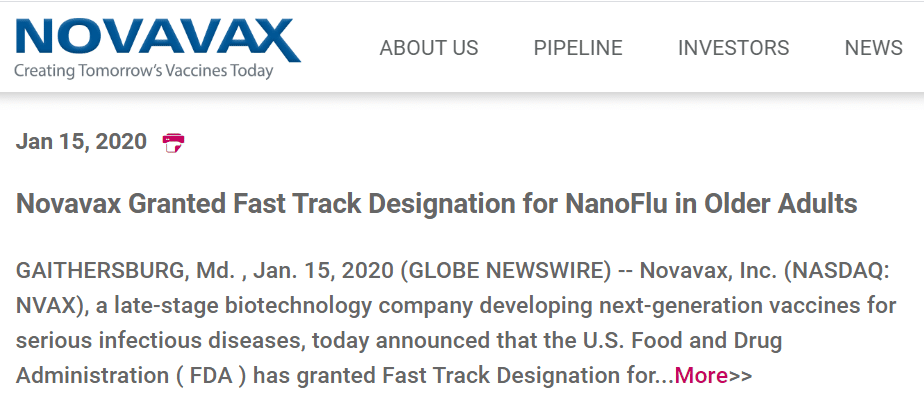 Here we are in the first quarter and the results are in with an FDA Fast Track Designation.
But it didn't stop there… Just days after getting that news, the company announced that they were working to develop a vaccine for the coronavirus outbreak.
Now let's look at the updated chart: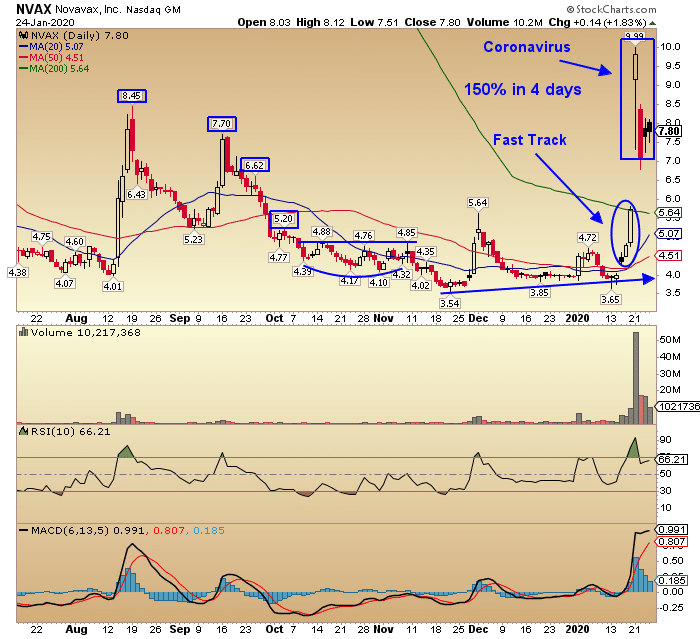 The chart says it all. 150% move up in just 4 days. A lot of people got crushed on this move, which is why I don't like to short penny stocks.
I would much rather have my eyes out for a potential short squeeze to get on the long side… you know, the 150% gain side.
This was actually a beautiful setup with the 2 catalysts on top of each other. You can see the strength in the chart coming from the FDA Fast Track Designation, creating a potential buy signal as it broke above $5 on that 3rd day…
If you had gotten in on that signal, you benefited from an unseen catalyst overnight with the news about the vaccine development. 
Catalysts can't always be seen ahead of time… in fact, hardly ever.
But what you can do is buy based on the signals. We knew this stock had a high concentration of short interest. Once the Fast Track was announced, the chart led the way and offered up an opportunity.
If you jumped on it, you benefited from a 2nd major catalyst without knowing it was coming… and that's usually how it works. Someone knows something, and the charts give us signs.
If you want to learn more about my trading strategy. The simple 5 step system I use to crush the market every day and the 2 basic chart patterns, like the one above, that make trading easy.