If you missed it…
GLSI ended yesterday up 998%…from a $5.20 close on Tuesday to a $57.10 close yesterday.
But that's not the craziest part…
GLSI hit an intraday high of 158.07, so at one point the stock was up over 2,900%.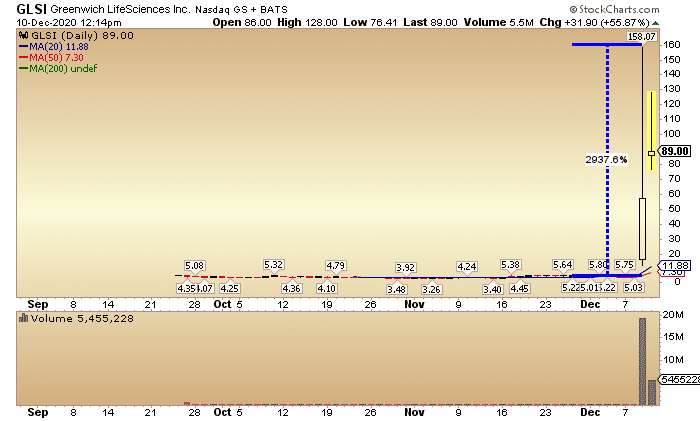 I wouldn't doubt it if many traders lost their shirts trying to short it all the way up.
And that is exactly why I stick to trading on the long side with penny stocks. Getting caught up in a move like that on the wrong side can bankrupt an average retail trader quickly.
So what makes a stock move like this?
Now you should already know this as I talk about it all the time… but for those who don't — a catalyst.
In this case, GLSI announced impressive phase 2b trial data for its breast cancer drug GP2.
As expected, GLSI is still in play today…and will be for a while as traders and investors digest this big news.
If you look at it today, there's already over a 50 point range…
So what's moving today then?
Glad you asked…I'm seeing a lot of movement in energy stocks today, specifically oil & gas.
In fact they've been hot for a while now.
So let's take a look at a few energy stocks hitting the scans this afternoon to give you something to look at other than GLSI.
After trending steadily down, AMPY hit a low of .62 in November and has since then more than doubled in price.
Continuing on that momentum, the stock is up over 20% today as it breaks out of a flag pattern on the daily chart, at the time of this writing.
And the next chart high is at $1.96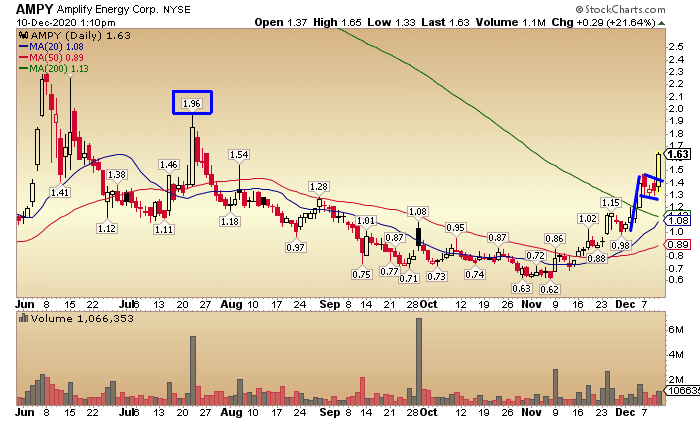 Antero Resources Corp. (AR)
Antero Resources (AR) is showing one of my favorite patterns, the stair step.
Which consists of a series of higher highs and higher lows.
The stock has been finding support at the major moving averages…starting with the 200-day and moving to the 50-day and 20-day averages as the trend strengthened (blue circles on chart).
Up 15% today, AR is again breaking a previous swing high to continue the trend of higher highs.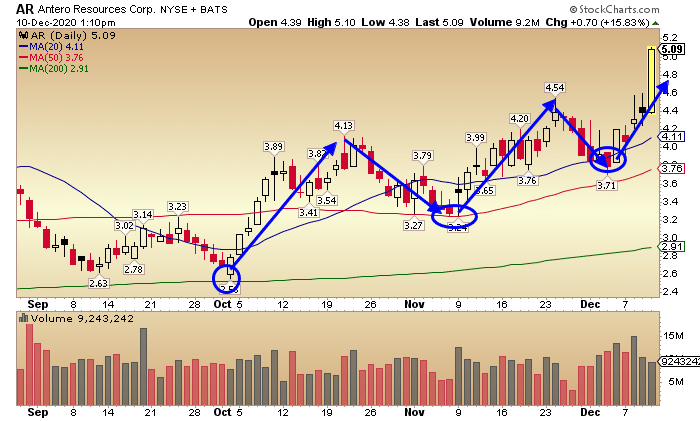 Peabody Energy Corp. (BTU)
Peabody (BTU) is a coal company, so a one-off from the oil and gas industry…but also coming off the pain felt by energy producers during the pandemic.
Like AR, BTU is also trending up in a stair step pattern and currently breaking the previous swing high today as well.
It has pulled back some this afternoon, so I'll be watching to see if it can find strength into the market close or not.
There is a congestion zone from early October in the 2 – mid 2's…and you'll notice the high today was in that range before retreating.
If the stock picks up and gets through there, the 200-day is above at $2.77.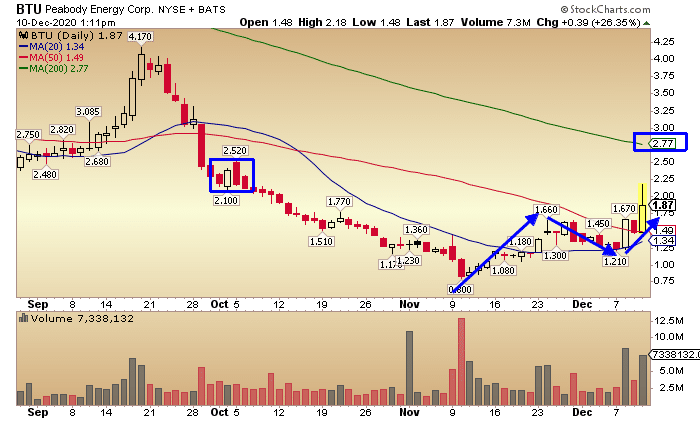 Camber Energy, Inc. (CEI)
Here's another oil and gas company. CEI isn't making a move like the others today, but it is trading in a triangle pattern…and in a hot industry right now.
So I'll be watching this pattern for any sign of a breakout…and for increased volume if it does.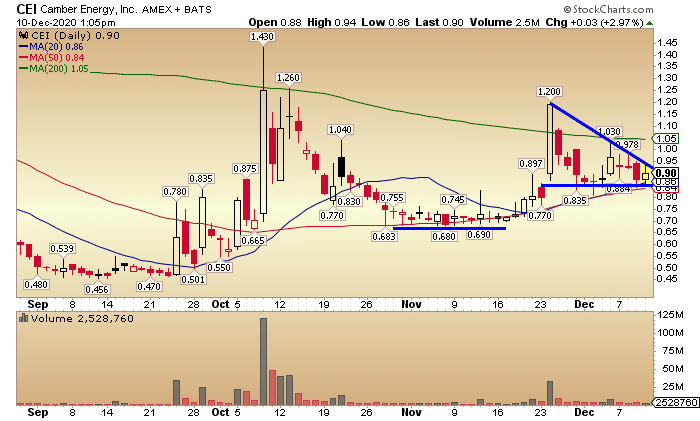 Ascent Solar Technologies Inc. (ASTI)
Ascent Solar (ASTI) is in the solar sector, so another one off look here…
Solar is hot…and it's going to be hot for years to come, so I like to keep stocks in this sector on my radar.
ASTI is up big today after breaking out of a triangle pattern yesterday.
With a big midday pullback, I'll be watching this one into the close and in the coming days to see where it finds the next support level and such.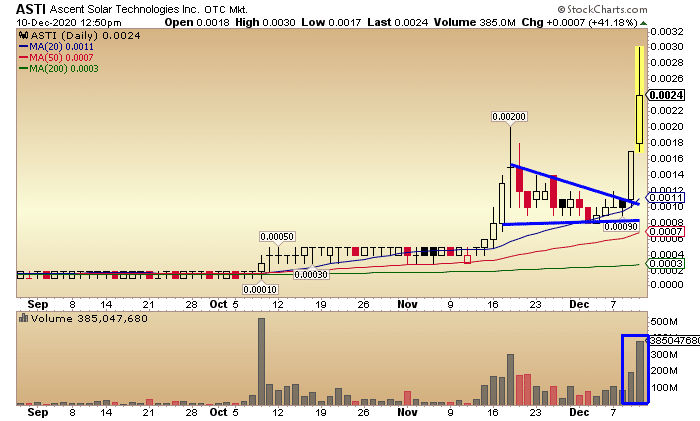 That's all I have time for today…here's a look at some of the big movers besides the oil and gas stocks above.
It's always a good idea to watch what's moving and find out why…learn from the charts and stories.
---
Today's Stocks on the Move
RGLS        +33%
WTI           +23%
SEEL        +22%
MOXC       +20%
BIOC        +19%
SID             +13%
XXII            +12%
---