Grab the money and run…
…the ski mask way.
That's what I did the other day… when I saw myself almost instantly in-the-money on one of my penny stock trades (CNAT).
I'm going to show you the trade setup in a little bit.
It's the actual video footage of the trade— before, during and after.
It's repeatable and worth studying, even though ten minutes isn't my typical holding period.
You see, my $3K to $100K Small Account Challenge focuses on swing trading penny stocks, and is suited for the busy professional and/or person who doesn't have time to sit in front of a computer and stare at each stock tick.
And you know what?
Not even a month in, the account has more than doubled.
(I help traders build their small account through mentoring, my online chat room, trade-alerts and more, want to know how my system can help you? Click here to find out more)
And we're just getting started.
Not only are we having fun in our room, but we're learning about stocks, risk management, the mechanics of the market…
And yes… making some money along the way.
(Not in my Supernova chatroom? Click here to join)

The typical trade may last 1 to 2 days. But like I said earlier, there are times when you can catch a stock and moves in your direction right away and fast… and that's what happened to me in CNAT.
In fact, I have the actual live raw footage from the trade. It's an opportunity for you to see my thought process, explain my entries and how I exit. All of which was done in real-time.
I know what you're thinking… Jeff, how'd you make $300 in 10 minutes? I need to know exactly what you did.
Well, I did that by trading just one penny stock.
You might be thinking, you probably placed a massive bet and locked in $300.
Actually, I put just over $2K into the trade… and literally in 10 minutes as I was doing my scans before the market closed… it got right to my target.
You might not think that's a lot… but on a small account that adds up.
How did I spot this?
Now, before I walk you through this trade… you're going to have to understand gap fills. Don't worry they're really simple.
Basically, when a stock gaps down… that means the price it opened at was lower than where it closed the prior day. A gap up is just the opposite (stock opens higher than where it closed).
Why is this important?
Well, typically, with gaps… you can identify clear resistance levels and areas to buy a stock.
When a stock gaps down… typically the price around where it opened that day will serve as a resistance level. In other words, the stock will have a tough time breaking above the area. However, once it breaks above…
… it could explode and fill the gap.
Why?
Well, if you think about it… there are usually sellers at the resistance level flooding the market with supply. But what happens if the stock breaks above? That means there's more demand than supply…
… and once the stock continues higher, shorts may be forced to cover their shares, which would increase the demand for the stock even more.
Now, there are two ways to play the gap fill… you can wait for the stock to break above the resistance level… or you can anticipate the move to the resistance level followed by a break higher.
For example, I did the latter with Conatus Pharmaceuticals (CNAT) – in which I made ~$300 in 10 minutes.
My Chart Patterns Spot Fast Movers

Check out the daily chart in CNAT below.

This is a clear example of a gap fill trade. Now, you could wait for the break above the lower blue horizontal line… or you can get in before. With this specific setup, there was a high profit potential because if it did the full gap fill… it would be a 124.5% winner.
Now, I don't look for homerun trades like that… I actually look for 10%  – 20% winners… so if it gets to my profit targets, I'm taking the money.
I actually talked about CNAT in detail in the chatroom when I got on mic… and I traded it live.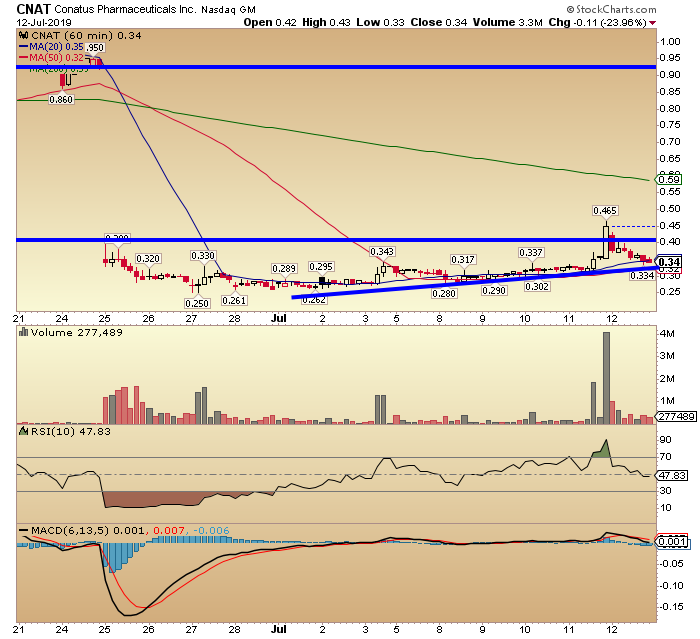 As you can see, the stock was trending higher and gaining momentum… and volume was picking up. That said, this stock had the potential to get into the gap.
Not only that, the level 2 (bid and ask prices) looked nice as I was looking at where the prices were moving… and it was getting really close to the resistance level… and let me know it could get into the gap.
This trade was done during market hours, and you can get a true sense of what it's like to trade with me.
All you have to do is click on the play button below.
If you think trading penny stocks and knocking down fast winners can help you achieve trading success, then click here to get started.