I just took $3,000 and turned it into over $25k in 4 months… and I can show you how to do it…
It's an exciting day for me in penny stock land… most of you know about my small account challenge, where I start with $3-5k and pull in massive gains… then I do it again.
Well, I just hit my goal on my most recent challenge which means… I will be starting over soon. 
So this is your chance to get in and trade alongside me while I grow my next small account many times over…
Listen… I get it… the problem keeping a lot of people away is that when they hear penny stocks, they usually just shut down.
Why?
Because they don't understand them… they hear about how risky they are… and they simply don't know how to trade them.
Well, today is your lucky day… I am going to teach you how to trade penny stocks the right way.
In fact, I am going to provide a roadmap to penny profits.
It's all very simple really…
Honestly, you probably thought I would want to talk all about the OTC markets, Pink Sheets, higher commission costs, the lack of information and financials, the risky nature of pennies, etc.
But the great thing these days is that pretty much any broker provides access to penny stocks (no matter what exchange) and you look at the charts, quotes, and order screens all the same as any other stock…
So if you have ever traded a stock in your life… there is no learning curve there.
And in a great turn of events, most brokers have begun to offer commission-free trading, so that takes a lot of the worry out from a cost perspective.
So where does that leave us?
The lack of reporting and the risky nature?
Sure… real quick, I don't care about the lack of reporting or financials, etc. I am not investing in these companies… in fact, with my system, I am not even in them very long at all.
So are they risky? After all, that's what everyone says…
Well, Yes and No…
If you are trying to invest… find the "next big thing" in the penny stock arena… or find an undervalued stock here…
I'll be frank, you're playing with fire.
But if you are trading them with a proven system… it's actually quite easy to make a profit with minimal risk…
You see, I worked long and hard to learn how to trade penny stocks… because I knew they were the key for a guy like me who didn't have a lot of money to get into trading…
In fact, I had pretty much nothing… just a bunch of debt really…
So I bootstrapped and stayed persistent… and when I finally figured out the secrets to trading pennies… I developed my system and began changing my family's life…
I got out of debt and I was able to go from being an elementary school teacher to trading full time… although I still consider myself a full-time teacher as well…
I teach my members and students live all day long in my live streaming trading and chat room…
Why?
Because that's my passion…
So what's the path to profits?
I use my simple system to find the stocks most likely to gap up the next day…
I scan for stocks that fit certain criteria… and when I find them I pounce.
It's all based around my Supernova Line.
When a stock breaks through that, it's ready to go.
So I run my custom scan at the end of each day to find the top stocks that are ready to run… I buy them and I wake up to profits…
It's that easy… take a look at these charts… and pay attention to the Supernova Line.
With CLSI, I used a retest and bounce off the Supernova Line to catch a pop overnight…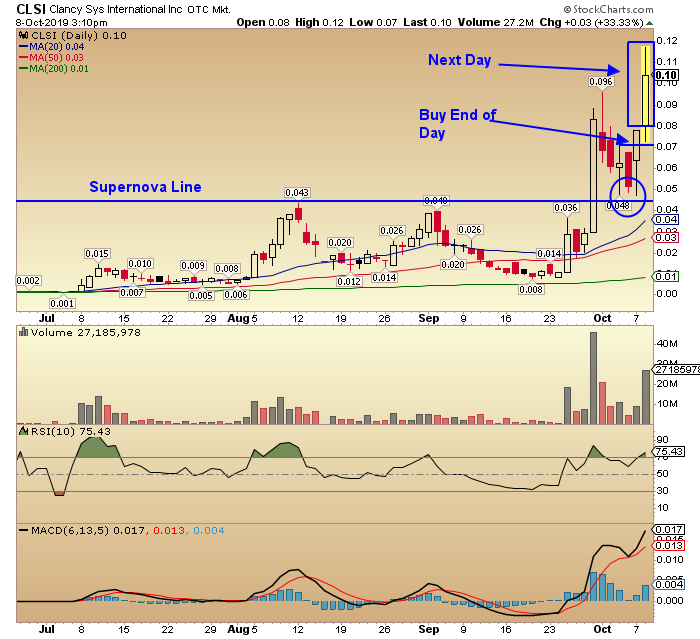 With LXRX, I bought a breakout above the Supernova Line and it gapped up the next day… there was extra potential in this one due to the potential to "fill the gap."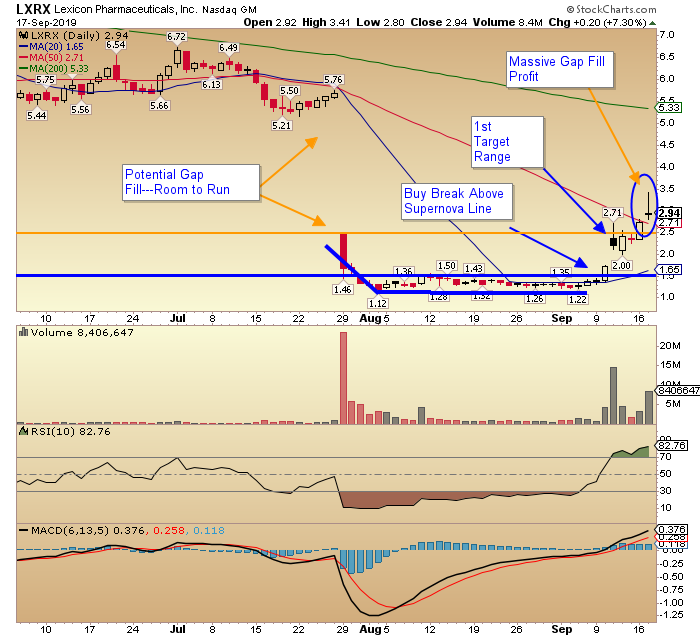 Looking at JCP… again, I bought a break above the Supernova Line and it gapped up the next day… I simply woke up and cashed in on the trade.
And UNRG, I bought the break… cashed out the next morning… the stock then retested the Supernova Line that morning before blasting off again…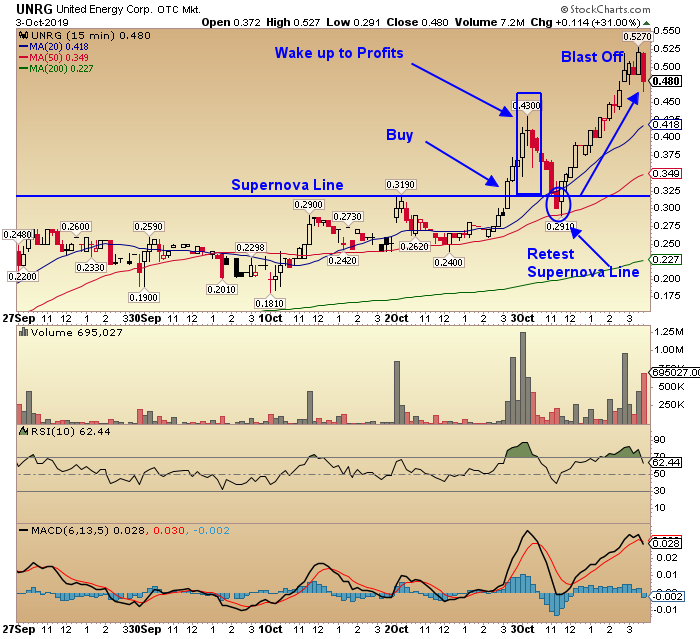 These stocks may Blast Off… but it ain't Rocket Science folks…
In fact, you don't even have to be "smarter than an eighth-grader"
I will teach you all you need to know… I am in my live streaming trading room all day every day…
You'll be trading right alongside me, so it's really easy to catch on… after a while, you won't even need me… 
But we have so much fun in there each day, I'm sure you will stick around and trade with everyone…
It's a Blast. Stop wasting time. Life is too short.