There's always something moving in the small cap arena that I trade in…
And today I wanted to put a spotlight on some apparel companies making moves today.
For one, the pandemic has been a rough time for these companies…stores have been closed as much as open.
And even then they get to open, foot traffic is down to all-time lows.
Will these brands get a little love going into the Holiday shopping spree…or will they suffer from more lockdowns?
I put together a few charts of the stocks moving in today's trading session…
AND don't miss my afternoon watchlist at the bottom for a list of stocks with great price action.
Naked Brand Group (NAKD) designs, distributes, wholesales, and retails women's and men's intimate apparel, and women's swimwear.
The pandemic hasn't been good to NAKD. I guess it's tough to sell sex appeal when noone is going out anymore.
The stock was in a downtrend, but then leveled out…going into a consolidation for the past month. (one of my favorite patterns to trade)
Volume picked up yesterday and then surged today as the stock broke out of the consolidation pattern.
And with a high short float at 38% and low float of 7.15M…this stock has the potential to squeeze the shorts on breakouts.
The next highs from here are .165 and .222.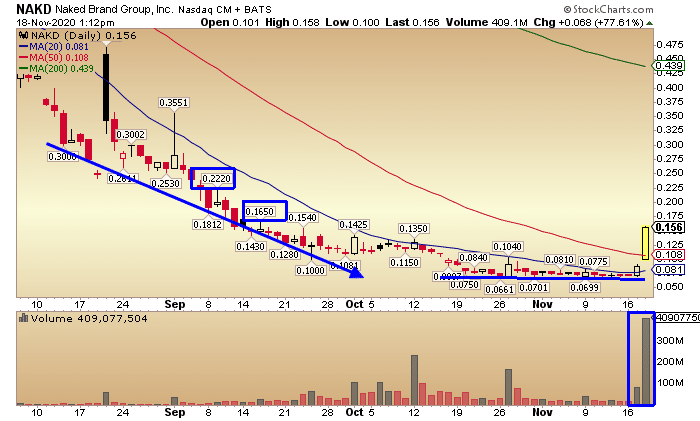 Express Inc. (EXPR)
Express, Inc. (EXPR) operates as an apparel and accessories retailer for women and men. 
Generally looked at as a classic fashion brand that was more popular a decade ago, the company is trying to stay relevant.
Potential double bottom on the chart at .61 and .57… only time will tell whether that holds. 
Volume on the second dip wasn't exactly capitulation but not every pattern works out the same way.
After making the second low at .57, the stock popped up on a spike in volume, pulled back to the 50-day moving average and started back up again…
This created a potential stair step pattern…(another one of my favorites).
With a break of the previous high of $1.06, EXPR is on to making a new higher-high. If it can continue the move, the next highs are from $1.16 – 1.30 range.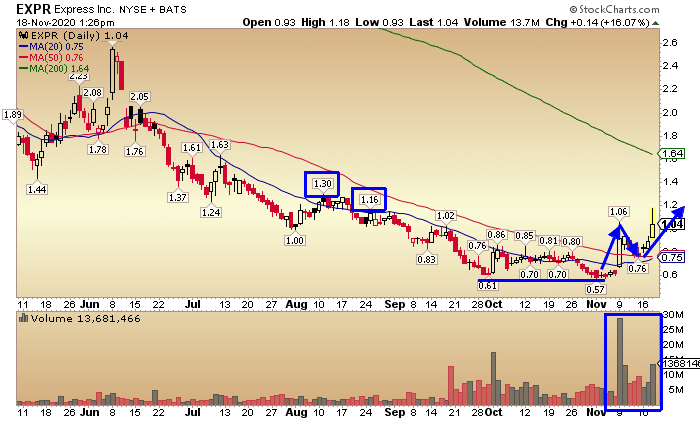 Chicos (CHS)
Chico's FAS, Inc. (CHS) operates as a retailer of women's private branded casual-to-dressy clothing, intimates, and complementary accessories.
It operates under the Chico's, White House Black Market (WHBM), Soma, and TellTale brand names. And is generally targeting women 45 and older.
Currently making higher-highs and higher-lows, CHS broke above the previous swing high and the 200-day moving average today.
The stock is pulling back, so it will be important to watch and see how it trades around the 200-day at $1.64…
Will it hold above or fail?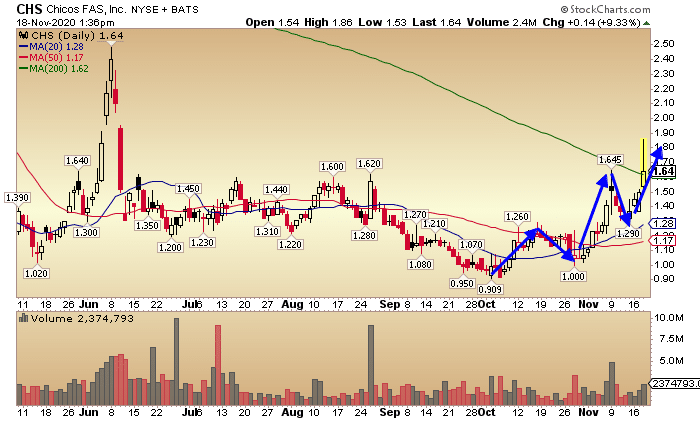 When it comes to the specifics of what gets me into a trade…
You can learn it all with Stock Profit Pro…click here to Join!
Stocks To Watch This Afternoon
DBI          +13%
POLA      +14%
FCEL      +35%
TSNP      +53%
MARA     +4%
PRTY      +9%
IDEX       +10%
To get the most out of your trading, you need to be in my Live Trading Room.
This is where I spend the majority of my day…trading, teaching, and having fun with over 1,000 members.
Learn the strategy, see it live, trade with friends, and do it every day…