It's been a week in the market. We've all felt it.
Welcome to September… historically one of the worst months for the market.
I told you to watch for this earlier and so far it's living up to expectations.
So what can we do as small traders in a market like this?
That depends… if you are getting whipped back and forth, you may need to adjust your plans.
But if you trade like I do, you just need to stick to the very best setups.
My strategy takes advantage of momentum moves in stocks that aren't relying on the overall market for direction.
Simply put, I trade stocks with their own catalysts…
And Today I am going to share a potential Gap Fill trade setting up in Onconova Therapeutics, Inc. (ONTX).
Strap in… And I'll walk you through my whole thought process.
By the end, you'll fully understand the setup and what will get me in.
Onconova Therapeutics, Inc. is a biopharmaceutical company focused on discovering and developing products to treat cancer.
From the company website:
"Using a proprietary chemistry platform, Onconova has created a pipeline of targeted anti-cancer agents designed to disrupt specific cellular pathways that are important for cancer cell proliferation."
What Happened to the Stock?
If you take a look at the chart below, ONTX made a big move up at the end of July…
But after suffering a 66% drop on August 24, the stock was below where it started.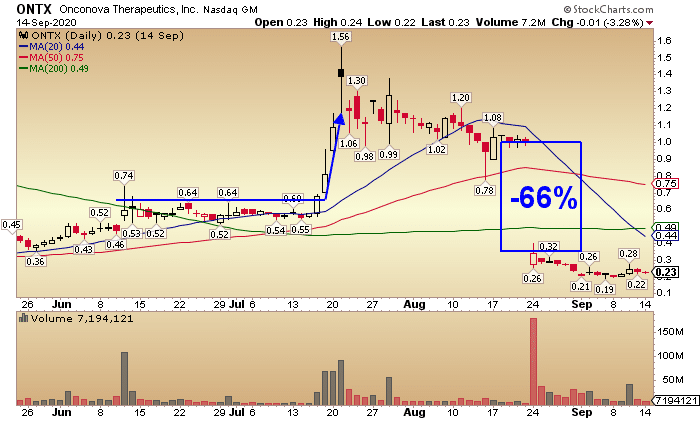 So what happened to this once promising stock chart?
One glance at the headlines and the it's no secret why the stock dumped…
On August 24, Onconova announced that their Phase 3 INSPIRE trial did not meet its primary endpoint…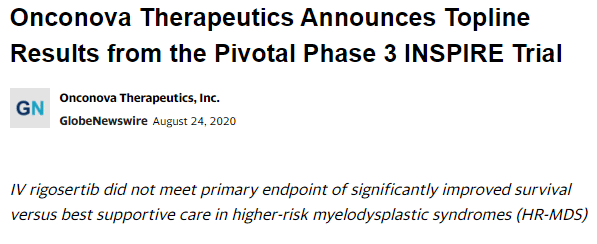 And all investor expectations related to that trial, currently built into the stock price, were now being taken out… thus tanking the stock.
Simply put… back to the drawing board.
The only good thing is that the INSPIRE trial was not the only thing in Onconova's pipeline.
Good is probably the wrong word here… but at least there's some hope elsewhere.
Including a recent application for federal funding in COVID studies…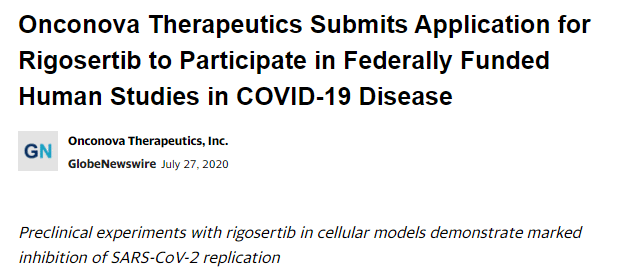 Will they get the funding?
I don't know if they will or how long it will take to even find out, so this headline is not an immediate catalyst for trading…
But it's something to keep an eye on because we've all seen what happens when a company gets federal funding for COVID trials and research.
If it does come through, I would expect ONTX to be popping up on my radar again.
But that's later… let's take a look at what's happening right now…
Today's Price Action
Have a look at the chart below…
After the big drop from the failed trial… ONTX based out for a few weeks.
Today it hit my scanner as the stock is up over 30% (as I write this) on a spike in volume.
There's some interest in the stock today…
But without a new catalyst pushing it up today, how do I look to play it?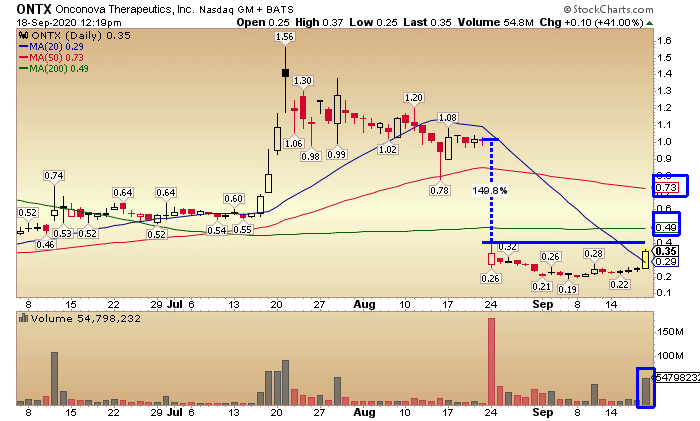 I like the consolidation in the rounded-bottom formation on low volume coming into today.
Investors have had time to reevaluate the stock and price-in the failed clinical trials.
So here's my take at the moment…
I am watching the gap at .40…
For a trade here… I want to see this stock push up into the gap for a potential gap fill trade.
A gap is an area on a chart where the price of a stock moved sharply up or down, with little or no trading in between.
This leaves a void of support and resistance levels to play… so once a stock enters the gap, it often moves further into… "filling the gap."
It doesn't have to go all the way back up to make a good trade… there's around 150% move to fully fill the gap.
I wouldn't expect that without a major catalyst behind the move… like COVID research funding.
But with that much room, even a quick pop into the gap could provide a great potential return here.
With no trading levels in there… I am eyeing both the 200 day and 50 day moving averages, as they will likely be the first levels that act as resistance once ONTX enters the gap.
With the 200-day at .49, that's about 23% above the gap and the 50-day is good 80% above.
I only take trades if I see at least 10 – 20% potential to the next resistance level… and ONTX fits that bill.
Recap the Potential Trade Setup
To recap: It's making a strong move today, volume is spiking, and there's decent room to the next resistance level.
Now what I need to see to get me in a trade is continued strength into the close.
I only want to be in stocks that other people want to be in. I need to see strong demand. Afterall, that's what pushes a stock up.
If it's selling off into the close that tells me people don't want to be in it…
Whereas, if there's a strength and buying into the close, it tells me people want to be in it now.
That's a stock I want to be in too.
So will I get in ONTX today?
Time will tell… but those are the things I am watching to make my decision.
To learn my every move, Join Profit Prism Platinum…
You'll get all the education you need to use my strategy and find stocks like this… along with knowing when to get in…
And of course, with my trade alerts, you'll also know when I personally decide to get in and out of my trades.
I hope that gave you a good idea of what put ONTX on my radar Today…
But that said, it's not the only stock on my radar… to know my every move in the market…