Many of you know I hosted a free live training session yesterday afternoon to share my personal stock screening criteria.
The same criteria I use to find tomorrow's biggest movers, today.
The same criteria I use to narrow in on the stocks that have helped me grow my small accounts fast… very fast… (like turning $500 into $10,758 in just 58 trading days)*
And do it over and over.
I call this my 3pm Profit Scan
And I'm going to walk you through it right now.
*Results presented are not typical and may vary from person to person. Please see our Testimonials Disclaimer here: https://ragingbull.com/disclaimer
The purpose of my scan is to find explosive moves in the market.
I'm looking for tomorrow's biggest movers, today… with the goal to be in the stock ahead of the move.
In my experience, it's best to keep it simple.
Let's dive in…
The 3 Phases of the 3pm Profit Scan Strategy
That's it. Keep it simple.
Scan
For this I use a simple free screener found at finviz.com and I keep it simple.
Under screener, I enter my criteria under the descriptive tab and the technical tab as seen below.
Descriptive Tab:

Price: under $10

Current volume: over 400k – need liquidity.. Not low float trade here gang

Average Volume: over 400k

Technical tab:

Performance: up over 10% today

By doing this I just took thousands of stocks down to just twenty seven that meet my specific criteria.
The results come out looking like this:
These are the stocks that will give me the best odds of finding a mover. And now I can move on to the skim without it being bogged down with too many charts to look at.
Skim
Now that I have my results, I simply click charts and then candle and it turns my list into a chart view as seen below.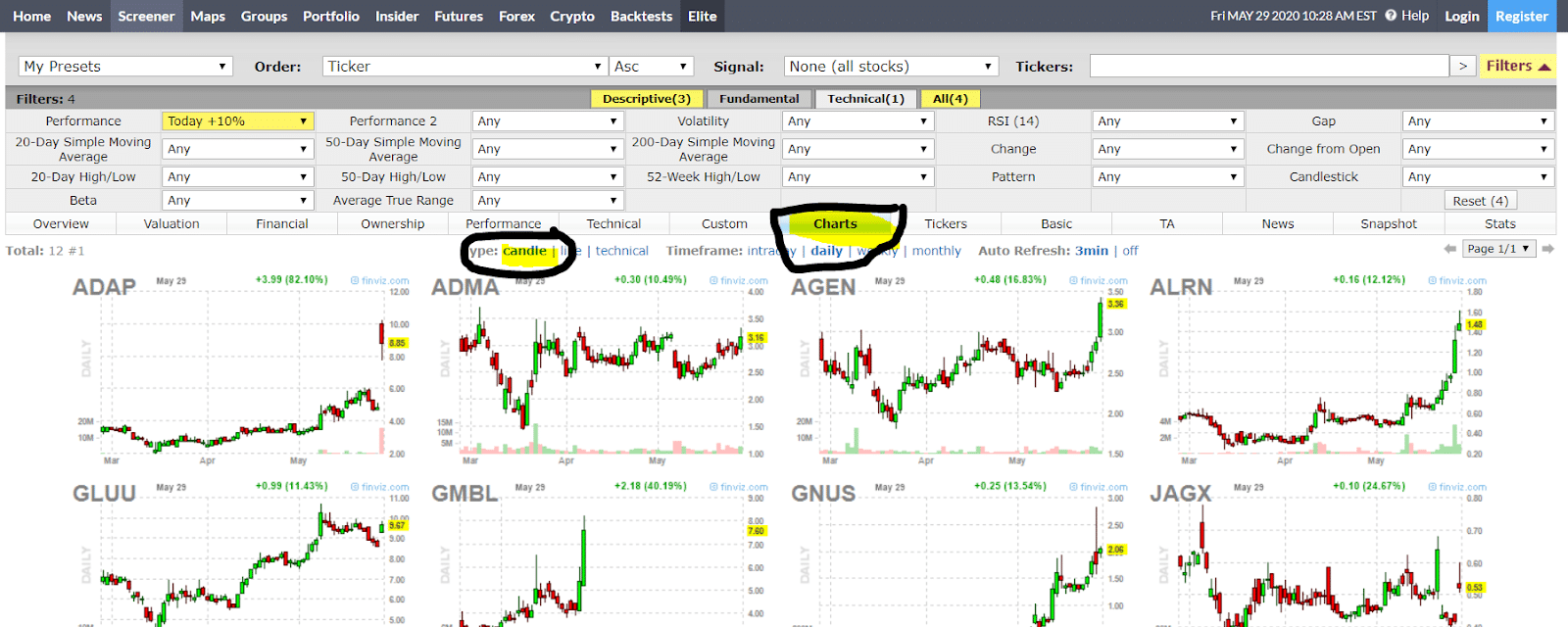 This gives me a visual look at the stocks so I can quickly see any patterns that pop up.
I'm basically just looking for 2 things here… I want to see one of my two bread and butter patterns, the stair step pattern and the consolidation into a move higher.
A stair step consists of higher highs and higher lows. I'll show you in the examples below.
And the consolidation pattern happens when a stock has leveled out into a tighter range. This looks like a sideways resting phase into a move higher.
I like to describe it as a simmering pot of water getting ready to hit boiling, and I am trying to grab this as it starts to boil… which is the break above.
I can spot these patterns with just a glance at the candles and narrow the 27 stocks down to my final watch list.
As I skimmed the scan results yesterday afternoon, I narrowed in on just 3 stocks.
AVGR, IPI, and SMLP.
Now it's time for my final step, the deep dive.
Deep dive
This is where my trade setup rules come into play. I'm looking for a strong close, potential, and momentum.
Strong Close
I want the stock to be closing strong. For this I like to see it 5% off high or less. The closer to the high of the day, the better.
My strategy is to place myself in stocks that will be big movers the next day. If people are selling into the close, it shows a lack of excitement about the stock.
I want to be in stocks that people are bidding up, showing they want to be in it overnight. This gives the stock the demand and momentum to continue up the next morning.
Potential

 
I am looking for double digits returns here folks.
I find these moves every day, so I am not going to risk my money on a stock that doesn't have that potential.
For me to be interested in taking a trade, I need to see at least 10% of potential to the next resistance.
Momentum
This is as simple as increased volume.
The stock will obviously be moving up if it's breaking above consolidation or making it's next move up in the stair step pattern.
But I need to see increasing volume on the move. This tells me there is real demand behind the move and more likely to carry over.
Now let's take that deep dive into the 3 stocks that were uncovered from the scan and skim.
Avinger Inc. (AVGR)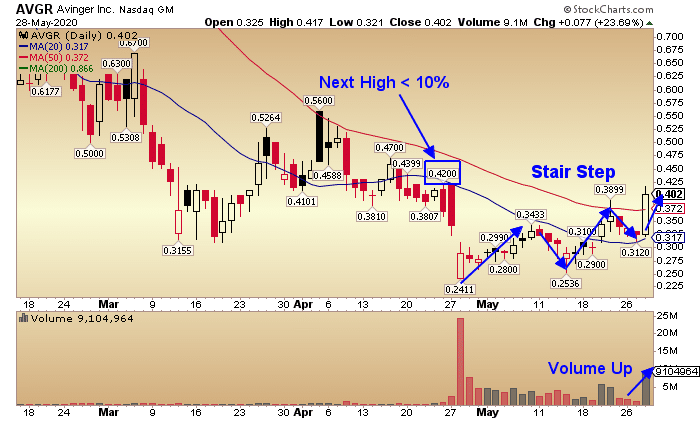 What I don't like:
The next resistance high is .42 which is only 5% above the current price. For that reason, I would mark it off my list and move on to the next chart.
Remember, there are a lot of stocks that do offer 10% plus potential, so I am not going to waste my time on ones that don't.
Intrepid Potash, Inc. (IPI)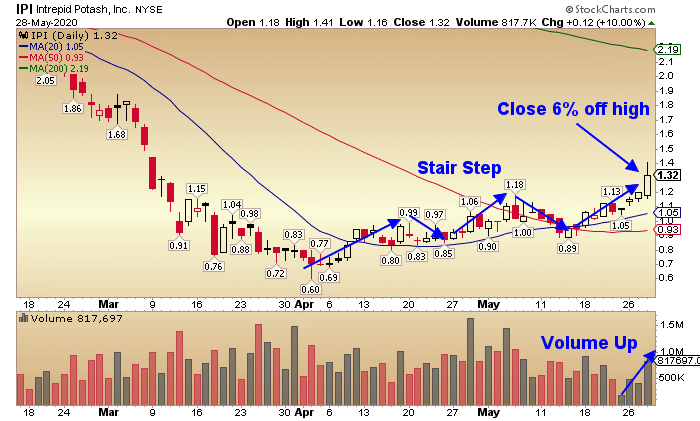 What I don't' like:
The pullback into the close.
IPI is closing over 6% below the high of the day.
Now this is on the line really. That's close to the 5% that I want to see, but I'll move on to the next chart to weigh all my options before making a final decision.
Summit Midstream Partners, LP (SMLP)
And we have a winner.
This is exactly what I like to see.
SMLP is moving higher out of a consolidation.
Remember the simmering? This stock is starting to boil over.
The strong close is in place as IPI is closing nearly on the high.
The potential is there. The next high resistance is at 1.54… that's a 43% higher.
And the momentum is in place as well. You can see the volume spike over in the lower graph.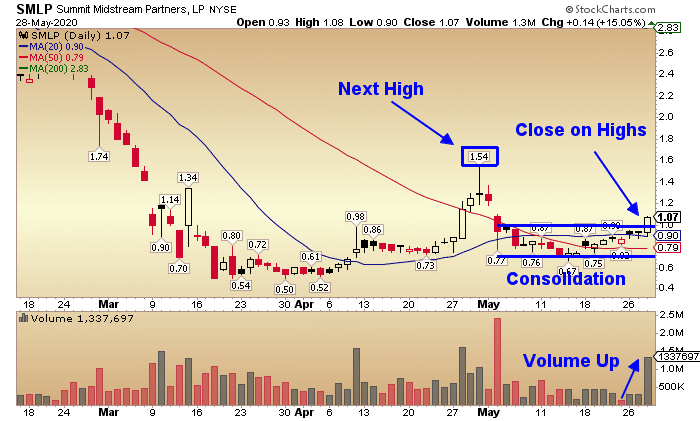 And this morning?
The momentum continued causing SMLP to gap up and run higher.
And it really got going right after the close yesterday hitting as high as 1.95 in the after hours… plenty of opportunities for profit.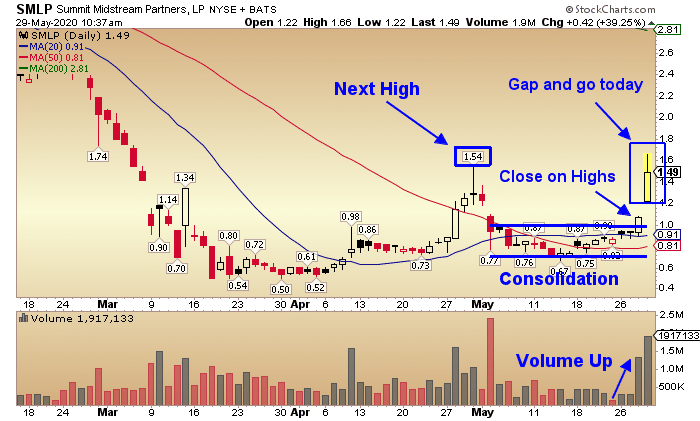 Recap
I ran my scan to narrow thousands of stocks down to twenty seven.
I skimmed the charts to find one of my two bread and butter patterns, narrowing the list down to just three stocks.
And then I took a deep dive into the charts of each and came up with one winner… SMLP.
Full disclosure. I got caught up in the training and reveal of my next small account challenge, so I didn't actually get to jump in the trade yesterday.
It happens, but I know there are trades like this every day, so it's not a big deal to me. I'll find some great ones today.
That said some of my members that have learned my strategy already did take some trades.*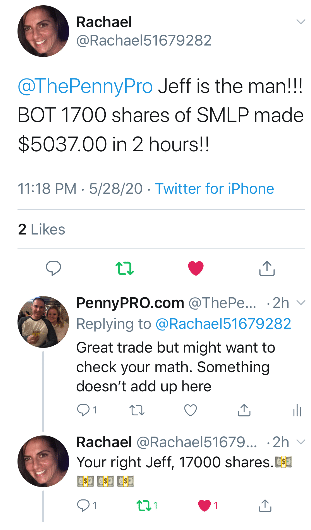 That's the beauty of it all.
It's not about just following me. I am here to teach you how to trade.
So while I was busy. Many of my members were still making money from my 3pm Profit Scan.
I have 12 years as an elementary school teacher. I love breaking things down and educating people on the hows and whys.
Add that to my 20 years trading and I can say I am pretty good at helping people learn to trade.
My next small account challenge starts June 8th.. So don't wait to join.
You can be there from the start… Join Profit Prism Platinum Today
*RagingBull.com, LLC utilizes select testimonials depicting profitability that are believed to be true based on the representations of the persons providing the testimonial. However, trading results have not been verified and will vary widely given a variety of factors such as experience, skill, risk mitigation practices, market dynamics and the amount of capital deployed. It is easy to lose money trading and we recommend educating yourself as much as possible before you even think about trying it. Past performance is not necessarily indicative of future results.