As you know I always come into a trading day prepared with a watchlist and plan.
But that's not the end of it.
There are a lot of great trades setting up during the day that weren't there the night before.
To stay on top of the game, I run a midday scan and hunt down trades that are setting up… to add to my watchlist in real time.
Today I'm going to show you an example of the midday scan I run in my Profit Prism Platinum service…
And how I apply it to add profit and prepare for my end of day trades.
You all know that to find my trade setups at the end of the day, I use my custom screener to narrow in on the specific criteria that's important to my trades. (check out my end of day scan here)
By doing this I can quickly and easily identify the stocks that are most likely set up to explode overnight.
That's all great, and it's been working wonders but that's at the end of day.
What about the rest of the day?
This is where I use my midday scans.
With these I am able to identify the stocks that are showing potential earlier in the day.
Many of these may become great picks by the end of the day.
So by identifying them earlier, I can have an eye on them and be more in tune with how they are moving before my final end of day scan.
Let's take a look at how this works. Here's a clip explaining how I use this.
My Midday Scan in Action
And moving forward, here's a clip of a recent midday scan where I talk about a stock that popped up on it.
In my midday scan I pinpointed Genius Brands (GNUS).
Not only was GNUS breaking above daily consolidation range… but it also had a strong catalyst behind the move.
As mentioned in the video, they announced a brand new on-demand children's programming channel, the "Kartoon Channel."
With the channel going live June 15, it is expected to reach over 100 million households and over 200 million mobile devices.
I first pointed this stock out on the Platinum midday watch list, when I noticed the stock making some big moves after the release of its shareholder letter detailing the launch of "Kartoon Channel."
By running my scan, I was able to put GNUS on my watchlist for the day
And be all the more prepared for what happened next.
I watched as it made higher highs and higher lows through lunch.
This is one of my favorite patterns, the stair step.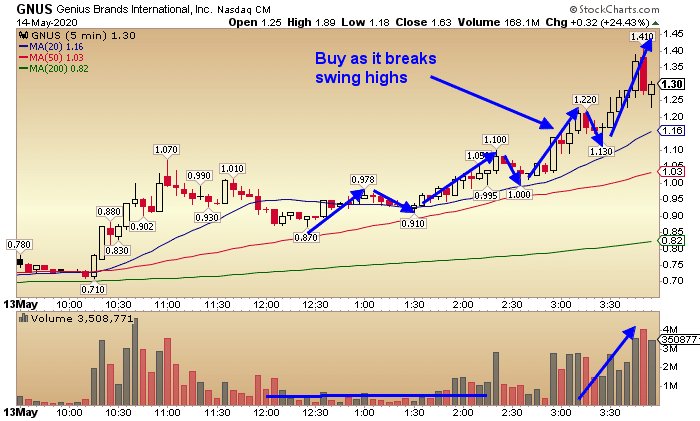 Setting up for a great trade potential.
With a trade like this, I'm looking to catch an overnight swing from the increased demand and upward momentum. So waiting till the end of the day to verify continued momentum is key.
And that's exactly what I got when I decided it was time to pounce on this one and add to my $50K Challenge portfolio.
Continued strong momentum with volume and price ramping up at the end of the day, you can't beat that combo.
I bought 7,500 shares at $1.154 average, targeting a move up to $1.50 – just off GNUS's recent high of $1.57.
And the very next day I cashed out with $1,520 in profits.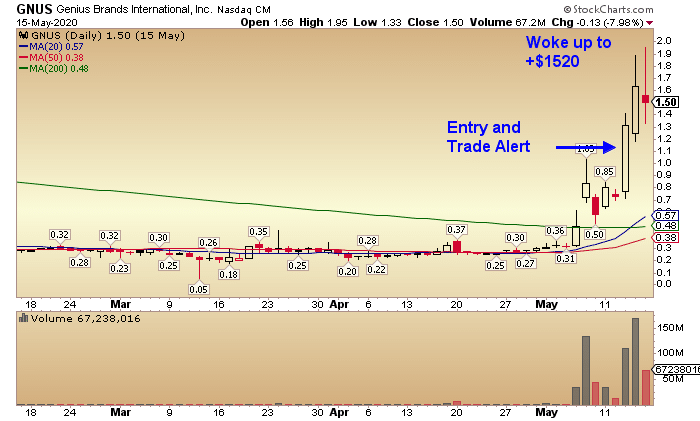 And I know some of my $50K Challenge members held on even longer and nabbed some pretty sweet rewards!
Just look at the gain Brandon pulled in playing my GNUS alert.*

With GNUS tapping as high as $1.89 the next day, this is an example of how trading your own plan can really pay off.
Using my midday scan and watchlist, I was able to find GNUS way ahead of time. I was fully prepared for the setup when it happened and pulled in a great gain overnight.
I'm here to teach you and help you as much as possible, but it's still up to you to find what works best for your trading. That's what will make you consistent for years to come.
Click here to join Profit Prism Platinum
*RagingBull.com, LLC utilizes select testimonials depicting profitability that are believed to be true based on the representations of the persons providing the testimonial. However, trading results have not been verified and will vary widely given a variety of factors such as experience, skill, risk mitigation practices, market dynamics and the amount of capital deployed. It is easy to lose money trading and we recommend educating yourself as much as possible before you even think about trying it. Past performance is not necessarily indicative of future results.