It's time to protect your trading from the extreme volatility that comes with the continued spread of the "market's plague."
Trading needs to be handled differently when the market moves like this…
You see, even if you have a great trade on, if you hold too long you are at the mercy of big swings in the opposite direction.
You may be up one day salivating at the gain that's developing, and then down the very next, kicking yourself for not grabbing your profit…
Maybe you are sure this is a big one and don't want to miss it…
So how do you profit at the same time as mitigating the risk of market swings?
It's not really that hard. There are a handful of strategies you can implement right now.
And I'm going to share the three primary setups I use to navigate this market.
In this first part, I want to talk about scaling. (tomorrow I will share two more strategies)
In a volatile market, the value of multiple profit targets and scaling out of a position really starts to show.
But volatile or not, scaling out of a position can be a great strategy for profit-taking in any market.
Spoiler alert – stocks don't go straight up. I wish they did but they don't.
And the way a stock rolls around can easily take you on an emotional rollercoaster ride.
You're most likely looking at the profits on your screen all the time, noticing every dollar up and down.. And you get greedy on the rise and fearful on the pullbacks.
So what can you do?
Take some off the table… you will be amazed how good it feels to bank some gains while the other portion of your trade lets you fulfill the need for greed. I kid, but you know what I mean.
It's a simple concept that's been around forever, let me show you how I use it in my trading.
ToughBuilt Industries, Inc. (TBLT) 
ToughBuilt (TBLT) formed one of my bread and butter setups, the stair-step pattern.
And when it broke above the swing high I sent out my alert and bought the break at .36s.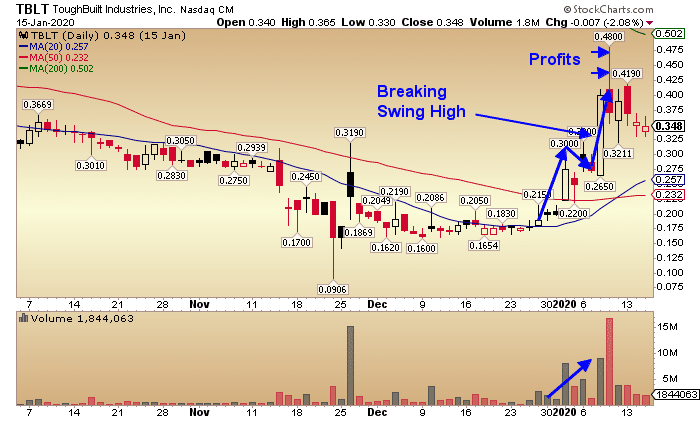 After a good night's sleep, I woke up to cash in… but I didn't just take it all off right then.
Why? Because I saw the potential for it to keep going.
I don't always take some off and let some ride. I have to see a reason.
Taking half off now secures my positive trade and the second half let me shoot for a bigger gain.
So took half off at .43 to lock in profits.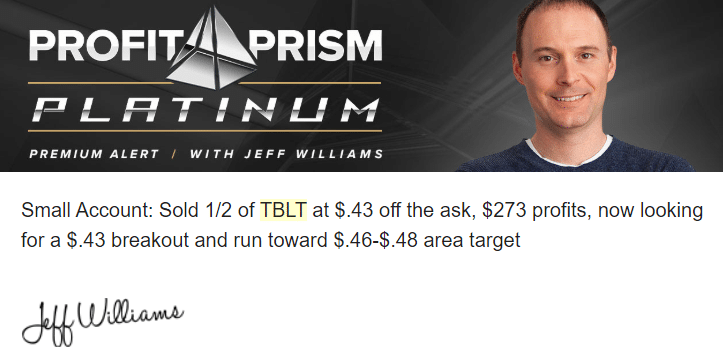 Now if it had gone against me, I already had a gain on it. So this helps pull some of the emotion and stress out of it.
I had a target for my second half at .46 – .48, an area I saw potential.
And luckily here, it worked out and I grabbed more profit at .46 for a total gain of $683.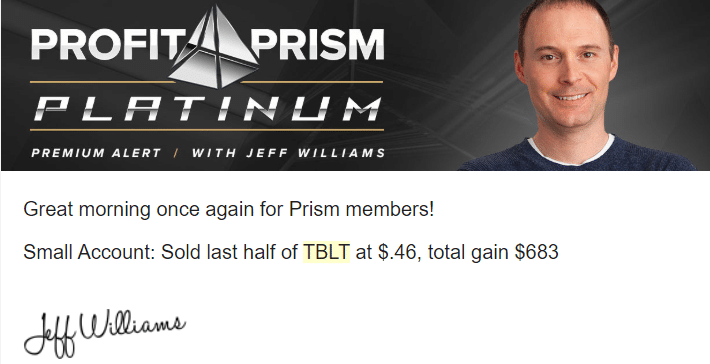 And as always, I love seeing when my members find profits too:

Now let's take a look at a trade that worked out differently
NovaBay Pharmaceuticals (NBY)
NovaBay (NBY) showed us a different setup. In the midst of coronavirus speculation, extremely high volume came flooding in and pushed it through the previous consolidation range along with the 200 day SMA.
The momentum was built for a quick profit here.
However I didn't just jump in, I needed to see this set up going into the close. Since I hold it overnight I need to make sure the momentum will be there to carry it up the next morning.
And that's when I cash in.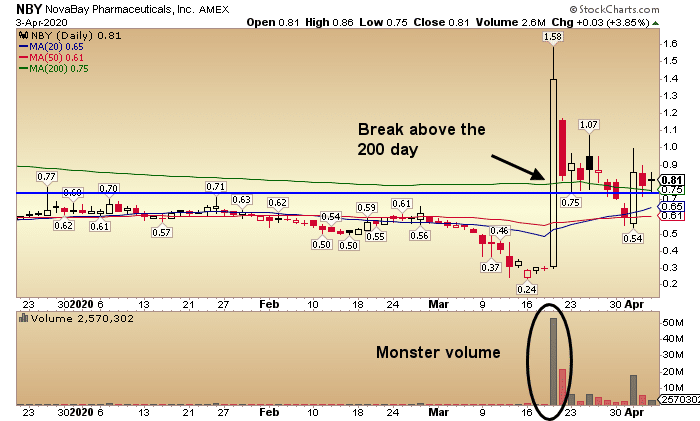 So here's what I did:
I moved over to an intraday chart. Below you will see the 5-minute chart from that day.
If you will notice, the big move was early, and then made a big pullback. It's very common to see pullbacks midday. This is exactly why I didn't rush in.
But I did keep my eye on it, and coming into the close, I saw what I wanted. Volume was rushing back in, telling me the move wasn't over.
I grabbed shares at 1.03 and let the momentum carry it back up.
And minutes later in the post-market, NBY was already back above the high of the day.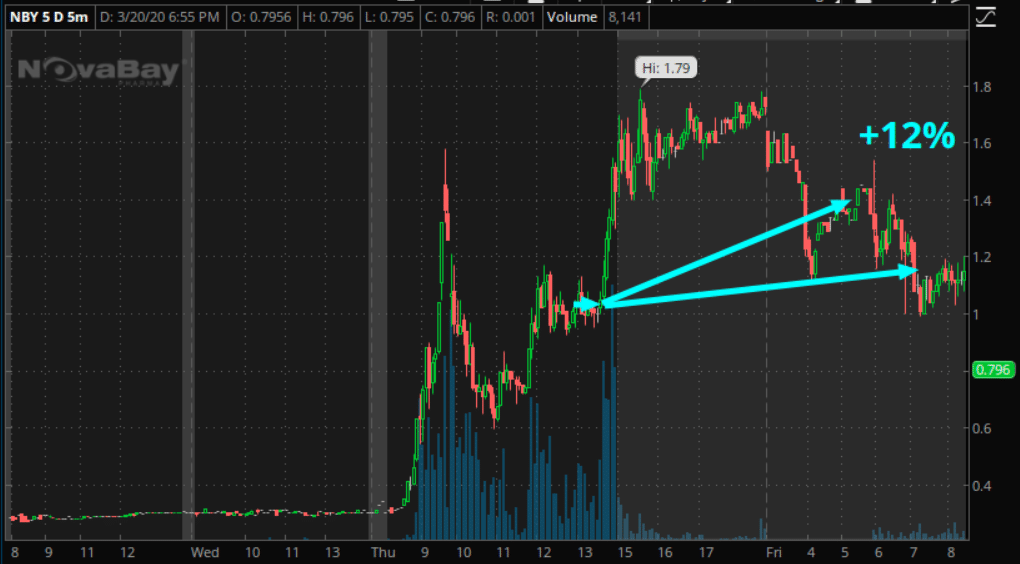 Now I would have grabbed half there and held the other half overnight, but sadly I was out of day trades. Damn PDT rules.
Regardless, I bought the NBY for the momentum and I was confident I could cash in the next morning, skirting the PDT rule by holding overnight.
And it worked. I sold half for a 38% return on the first half…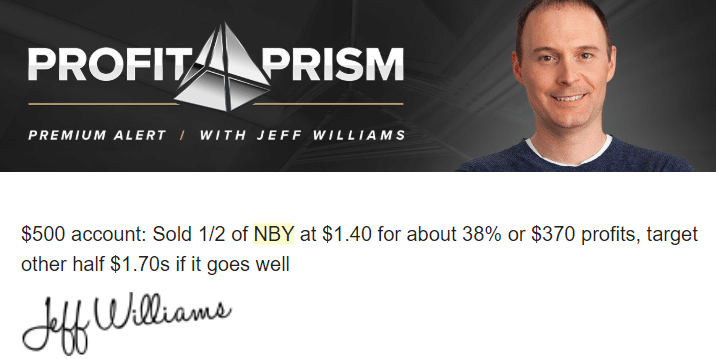 But I saw potential for this to retest the highs at 1.70, so if all goes well, I can pump that return up a bit. If not I still have a profit on the trade.
Needless to say from looking at the chart, it didn't work out. But I was still able to pull a 12% gain on the second half.
And since I pulled the first half much higher, my overall gain was a little over 23%… overnight.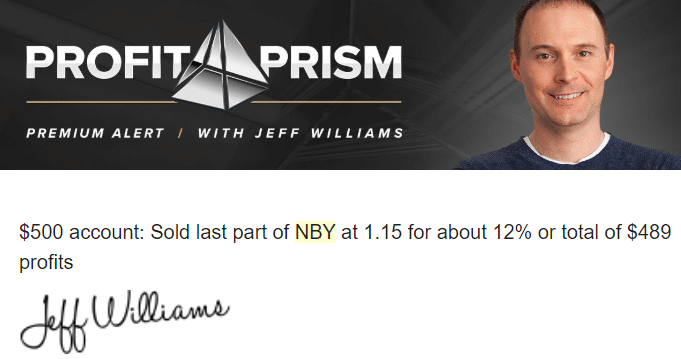 Am I disappointed… Why would I be?
It was a great trade. I had a reason to think it could go higher, but I wasn't dumb about it.
I cashed in while I had it, and gave myself a shot for an increased return.
This is trading, not everything is going to work out.
Surprise gang, I do lose sometimes… I'm not bulletproof.
But with strategies like this, I can thrive even in a volatile market.
Even in a volatile bear market, recession, depression, or monster bull market for that matter.
But that's not my only strategy for surviving… even thriving in a volatile market…
Don't miss my email tomorrow for Part II: Protect Your Trading From Volatility where I will share two more strategies that I use to profit right now. Keep your eyes out for it.
To get started trading the right way… Grab my Small Account Starter Pack – Free