Yesterday I shared the first of three strategies I am using right now to protect my trading from the current market volatility.
If you missed the first installment, you can read it here. 
You see, you can have a great strategy, but if your timing is off, it won't matter. 
Today I'm going to help you put those together. 
As well, as share two strategies that have helped me return quadruple digits on one of my accounts this year. 
Market volatility is so bad right now, it's wreaking havoc for traders everywhere.
However, there is one group that knows how to trade this market… professional day traders.
You see they actually thrive on volatility. Well the scalpers that is…
Their strategy –  grab a few cents here and there over and over all day, and by the end of the day, they are taking home a decent pile of cash.
What makes them profitable in a market like this?
Quick profits. Plain and simple. They aren't holding so they aren't getting whipped around.
If the market is up 900 one day and down 2000 the next, do you really think your 3 day swing trade is going to work out?
Not only that, it can be extremely stressful holding a position and watching it go from green to red.
For the same reason the professional day traders are cashing in… I am too.
And my strategy still pulls in monster returns.
I started my current small account challenge on Jan 21 with just $500…
The goal — to grow it by 1,000% in just 3 months. Lofty right???
But here I am still 2 weeks away and my $500 account is now $9,000… that's 1,700%.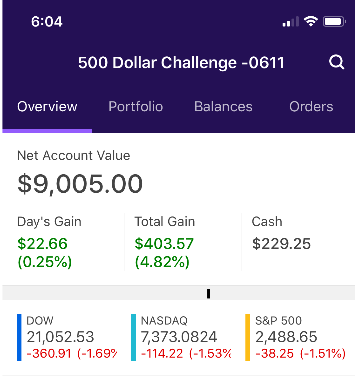 As if a 1,000% goal wasn't crazy enough… I crushed it. (like I always do)
So while I may be crushing this market like many professional day traders, there's a big difference between us… the size of our accounts.
They have unlimited funds, so it's easy to trade 100 dollar stocks and grab 10 cents here and there.
But with my tiny account, I can't even buy 100 shares of a stock like that.. And a $10 gain isn't going to do much for me.
So what I do is trade penny stocks and small caps because 10 cents in a 50 cent stock is a cool 20% gain.
Point being, I can bring in the big returns I do because I know which stocks to trade, and when to trade them.
Premier Biomedical, Inc. (BIEI)
Look at the Premier Biomedical (BIEI) chart below and I will show you what I mean.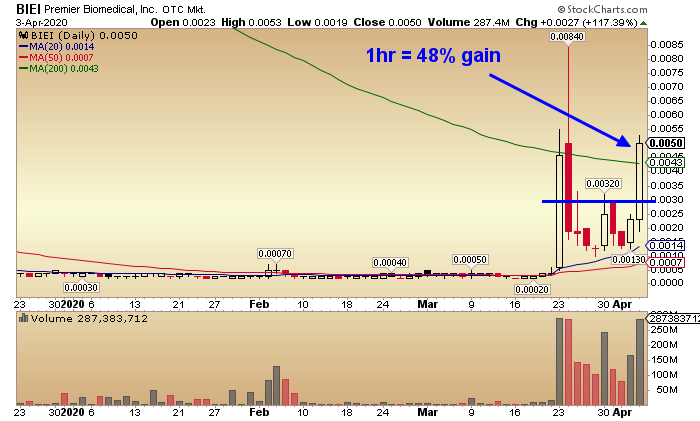 I made 48% gain pulling in $1000 in my account in just 1 hour. My strategy was made to pick stocks that set to explode and get in and out on the momentum of that breakout.
While I normally get in stocks at the end of the day to capture the momentum into the next morning (bypassing the pesky PDT rule), BIEI moved so fast I wasn't shy about grabbing a quick 48%.
Why not just hold it? Simple. It was up 48% in just 1 hour.
Seriously, you want to put your 48% gain in the hands of this market?
With this volatility the number one defense of whipsaw is grabbing profits while you have them.
I live by this rule and that's why my account is up 1700% during such difficult times to trade.
Don't be afraid to get back in
And the third strategy for protecting your trading from volatility goes right along with taking quick profits.
Locking in profits shields you from the volatility… but that doesn't mean you can't take another trade.
Don't be afraid to get back in… IF there is a good setup.
This strategy allows you to lock in the quick profits, but still have the opportunity to profit on
continued moves.
I'll show you what I mean in the examples below.
South Beach Spirits, Inc. (SBES)
In the chart below you can see one of my favorite setups… the consolidation breakout.
After a long consolidation period the stock started to pick up some steam. Volume was coming back in and it had made a move up…
My end of day scanner picked up on this and I scouted the trade in SBES getting in on the momentum towards the end of the day.
The next morning I grabbed $1,095, for a quick profit.
his is a prime example of taking money off the table but not being scared to get back in.
After a pullback, making a higher low, SBES moved back up… another one of my bread and butter setups… the stair step pattern.
Higher highs and higher lows… when SBES broke above the previous swing high, I jumped back in to ride the continued momentum.
And I was able to grab another $1,032.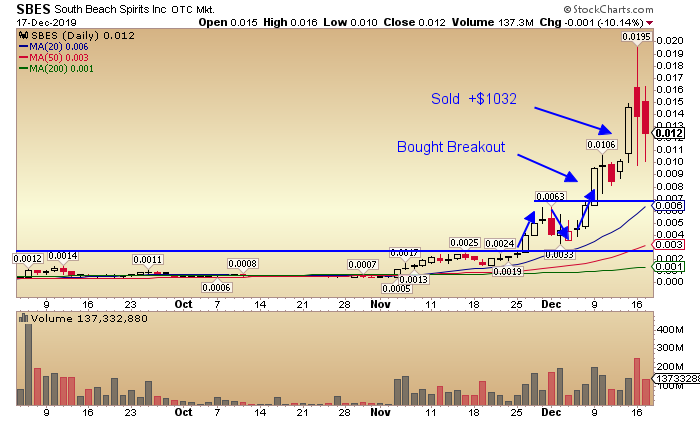 But this trade wasn't over yet.
Even though I grabbed my $1,032 in the morning… I saw the strength to carry this into the next day, so I jumped back in… on the same day.
There is nothing wrong with locking in profits while you have them… in fact it's key to making money in this market environment.
And if the stock shows you something new, it's okay to get back in…
 It's a new trade. Trust your strategy.
And I'm glad I did because just like I thought, we got a big pop the next day and I added another $1,440 to my account.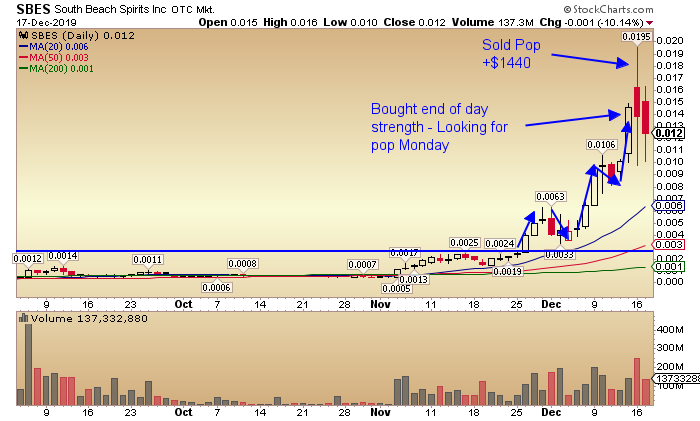 I did the math for you… I locked in over $3,500 without sweating those pullbacks, nor risking that the momentum was over and giving it all back.
(TPTW)
Here's a trade I took at the end of March.
I saw the volume ramping up, and jumped in when it broke above the swing high… that's a 5 minute chart, so you can see how fast I cashed in for $1,100.
But this wasn't over either, I liked the setup at the close and got back in with the stock breaking out of the ascending triangle.
Now this one didn't develop as I had hoped, so I quickly grabbed another $550, for a total of $1,650.
If I hadn't grabbed my gain, I would have given it all back as TPTW rolled over the rest of the day.
By getting back in I was able to grab more profits, and by taking quick gains, I locked it all in and skirted the volatility.
If you want to protect your trading from volatility… These three strategies can help you lock in gains and grow your account, while others are getting nowhere.
To recap, the three strategies I personally use are scaling out on certain trades, taking quick profits, and not being afraid to get back into a trade.
To get started trading and learn more about how I trade and make money in any environment…