Stocks are mixed today, as we head into a busy earnings schedule this week that includes some of the largest companies in the world (Amazon, Facebook, and Microsoft).
While stocks like that might dominate the headlines…
…frankly, they don't move as much for me. And are way too expensive when you're trading a small account (under $25K). Heck, I can barely buy one share of Amazon at these levels if I'm using my $2K challenge account.
You see, I stick to penny stocks because they offer the most opportunity. Imagine being right on a trade and making 20-40% overnight…
It happens all the time…
It happened last year when I ran up three separate accounts and returned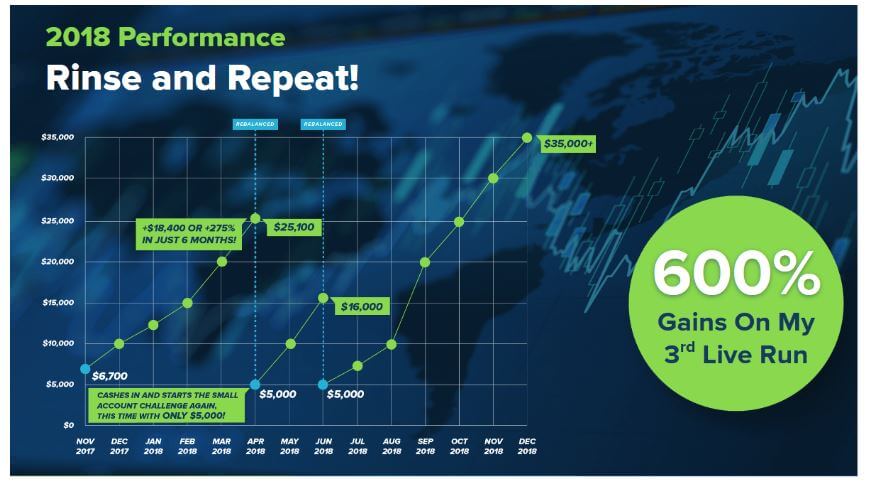 (As a teacher, I used to teach kids how to tie their shoelaces, now I'm teaching adults how to build wealth through penny stocks, if you missed my presentation on the Profit Prism, here you go)
It happened last week…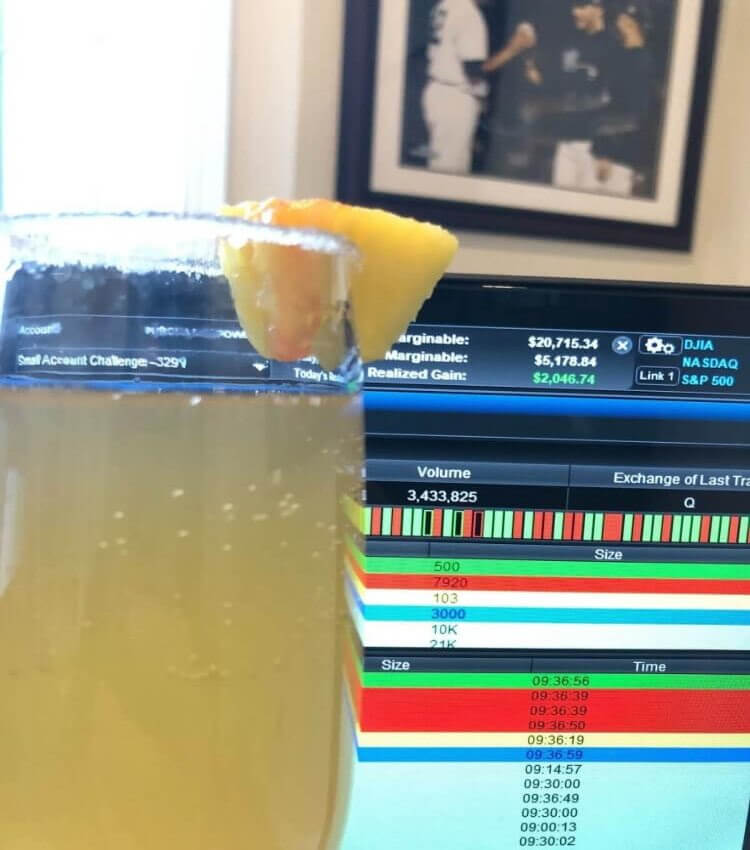 (I help people build small accounts, last Monday I made over $2k in trading profits before people ate breakfast, if you're ready to trade my system and receive my real-time alerts, here you go) 
And it even happened today in Peer to Peer Network (PTOP).

(It might not look like much, but $500 a day in trading profits will get you to $100K+ in a year, if you want to receive my alerts in real-time, click here)
And you know what, this trade was pretty easy to follow too…
Apr 22, 12:06 PM
raki m: out PTOP 44 and .0045 from .0042 +126 thanks jeff
Apr 22, 12:31 PM
robert f: out PTOP in .0041 out .005 $900
1:44 PM  Gregory B.:
Out PTOP at .0052 from .0043  + $900
Now, I don't encourage anyone to copy and paste my trades. However, I take great pride in my ability to teach. That said, for you to have the conviction to make these types of trades you need to understand them and have trust in the strategy.
What do I mean?
Well, you need to understand the three phases of the trade, they include:
Pre-trade analysis:

 what's our thesis, what makes us believe we have an edge

The trade

: how are we going to manage it, what's the trading plan

Post-trade analysis:

 what did we learn from the trade, are there any changes we can make next time to improve the outcome, was our thesis wrong, etc.
Furthermore, I put together a case study of today's top trade in PTOP. It goes over the three phases of the trade in full detail. Read on to learn more about the trading process.
Now, there are three phases of a trade:
Pre-trade analysis.

The trade.

Post-trade analysis.
The way you can think about it is like a basketball game. There's a pre-game – where both teams analyze the defense and offense, and plan. Then, there's the actual game – where they execute their plan and adapt if anything changes. Thereafter, they'll review the game, what they did right, what they did wrong, and how they could do things better.
Now, how can we apply this to trading?
Well, it's pretty simple… you can think of it as three steps. I'm going to show you the three phases of an actual trade that I took today.
Step 1) Pre-Trade Analysis
Before I get into any trade, I'll scan for my favorite setups. That means I'm looking through a bunch of charts on both the long- and short-term timeframes.
For example, I like to look at the long term pattern, as well as identify areas of support and resistance.
Here's a look at a trade that I took today.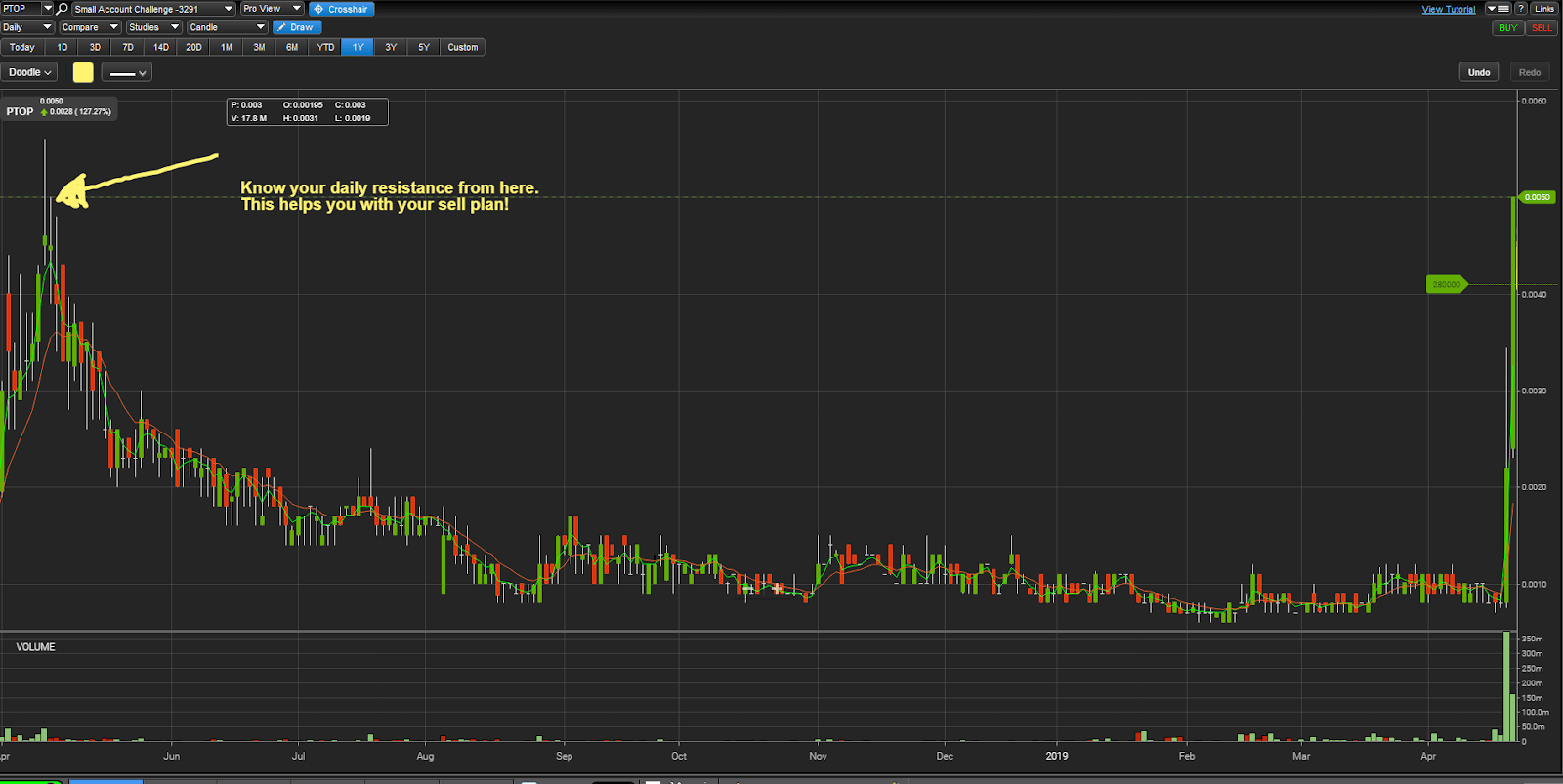 This is the daily chart on Peer to Peer Network (PTOP). Now, this specific pattern is what I call the consolidation or resting pattern. Basically, what I'm looking for is a steep drop… followed by an area of consolidation. In other words, after the stock has dropped, it should find a bottom, and trade in a tight range… thereafter, we typically see the stock run up, and test its previous high.
Keep in mind, this trade was quick… because the stock was moving pretty fast.
Now, the pre-trade – or pre-game – is when I conducted this analysis. I planned to buy this stock… and I had a target around $0.005 (right around the previous high on the chart). Since the stock was moving fast… I had to get my game face on. That said, this brings us to the actual trade – or in game.
Step 2) The Trade
With the actual trade, there's a lot to do. For example, you'll need to use different order types… especially if you care about the price, and not so much about the execution speed… and sometimes, you need to be able to make a trading plan in game and adapt to any changes.
Now, with the actual trade, I was looking at the 1-minute chart to time my entry… and all I had to do was look for the right price and have a target. Here's what I was looking at.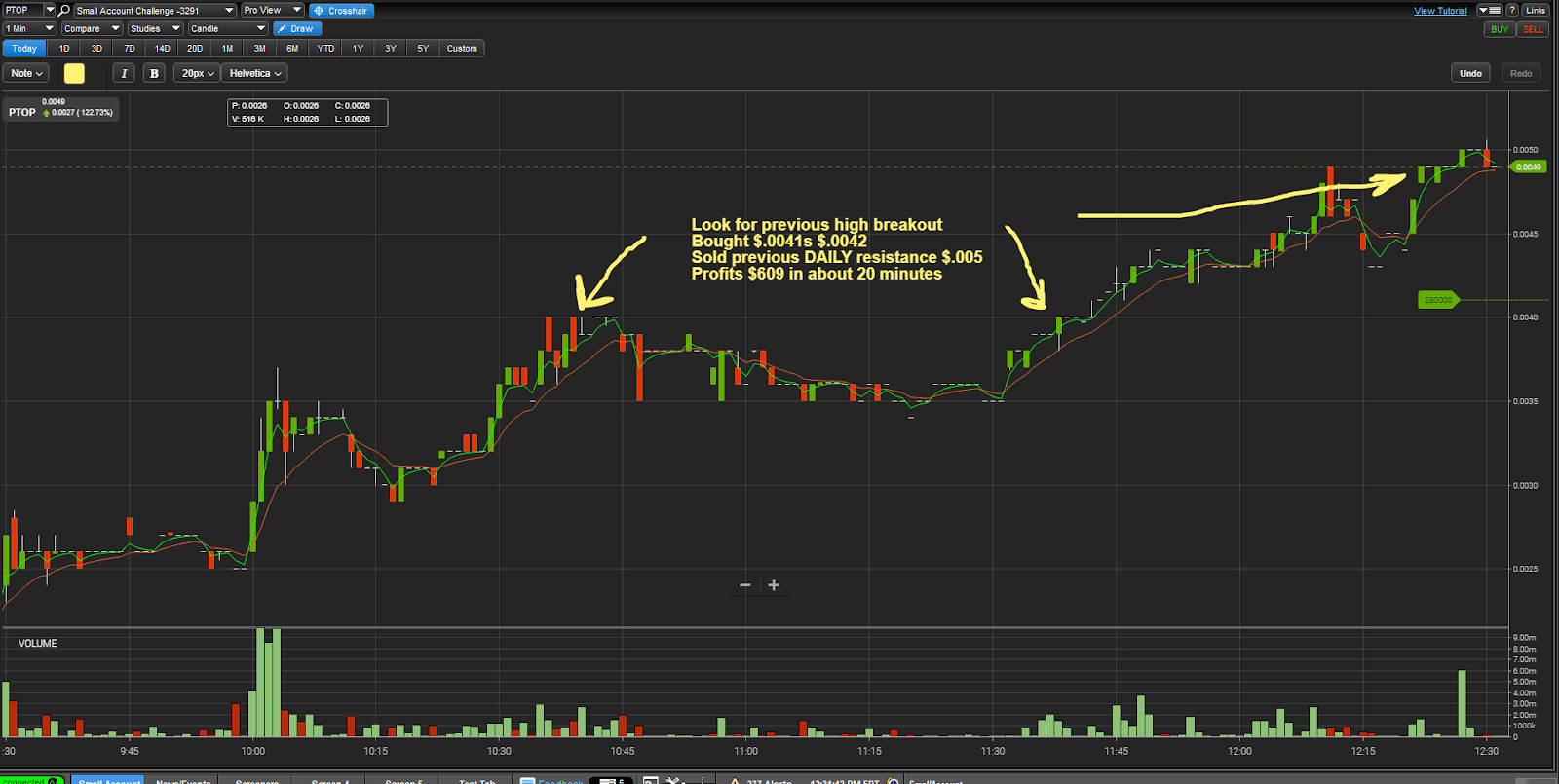 Basically, we saw that PTOP had some interesting price action on the one-minute chart. If you read one of my posts about the Staircase to Profits pattern… this will look very familiar to you. Now, the stock ran up… pulled back… consolidated… ran up again… and consolidated again.
Well, once I saw this pattern… I was looking for the stock to get to its previous high around $0.005 – right around the high on the daily chart we were looking at in the pre-trade analysis. Now, I saw the stock look like it was starting to break out – with volume picking up (something we care about when we're trading stocks)… so I quickly came up with a plan… buy just as the stock was breaking out.
So what did I do?
The stock broke above $0.004, and I entered limit orders to buy at $0.0041 and $0.0042.
Thereafter, it was smooth sailing. The stock got right to my target in just about 20 minutes. However, the work doesn't just end when you get out of the trade… I do a post-trade analysis.
Step 3) Post-Trade Analysis.
Just like NBA players… I conduct a post-game – or post-trade – analysis. Basically, I look for things like what I could've done better.
Well, for one… I could've scanned for this stock earlier because it had a nice setup on the daily chart.
For example, here's a look at PTOP on the daily chart again.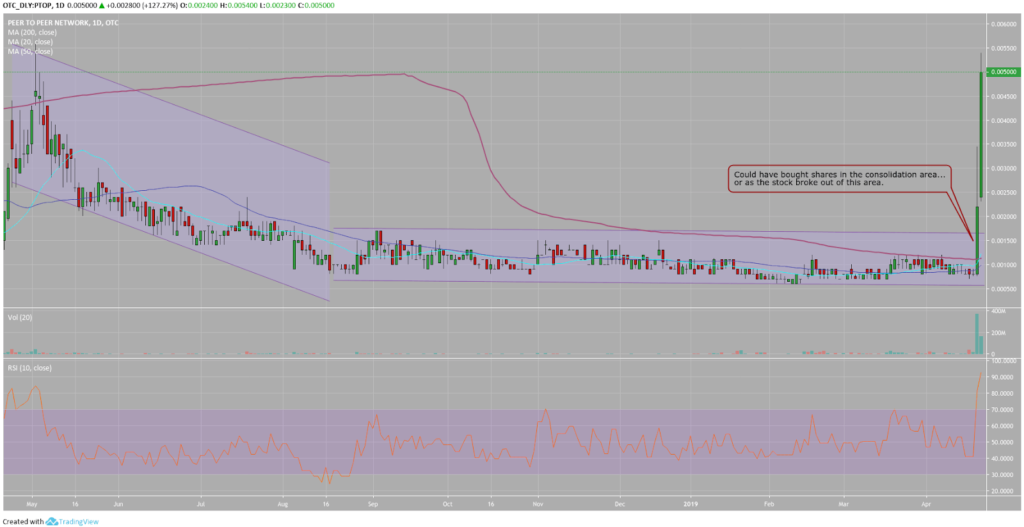 What I can do better next time is get in earlier, and have this pattern on my radar.
Now, what I did right was on the actual trade. You see, even though I missed the initial entry on the break out of the consolidation area… I figured this trade could test its previous high. So I looked at the 1-minute chart for an entry… and I got a price I liked.
Not only that, I stuck to my plan. I was planning on selling my shares around $0.005… and I did. So even though I missed out on the large move… I was still able to capture a good portion of the move – locking in ~20% on the trade.
Apr 22, 12:31 PM
R.F. : out PTOP in .0041 out .005 $900
Apr 22, 1:44 PM
G.B. : Out PTOP at .0052 from .0043  + $900
Great call on $PTOP. Just made 10% in 20m… Thank you!

— The Stock Prophet (@StockProphet_) April 22, 2019
I let Penny Pro members know about this trade too… and they executed the plan flawlessly. if you want alerts like these in real time, check out what we're offering.