It's no secret that I have a few favorite chart patterns.
What I call my bread and butter setups…patterns that come through time and time again to help me grow my small accounts with confidence.
One such pattern is the consolidation.
A consolidation is generally looked at as a period of indecisiveness as the stock isn't making a move in any direction…rather it is trading within a range.
This is a time when the stock is building pressure for its next move, which can be in either direction.
Our job is not to guess when and where, but to wait for the stock to choose it's direction and use indicators like an increase in volume to confirm the move.
This pattern has a tendency to precede quick pops in small cap stocks.
And that is exactly how I have traded it… and taught my students to trade it.
And even better—the consolidation breakout is not hard to understand.
In my Platinum room, my moderators and members find and trade these setups every day…
That's part of the beauty of my Platinum chat room…there are more opportunities as my moderators are calling out their personal trades as well.
Check out this trade in OPTT that one of my moderators called out, and many of my members traded, just last week.
OPTT was alerted several times in the Platinum chat room alerts last Tuesday. Jersey, one of my Platinum room moderators, was quick to jump on and alert us to the trade at $1.75.**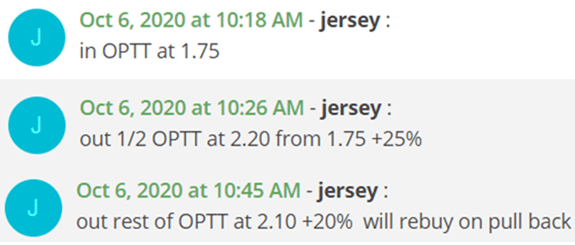 And there were many more alerts along the way as OPTT was a hot stock breaking out of a consolidation range with a catalyst backing it up. (PowerBuoy lease and testing, along with increased financing arrangements)
The exact type of trade that I am teaching my students about every day.
Using what they've learned and the confidence they've gained… my Platinum members and moderators were able to trade their own plans to bank some big wins.
To see what I am talking about, let's look at the chart setup.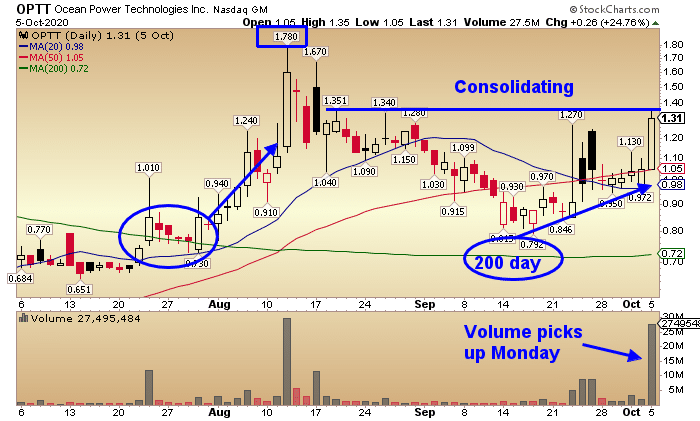 OPTT was trading in a consolidation range coming into last week.
After a move above the 200 day moving average at the end of July and hitting a high of $1.78 in mid August, the stock began to consolidate with a move back to the 200 day…
By staying above the 200 day and beginning a move back up, it began to set this trade up.
Then last Monday, OPTT got a nice increase in volume pushing the stock to the upper end of the consolidation range above $1.30.
And the very next day, the stock gapped up with a surge in volume creating the consolidation breakout in the chart below.
If you were in my Platinum chat, you would have seen Jersey call out the trade while jumping in to profit from the classic breakout.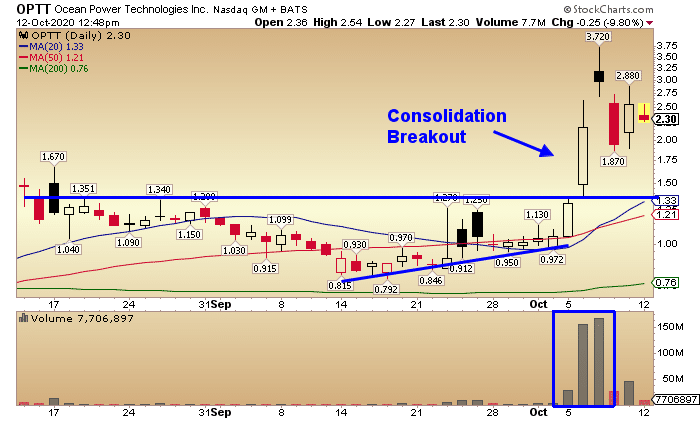 Many of the other members were jumping on this play as well… with multiple people alerting the room to the breakout.**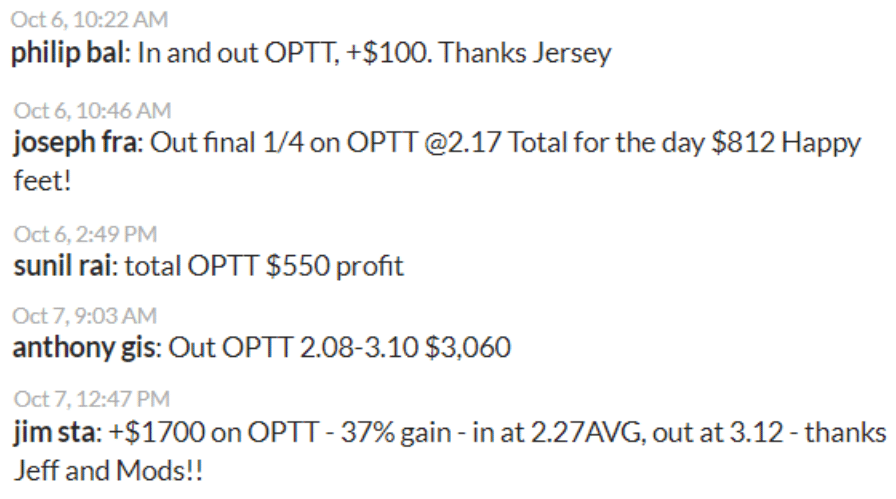 And as you can see from the trades… they all trade it their own way.
That's one of the major benefits of my Platinum chat room…you'll find a community of traders working towards a common goal… to make money.
So you aren't just getting my personal alerts, you are also learning about what others are trading as well.
Traders just like you, who started in the same place you are in now…
And I have a great team of moderators in there, all alerting the room to their personal trades throughout the day.
All of which, in my opinion, creates more educational value than you will find anywhere else out there.
To get started learning about my strategy and these same simple chart patterns and trade setups…
Check out my Free Stock Trading Starter Pack.
*Results presented are not typical and may vary from person to person. Please see our Testimonials Disclaimer here: https://ragingbull.com/disclaimer
**RagingBull does NOT track or verify subscribers' individual trading results and these individual experiences should NOT be understood as typical as or representative. Please see our Testimonials Disclaimer here: https://ragingbull.com/disclaimer