It's time to look at some of these dusty old retail and travel stocks…
After all, this is the time of year where those industries usually take center stage.
We're all guilty of going over budget during the holidays. Whether it's a budget for a party or the budget for gifts…
It's a fun and festive time of year and it's simply easy to get carried away.
From Black Friday sales to last minute Holiday shopping, retail is king of season…
And with kids off school and parents ready for a break, vacations get booked and travel companies pull in some of our hard earned cash as well.
This year has been different though…these two industries have been getting killed due to the pandemic and stay-at-home orders.
So today I'm sharing some stocks that could benefit from both the seasonal sales, as well as any continued positive news on the vaccine front.
PREIT (PEI) is a publicly traded real estate investment trust that owns and manages a portfolio of retail and lifestyle offerings mixed with destination dining and entertainment experiences in densely populated areas.
We all know malls are having trouble…even before the pandemic.
So it's no surprise to hear that PREIT filed for Chapter 11 protection on November 2…
But here's where it gets interesting…they already have a restructuring plan in place. In fact they had it ready before filing. This was a very calculated move.
The stock hit lows at.35 after filing Chapter 11, and has since made its way back up with a spike above the .60's yesterday…followed by a gap move up to the 200-day moving average today.
If PEI can make a sustained move above the 200-day, the next highs are $1.49 and $1.76.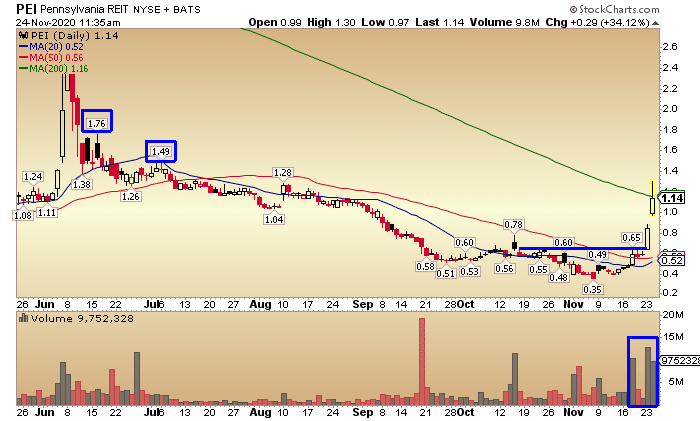 Washington Prime Group (WPG)
Washington Prime Group Inc. (WPG) is another retail REIT and a recognized leader in the ownership, management, acquisition and development of retail properties.
The theme here is owning the real estate behind the retail and having been killed by the pandemic…this is a potential comeback story as vaccines become available and people are out of the house again.
After forming a great base between .60 and .70, WPG closed above the 200-day moving average yesterday for the first time since January.
The stock made another strong move today, however it's been pulling back from highs in midday trading.
I want to see it hold this midday range before moving back up into the close. If it falls off the rest of the day, I'll be looking elsewhere for trades.
But I will keep an eye on this in the coming days to see where the stock finds support.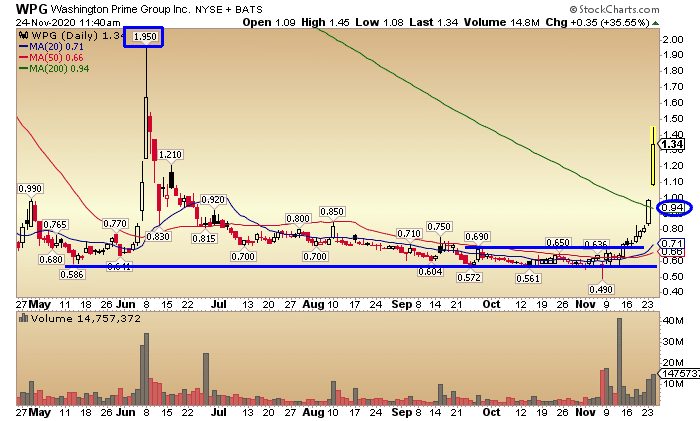 Express, Inc. (EXPR)
Okay, Express is a retailer that I talked about last Wednesday when it was trading around $1, and here it is today…at $1.72.
What a move…
I liked the double bottom at .61 and .57 into a stair step pattern taking the stock above the 20-day and 50-day moving averages.
It broke out from there and today ripped up above the 200-day moving average on a gap up.
Pulling back some midday, I'll be watching the 200-day line for support and if volume comes back in for a break of the intraday high.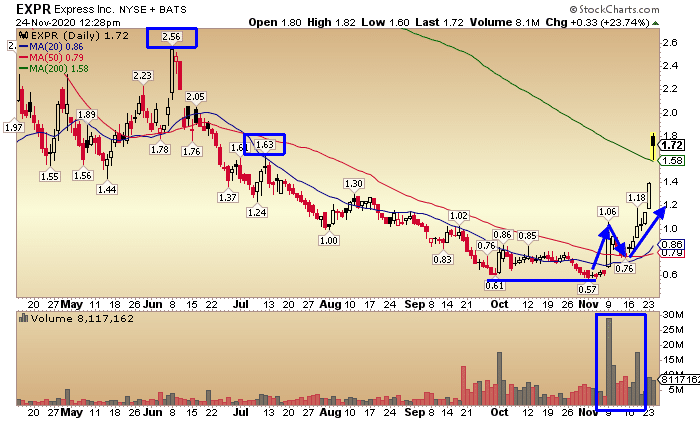 Don't miss trades like this…
Join me in my Stock Profit Pro – Live Trading Room, as I walk my members through my trades and what I am watching every day.
Party City Holdco Inc. (PRTY)
Another one I've talked about some lately.
I don't think Party City needs any introductions…we've all been there.
Looking at the chart below, it all started on a break above the 200-day moving average in August.
PRTY began trending up, but took a big hit getting knocked down to $1.67 at the end of October.
However, the stock hit the 200-day and bounced off it nicely…thus began the run we are looking at today.
This is a tricky one.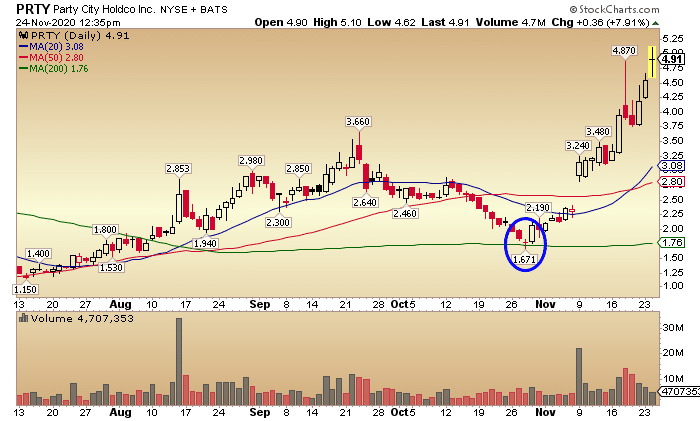 Halloween is probably their biggest time of year and then we go straight into Holiday parties, so between that and the talk of vaccines getting closer to reality…it's really turned around from the level of bankruptcy it was at months ago.
However, there's still a ways to go for this company to show full recovery, so be careful with trading it.
If you look at the chart below…
PRTY is now in the gap from a year ago. If it closes the gap, we could see $6 – $7…
If it doesn't, we could get a stall/ turn between here and $5.50.
Stick to your setups…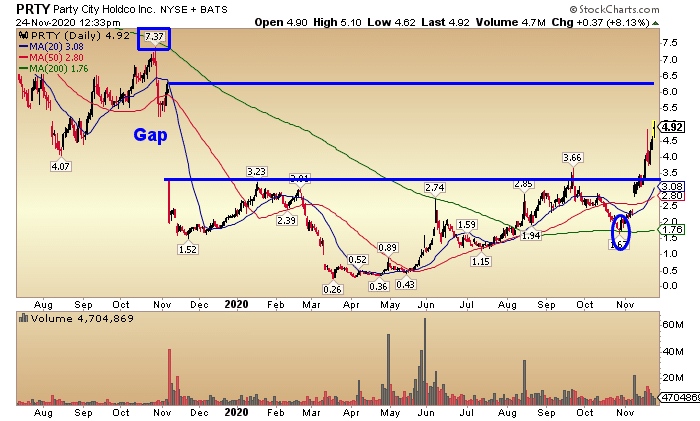 trivago N.V. (TRVG)
And for a potential travel recovery…
We all know trivago (TRVG), they operate a hotel and accommodation search platform through 54 localized websites and apps in 32 languages.
So if you're traveling, you may end up searching/ booking using their platform.
And when no one is traveling, well TRVG is hurting.
After hitting recent low of $1.25, today is the first time above the 200-day moving average in a long time.
Next chart highs are $2.26 and $2.89.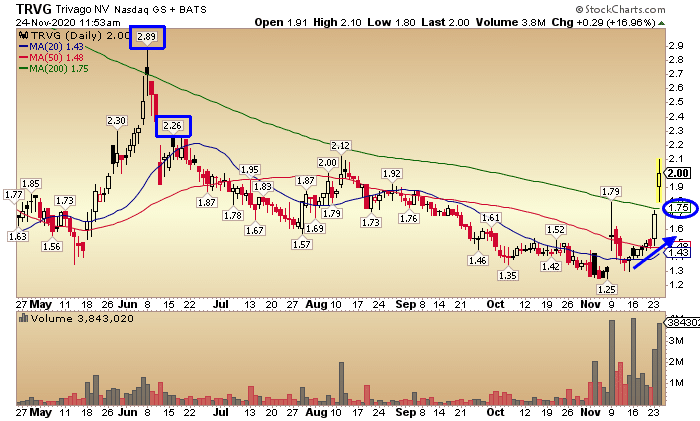 And be creative, look at hotels, airlines, restaurants, resorts… you name it. They've all been beaten down and are looking to recover when the vaccines are released and lockdowns are lifted.
There are a ton of retailers, entertainment, leisure, and travel related stocks just waiting for some attention.
Take a look at the stocks of companies you like and will start going back to when things get "back to normal."
It's time for you to get off the sidelines and in the game…
Don't waste anymore time wondering how to spot good momentum trades.
When it comes to the specifics of what gets me into a trade…
I teach it live Every Day in my trading room…but not only am I teaching it, I actually take my trades right there… walking my members through each step… all live.
Get your trading moving forward… Join Stock Profit Pro Today
---
Afternoon Watchlist
CEI        +33%
TOUR    +24%
AHT       +21%
SUP       +16%
AMC       +13%
DS          +12%
---
To get the most out of your trading, you need to be in my Live Trading Room.
This is where I spend the majority of my day…trading, teaching, and having fun with over 1,000 members.
Learn the strategy, see it live, trade with friends, and do it every day…