I love to trade. Plain and simple.
I've been doing it for over a decade and I love it more now than I ever have…
But it's not my life.
I have a family, friends, hobbies, and numerous interests outside of trading.
Therefore, it's important to streamline my trading as much as possible.
And one thing that has helped me with that is my end of day scan process.
This is where I scan the market for what I consider to be the best trade setups for my personal trading strategy.
The benefit of using a scan—I'm able to find trade setups faster and easier.
I'm not about wasting my time, so I'm not going to waste yours either.
Give me a couple minutes and I'll show you how I use a simple screener to narrow in on my best trade setups every day…
And yes, it's a screener you have access to as well… for free.
First off, you need a strategy…that goes without saying. How else will you know what to screen for?
With my Profit Prism strategy…
I'm looking for tomorrow's biggest movers, Today… with the goal to be in the stock ahead of the move.
In my experience, it's best to keep it simple.
So let's dive into the scan.
For this I use a simple free screener found at finviz.com and I keep it simple.
Note: these are the actual criteria I am using for my scans every day.
Under "screener" at the top of the page, I enter my criteria under the "descriptive" tab and the "technical" tab as seen below.
Descriptive Tab:

Price: under $10

Current volume: over 400k – need liquidity.. No bag holders here.

Volume: over 400k

Technical tab:

Performance: up over 10% today

It's that simple…
And by doing this I am able to take thousands of stocks down to 10-30 (depending on my day)  that meet my specific criteria.
The results come out looking like this:

These are the stocks that will give me the best odds of finding a mover. And now I can move on to skimming through the charts for potential setups without being bogged down with too many charts to look at.
Scrolling Charts For Setups
Now that I have my results, I simply click "charts" and then "candle" (both circled in image below) and it turns my list into a chart view as seen below.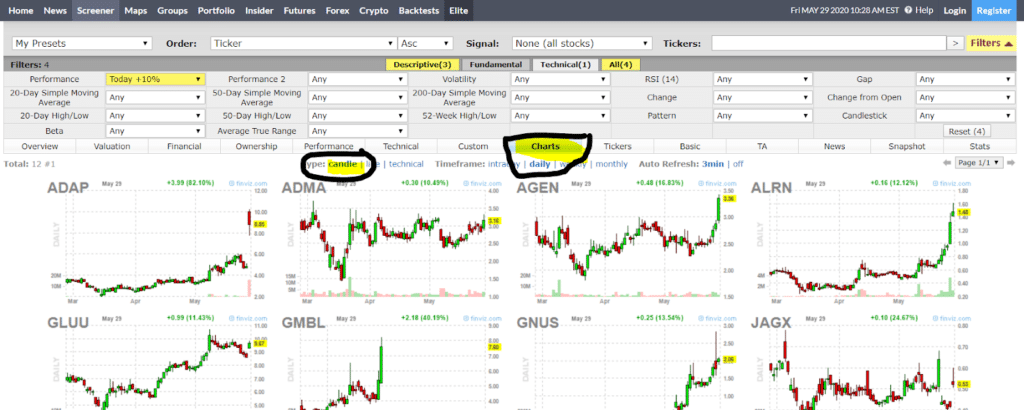 This gives me a visual look at the price action so I can quickly see any patterns that pop up.
I'm basically just looking for 2 things here… I want to see one of my two bread and butter patterns, the stair step pattern or the consolidation into a move higher.
A stair step consists of higher highs and higher lows. I'll show you in the example below.
And the consolidation pattern happens when a stock has leveled out into a tighter range. This looks like a sideways resting phase…and I'm looking for that pattern with a move higher.
I like to describe it as a simmering pot of water getting ready to hit the boiling point, and I am trying to grab this as it starts to boil… which is the break above the consolidation.
After years of doing this…I can spot these patterns with just a glance at the charts and narrow the 27 or so stocks down to my final list for a deep dive to find that special trade.
So I simply scroll through the charts and look for stocks trading out of a stair step or consolidation pattern. Then I make my short list and dive in to find my trades.
Dive In To Find A Winner
This is where my trade setup rules come into play. I am playing a chart pattern… but to take a trade, I'm also looking for a strong close, potential, and momentum.
This weeds out the weaker candidates and false breakouts.
Strong Close
I want the stock to be closing strong. For this I like to see it 5% or less off the high. The closer to the high of the day, the better.
My strategy is to place myself in stocks that will be big movers the next day. If people are selling into the close, it shows a lack of excitement about the stock.
I want to be in stocks that people are bidding up, showing they want to be in it overnight. This gives the stock the demand and momentum to continue up the next morning.
Potential 
I am looking for double digits returns here folks.
I find these moves every day, so I am not going to risk my money on a stock that doesn't have that potential.
For me to be interested in taking a trade, I need to see at least 10% of potential to the next resistance area.
Momentum
This is as simple as looking for increased volume.
If a stock is breaking above consolidation or making it's next move up in the stair step pattern, then it's obviously moving up.
But that doesn't mean there is real interest in the stock.
I need to see increasing volume on the break. This tells me there is real demand behind the move and more likely to carry over to the next day.
Now I'll walk you through an example from this week. I chose it for time purposes… It has both patterns on the chart and it hit my scanner pretty much every day this week.
I also put a trade on, so I can show you exactly why I chose it when I did…and skipped it the day before…
Nano Dimension Ltd. (NNDM)
Nano Dimension (NNDM) showed up on my scan Monday afternoon…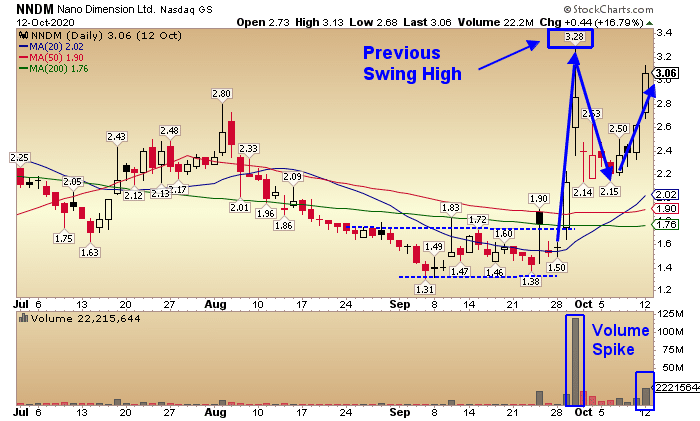 What I liked:
NNDM had recently broken out of a consolidation (the dashed lines) on a big spike in volume.
After a move up, the stock pulled back found support and Monday it was moving back towards the high. Volume was also picking back up.
Is this a trade?
No… it didn't make the cut because the stock was still below the previous swing high…
So while it looks like it is setting up in a stair step pattern, until it breaks that previous swing, it hasn't made a higher high…which would complete the stair step.
So I didn't pull the trigger this Monday afternoon. In fact it was a straightforward decision, it didn't fit the criteria to make a trade…So I didn't.
That doesn't mean it's over for this stock, so I put it on the watchlist for Tuesday.
And as you can see in the chart below, early in the day it popped up looking like a break but by the end of the day it was closing weak.
So again, I am passing on this trade. I need strength at the close to show me this stock can carry that momentum into the next day or two.
I want to buy into stocks that others want to be in. And on this day no one wanted to hold it overnight.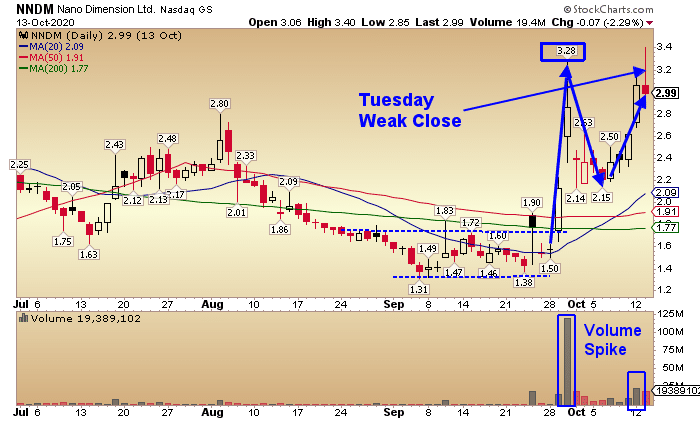 Now moving on to Wednesday and guess who popped up on my end-of-day scan AGAIN?
And this time NNDM was setting up for an actual trade.
On Wednesday NNDM broke above the swing high, volume was spiking higher, and it actually closed strong. Hitting all of my criteria.
So I jumped in at $3.75 and sent an alert to my members.
In the chart below you can see the setup with buy alert AND the move the stock made over the next two days… hitting a high 62% higher earlier Today.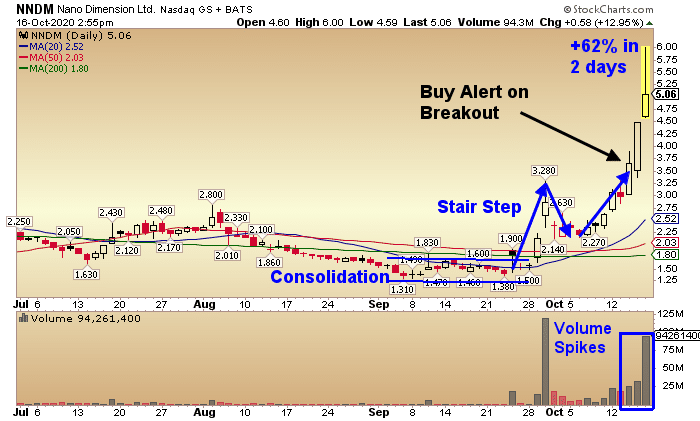 Patience pays off…I passed on a trade in NNDM 2 days in a row before it gave me what I wanted to see.
I didn't break my rules and I also didn't discard the stock, I waited for the right setup…and it paid off.
If you could save hours in your search for trades, you would do it right?
That's the beauty of this simple scan…it saves so much time.
In fact without it, I would probably miss a lot of great setups just because they wouldn't come across my screen at all.
Now this example follows my personal trading strategy criteria…you may have your own, but the principles are the same.
If you don't have a strategy or are looking to learn more… I am here to teach you how to trade.
I spent 12 years as an elementary school teacher. I love breaking things down and educating people on the hows and whys.
Add that to over a decade of trading and I can honestly say…I'm pretty good at helping people learn to trade.
And you can get started Today with my Free Stock Trading Starter Pack.
It's got everything you need to get going…check it out.
And be sure to tune in on Sunday when I'll send out a list of stocks I'm watching for Monday…mostly coming from a scan just like the one above.