At the end of each day I run a scan to find stocks to jump on for overnight profits…
Looking to ride this end of day momentum for a potential gap up the next morning.
But there's more than one way to grab a gain in my Platinum chat room.
I run my scan every day Live in the Platinum room, so my members are right there as I walk them through each stock.
And as always, Tuesday's scan pulled up some great opportunities…
Do I take every potential setup? Of course not.
Trading in a small account, I only have so much money to allocate to each trade.
So, like anyone else, I have to choose my favorite setups each day.
But that doesn't mean the trades I take are the only ones out there… far from it.
Just take a look at some of the stocks that popped up on my live scan Tuesday afternoon, and how my members traded the scan.
Tuesday afternoon, like every other day, I ran my end of day scan to find stocks ripe for a move.
Some of the stocks that I walked through were AEMD, ONTX, HALB, VYST, SOS.
I actually took an overnight position in HALB…
And here's why…
The stock gapped up in the morning and traded strong all day.
Just before the close it had made its first pullback, staying above the 50 day moving average, and began to move back up…
Volume started to pick up on the move above the 20 day, and that's when I pulled the trigger and alerted my members.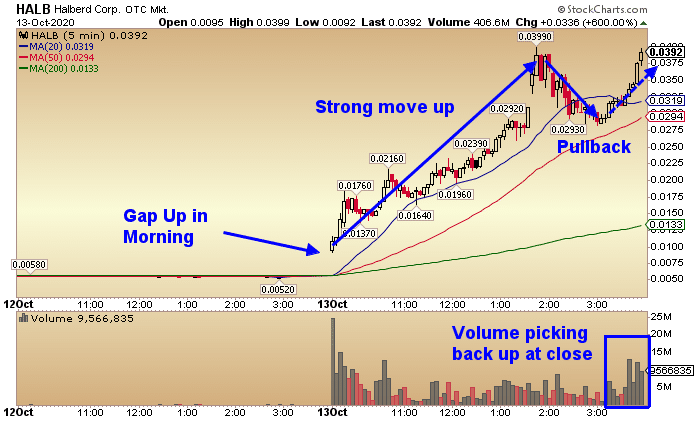 And this morning I was able to pull in a big win with the stock up over 100% from my trade alert.
Did I just make a 100% return overnight?
No. That would be nice but I'm not trying to get every single cent out of a trade. I want to grab profits while the stock still has momentum… so I don't get stuck holding the bag.
And while I do capture gains like that sometimes, Today I pulled in 34% from this overnight trade* to add +$1,100 to my small account this morning…
I don't know about you, but I'll take that all day.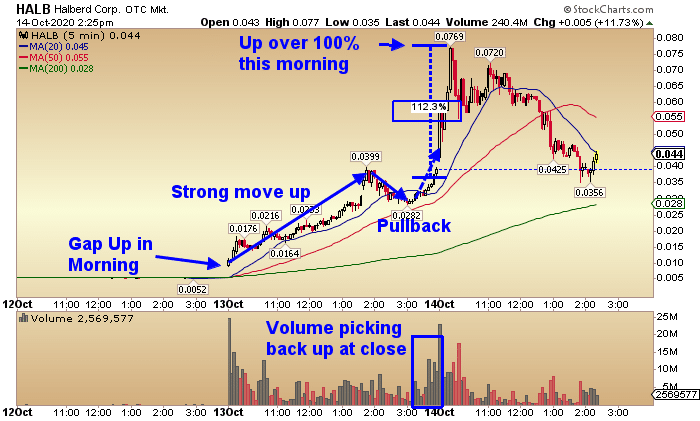 And what about my members?
Here's what some of my members did with HALB**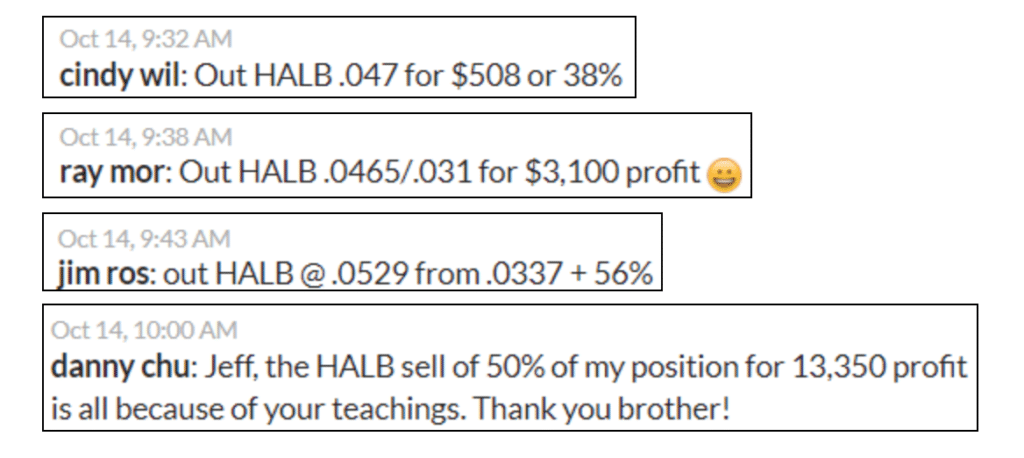 I teach my members to trade their own plan.
I run the scan to show them how to do it, what to look for, and how I personally choose my trades etc.
But I also emphasize making their own decisions on what to trade.
I chose HALB for an overnight hold… as did many of my members.
John and Jose, two members in my Platinum chat, also saw an opportunity to jump on one of the stocks I pulled up on the scan…AEMD.
Playing it for a quick scalp while I was running the scan and walking everyone through each of the potential setups.
My ultimate goal is to find a stock that could gap up overnight or continue a run the next morning.
But that's just one way to trade these.
My goal for everyone to learn to trade and find what works best for them…
And John and Jose saw an opportunity to jump in for a quick 10% gain on AEMD, getting in and out on the end of day spike in volume.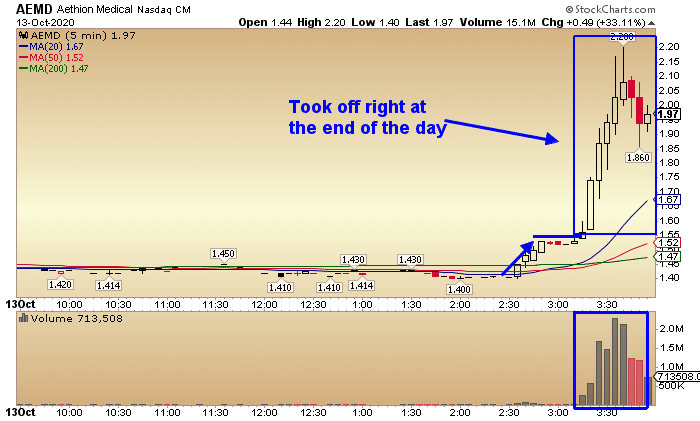 Heck, if you can grab 10% in a few minutes, you don't need to hold it overnight, or for a year.
That's a decent long term return for most money managers…
But my students just picked it up during my live scan… in minutes.**
Hard to beat opportunities like that…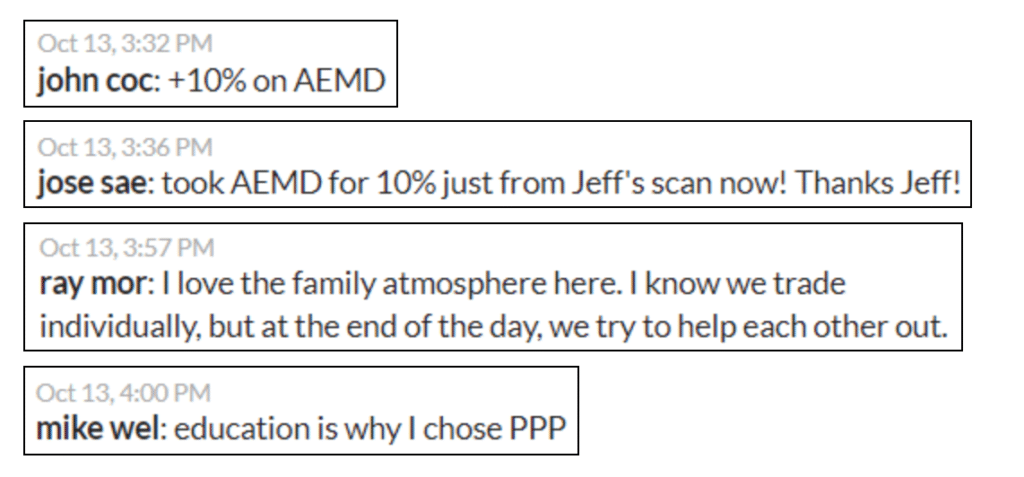 That's what my students love about my Platinum chat room though… it's the ultimate education.
And with so many traders working towards the same goal, helping and motivating each other along the way… you really can't beat it.
You don't have to jump right in though… check out my Free Stock Trading Starter Pack first…
It's a risk free way to learn my strategy… and see what it can do for you.
Once you're ready… join up and become a part of my Platinum community…