Another day… another all-time high.
However, the overall market sentiment doesn't affect my trade setups at all because they aren't based on how investors feel about the economy… or retail sales… or consumer confidence…
My trading is all about making quick profits in little known companies… and flipping those profits…over and over.
In fact, I took a $3k account and turned it into $31k in just 4 months,  closing it out in early November— to start my latest challenge.
I started on November 11 with a $3k trading account… which has now ballooned past $10K in  12 trading days… 

So while I don't know when China and the US will come to trade terms, or where the next push to highs will come from… or for that matter, if and when the market will come crashing down…
I don't need to—if my goal is to exploit and profit from penny stocks…
… and I am going to show you exactly how I do it in this week's real money case study, where I examine ticker symbol DMPI.

Last Friday I scouted out a trade in Del Mar Pharmaceuticals (DMPI).
Check out the chart of DMPI. This is an example of one of my daily trade setups.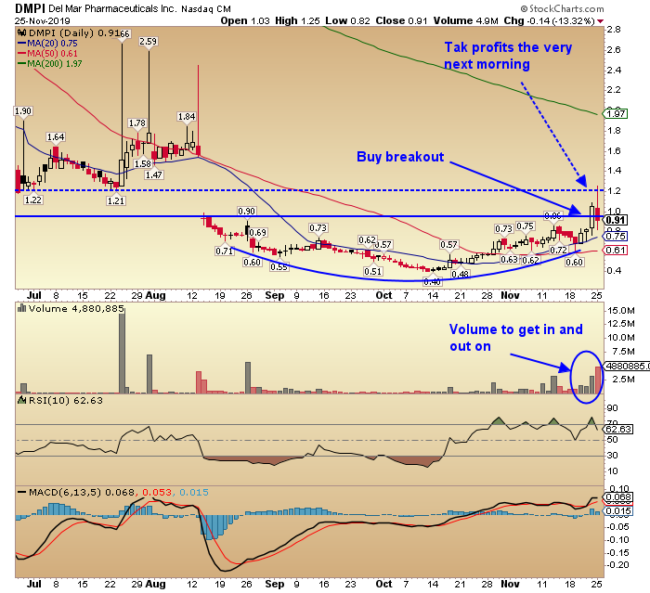 After a gap down in August, DMPI formed a rounded bottom on low volume.
When the stock began to move up back up, volume started to pick up as well, signaling more interest in the stock.
As DMPI traded back up to resistance, the 20 SMA crossed above the 50 SMA (blue line over the red line) which is a bullish sign.
This had all occurred going into the trading day last Friday and that's when DMPI hit my custom scanner.
I pulled it up and noticed the stock was breaking above resistance with volume picking up on the breakout.
… so I immediately put it on watch as I wanted to see how it traded towards the end of the day to confirm the strength of the breakout…
What I'm looking for in my custom scanner are stocks that are likely to pop up the next day and make great returns over night…
DMPI gave me everything I wanted to see with strength coming into the close, so I jumped on the trade…
I placed a target at $1.20, just under resistance at the August gap.
And just like clockwork… I woke up Monday morning and cashed in on a gain of $617. Not bad for a guy just relaxing over the weekend.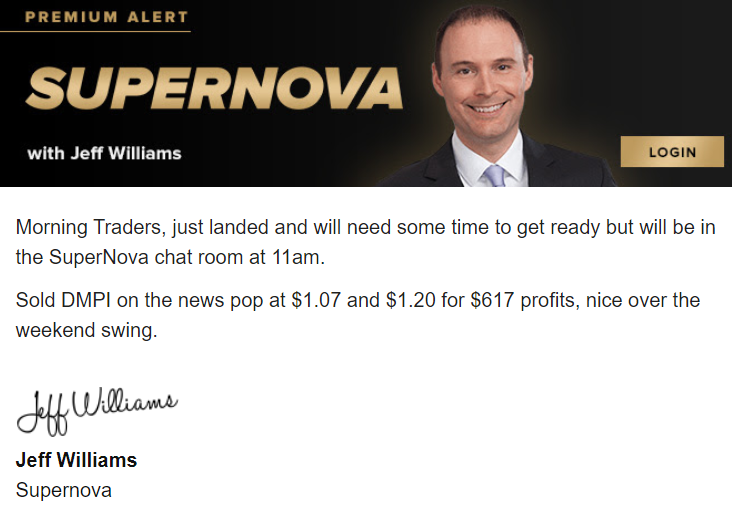 DMPI is just one example of how I trade…
Using my custom scanner I find trades like this every day… and these quick profits have me crushing the markets… with lower risk.
Even when I don't know the master plan for the overall markets, I do have a plan for making money daily in penny stocks… no matter what the market is doing at the time.
It's time… don't wait till after Thanksgiving to get access to trades like this and get in on my latest small account challenge, which is up over 240% in the first 12 days…
That's how my setups work… big gains in short time… my last challenge returned 900%.
And I don't plan on stopping any time soon…
Gain access now to get started learning and be raring to go come Monday…