First off, I hope you are having a wonderful Thanksgiving Day…
I'm happy to get a few days off to be with my family and recharge before Monday— when I get back to slaying the market with my newest small account challenge.
In the last 12 day trading days, I've been able to take a tiny $3k account and turn it into a 10,385.17 account… in fact, I think that deserves some extra egg nog today.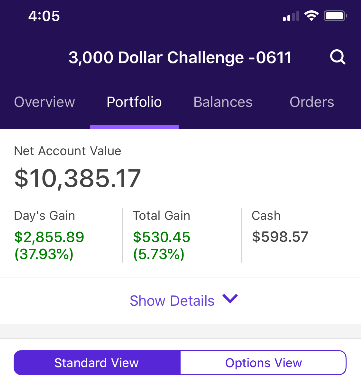 (I send out my alerts in real-time, but I also coach and train traders in my Suprnova chatroom. Want to trade alongside a proven winner? Click here to find out more.)
The Holiday Blitz has me so hyped up… I'm already hanging up Christmas lights… and the snow hasn't even hit upstate New York yet. 
I know, I know… Xmas lights come after Thanksgiving…
But I look at it like this—after it gives me time to enjoy Thanksgiving dinner with my family—catch some football—plus it makes my wife happy. 
Who I'm sure will want to drag me out for some Black Friday shopping. 
Speaking of which… will retail numbers from Black Friday be good enough to keep the all-time high party going in the stock market? 
Luckily, when you trade penny stocks like I do, you don't have to wrestle to figure out the answer. 
Penny stocks work on supply and demand, and for the most part, don't move in the same direction as the overall market. 
And that's one of the great things about trading pennies… it doesn't matter if the market is experiencing low volatility or high… pennies will be poppin' somewhere… and my scanner zeros in on them.
I'm not kidding… and if you don't have a lot of money to get started, this is the trading strategy for you.
That's why I focus on my small account challenges—to show you how to pull mega returns time and time again.
Don't believe me?
Allow me to walk you through the explosive moves that penny stocks make and how you can turn a little bit of money into a lot pretty darn quick…
I shared Bloom Energy (BE) with my members as I do with every trade I take…
BE made a great rounded bottom formation over the course of two months… I watched as the volume started coming in, and once it broke above my Supernova Line…
I pounced on it… as did my members…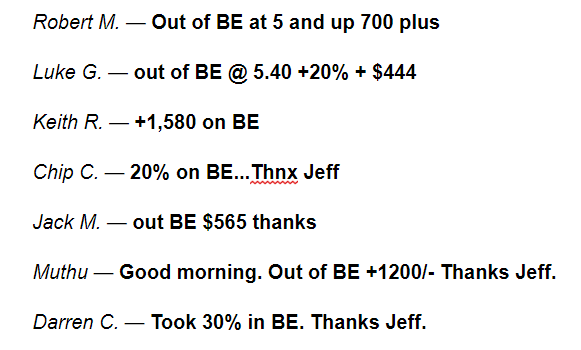 What's a Supernova Line??
Find out here… I teach every aspect of these trades every day LIVE…
… when BE broke above my Supernova Line… guess what?  It popped!
Look at that chart… a gap up the very next morning.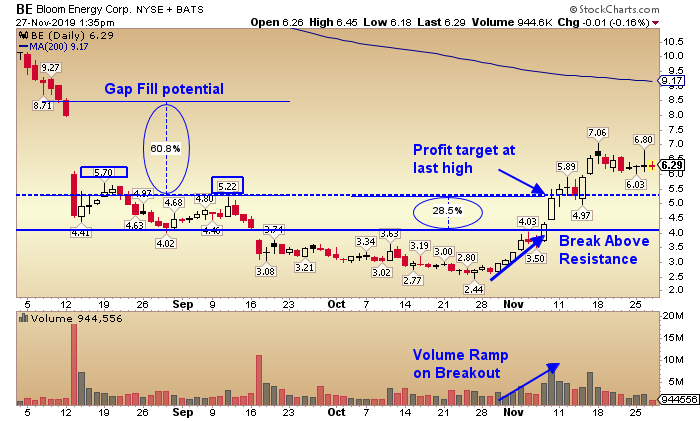 BE hit a 30% target area within one day… overnight basically as we enter these trades in as little as 15 minutes at the end of each day…
… and bank the cash the next morning...
And what I really loved about BE — the extra potential of a gap fill, making this a trade that could potentially double your money…
And at the high of the current move, BE was at a 75% gain from the breakout point…
That's what I call Supernova…
Now, look at the Fuel Cell Energy (FCEL) chart below… when the Supernova Line held as support after the gap above it… FCEL blasted off the line.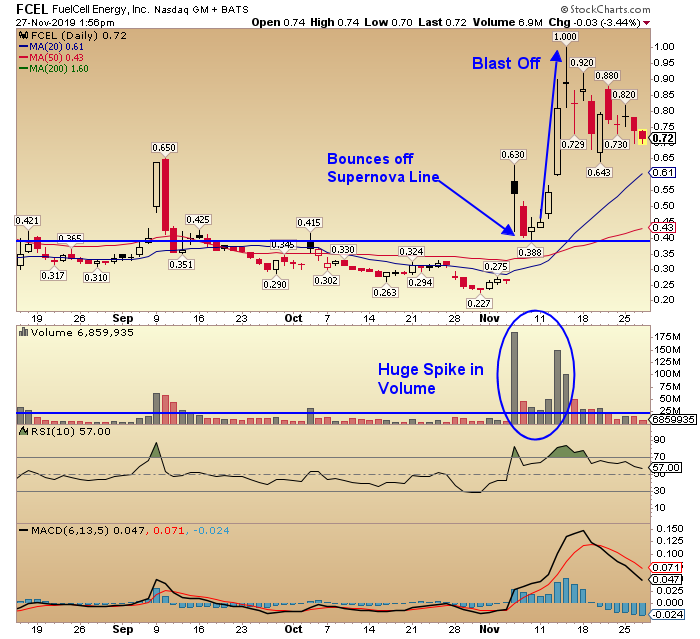 The FCEL setup was a little different than BE…
While both stocks formed the same bottom… BE ramped up into the Supernova Line on a breakout that we could jump on…
FCEL, on the other hand, had built up enough energy to gap right above the line, leaving us in the dust… or so we thought… lucky for us… FCEL traded back down to the line.
And once I saw the price hold there… I got interested… 
At this point, I am watching for the final pieces to fall into place…
The buy signal happened when the volume spiked as it bounced off the line…
Thus showing me the buyers were coming back in… And all that built up energy from the gap was coming back into play.
We had plenty of time to get in as it blasted off with a Supernova move…
And my members:

Trading penny pops has worked for years… the proof is in my small account challenge… I continue to bank returns time and time again…
In fact, my most recent small account which I started November 11, with $3,000 is now at $10,385.17 — a whopping 246% return in just 2 weeks!