If you read my email yesterday… you now know all about the short squeeze.
If you didn't, well you can check it out here.
So why is it worth your time to learn about the squeeze?
Well, getting caught on the wrong side of a short squeeze can be a "blow your whole account out moment"
So what you end up with is a massive amount of shorts running for the exits in a blink of an eye.
If you are short, you better be the first to the exit.
And if you know how to play the long side… cha-ching!
All of the covering by shorts creates a demand that can not be matched… and this creates the most powerful move you will ever see in the market…
And the sweet deal for you, I am always watching stocks that have the potential of getting caught up in a squeeze, and today I am going to share those stocks with you…
Here are the top short squeeze candidates that I am watching this week…
When I look for stocks with the potential of a short squeeze, I am looking at specific market forces that when put together are exactly what can create the power to push a stock into an unstoppable surge in price…
I am looking at how concentrated the short interest in a stock is, as well as, the recent price action of the stock.
These together have the power to set it off.
Ziopharm Oncology Inc. (ZIOP)
ZIOPHARM Oncology, Inc., a biotechnology company, focuses on acquiring, developing, and commercializing a portfolio of immuno-oncology therapies for treating heterogeneous solid tumors and unknown antigens.  🤷
Simply put… they are helping patients leverage the power of the immune system in the fight against cancer.
"Our focus here at Ziopharm is to reestablish the immune system and allow the body's own defenses to destroy tumors." – Ziopharm Website
Concentration of Short Interest:
Short Ratio (days to cover)   —    27.8
Short Percent of Float  —   32%

With a high concentration of short interest… if the stock moves up, the pain will be on… watch the price action at major levels.
Recent Price Action:
Looking at the chart, ZIOP has been caught in a downtrend… which isn't surprising given the amount of people shorting the stock (bearish).
To catch a squeeze, I would want to see the price push against major levels where shorts will end up underwater and stop out…
What I like about this chart is the bottoming formation over the past month coming out of the downtrend… and at this current price you can see it's is pushing up against a resistance level…
If the stock catches a bid and breaks resistance there, it could make a nice pop.
As far as a full on short squeeze, with the recent downtrend, there are a lot of lower highs to get through to really put pressure on the shorts.
But another thing that makes this a stock to watch is the earnings report later this week.
Catalyst Potential
ZIOP is set to report third quarter earnings on a conference call Thursday, Nov 7.
Earnings are often a catalyst for stocks… a company missing or beating expectations or a change in guidance can set off a big chain reaction… regardless of short interest.
So throw in a high concentration of short interest and if the stock gets major pressure to the upside, earnings could be the fuel to set this one off…
Now I don't trade stocks going into earnings, it's too dangerous as we don't know what will be reported…  but I will have my eye on this stock all week as there are a lot of interesting factors on the table.
VirnetX Holding Corp (VHC)

VirnetX Holding Corporation is an Internet security software and technology company with patented technology for secure communications including 4G LTE security. They have over 112 patents and over 75 pending applications.
The patented technologies facilitate secure communications for real-time communication applications such as instant messaging, VoIP, smart phones, eReaders and video conferencing.

Concentration of Short Interest:
Short Ratio (days to cover)  —  18.7
Short Percent of Float   —  14.6%
Recent Price Action: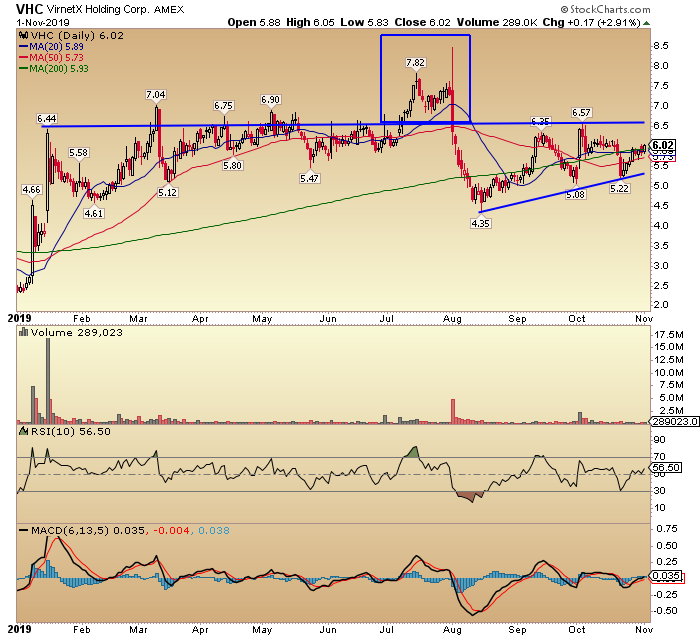 This chart is very interesting… Unlike ZIOP… VHC hasn't been in a downtrend, so it isn't trading near lows. And being closer to highs, the stock is closer to levels that can pressure the shorts to cover…
VHC tried to pop out of a long consolidation in July, but got smacked down coming into August.
I drew a square on the chart showing that price action… I see this as an area with a lot of short positions… and they will be protecting it fiercely…
So to create a squeeze, the buyers will need to push the price through that zone in order to get those shorts underwater and pressure them to cover.
Catalyst potential: VHC won a $439 million judgement against Apple for patent infringement. But due to appeals, this has been a long running legal battle, bearing no fruit as of yet…
However in October VirnetX continued to win the battle in the courts, continuing the hope for a settlement.
But still… the key here is if and when will they get paid based on how long court cases like this can run on… especially against a company with the massive resources of Apple.
And VirnetX doesn't exactly have the cash or earnings to grow and operate as a going concern… secondary offering maybe?
Final Thoughts
We have ZIOP which has a very large concentration of short interest and an interesting potential catalyst coming in a few days…
The stock price isn't exactly at the level to fully squeeze the shorts out, but if the earnings hit just right, it could flip the switch anyway.
Then we have VHC which is trading closer to a level that could put the hurt on the shorts, but the company is pretty bad shape…
So it will be interesting to watch the stock when it pops into that previous breakout zone shown in the square on the chart… will the shorts come in agressively again, or will the bulls push through?
I will be keeping my eye on both of these stocks this week and we shall see if anything develops.
No matter how intriguing these look, short squeezes take time to develop… if they do at all.
So while I am watching these stocks… I am also trading every day with my Supernova Boost setups…
If you want to see how I make money on a daily basis, Join Supernova Today!