You just witnessed the worst day in the market since Black Monday in 1987.
And as soon as the futures market opened back up at night, the rout continued.
We'll see if this morning's bounce will stick…
Nonetheless—over $11 trillion of market capitalization erased in less than three weeks.
Over $11 Trillion!
That's more than the combined GDPs of Japan, Germany, and Brazil.
Despite the historic volatility, the key is to remain calm.
More importantly, stay opportunistic.
In fact, I'm pulling out winners trading my bread-and-butter strategies.
Now, if you're just looking at the chart of the SPY, you're wondering how it can be possible?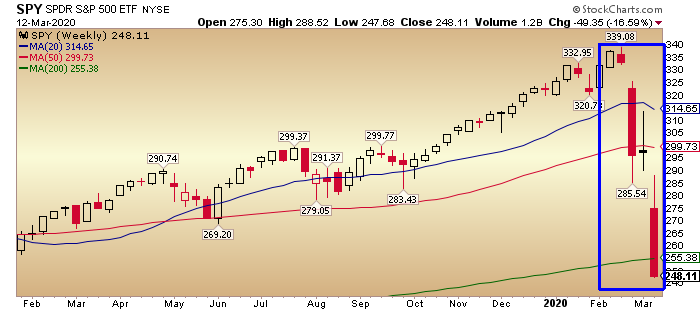 Well first off, I don't get emotional. I have heard so many people getting sick just from looking at their portfolio and then going on to make bad decisions.
They are making a bad thing worse.
For me, I leave the emotions on the sideline and stick to my system. This has helped me build my account up, during good times and bad times.
So while others are getting slaughtered, I am putting money in the bank.
And when this market crash does hit the bottom, I'll be adding to my portfolio on the buy and hold side.
Smart moves in bad times will lead to big returns down the line.
I want to show you some trade setups that are working right now, they are so simple to learn, you could start putting them to work in no time. 
Am I worried about the current market crash?
Short answer… No.
I don't have to be worried because I have both my short term and long term strategies. And I know this is all part of the equation.
You see, when markets get this ugly the long term strategy may be taking a hit at the moment.
But it's also times like these that will offer the most opportunity for long term gains.
And this type of opportunity doesn't come around often. So instead of getting worried, I get a little excited.
So for now, I am sticking to my trading strategy and pulling in massive returns.
And when this market capitulates, I can plow my earnings into solid companies at huge discounts.
You don't need to panic either.
It's time to take control of your account and stack your cash.
Then you too can take advantage of the opportunity when everyone else is panicking.
That's my plan, and here's how I am doing it.
Take a look at PCTL.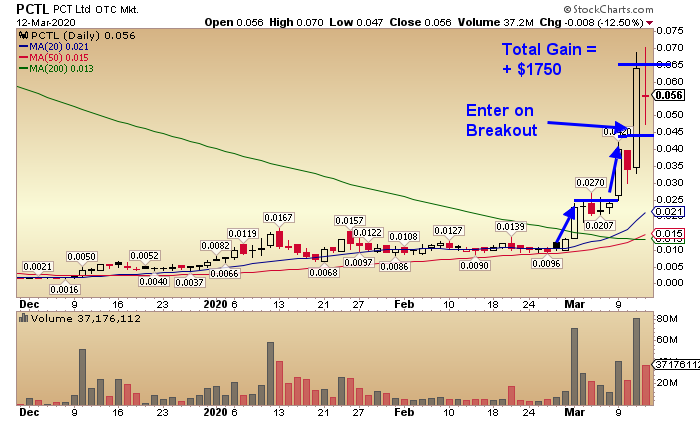 Notice the difference between this chart and the SPY chart from earlier?
Well clearly it's moving in the completely opposite direction.
With the market plummeting into bear territory so quickly, it's hard to imagine that there is anything going up at all.
But that's the thing, there are stocks going up.
And my system was created to find stocks that are making moves regardless of what the market is doing.
So by not getting caught up in the fear or letting my emotions block my vision, I'm able to find these stocks and make money while others are getting crushed.
Back to the chart of PCTL.
On Wednesday, while the market was getting a beat down, PCTL was making a strong move up.
I got in on a break above the previous high and took a quick profit only to enter again holding it overnight.
Thursday morning, the market again was opening down and I was able to grab another gain on PCTL before it retraced.
Bringing my total gain on the move to $1750. Not bad for a quick move up while the market was crashing.
And I'm not the only one making money on these stocks.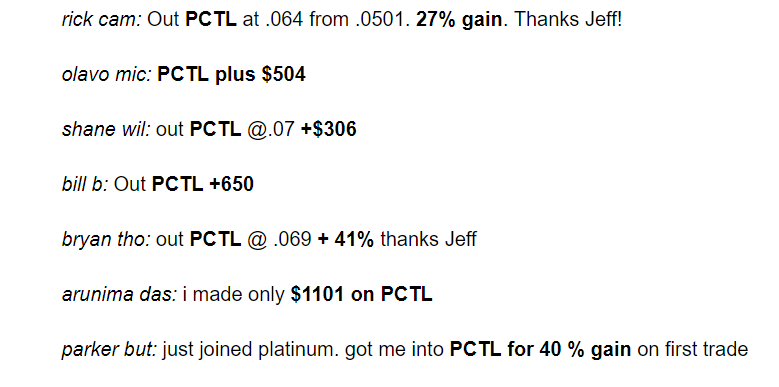 I teach my members the same principles and strategies that I have been using for years to get ahead in the market.
Trading isn't rocket science. But it does take work to get ahead.
And it takes a lot of emotional control. Especially when the market is down 1-2k points a day, sitting in bear territory with no end in sight.
But if you can master a few simple tricks and techniques, it is possible to get ahead.
Even in a market like this.