While my team may not be playing, it's going to be a fun one today.
Young quarterbacks, Post Mahomes, Shanahan 2.0, and the Niners back to relevance… 
What more could you ask for? I mean other than having your home team in the big game.
No matter what team you are rooting for, it's a great time to get away from the market for a little while and just kick back and have fun…
Instead of worrying about your next trade, maybe grab a square or put a couple dollars down on a friendly bet or two… (not advocating gambling)
And these days you can bet on pretty much anything, including beyond the field action with bets on the coin toss or the color of the gatorade drench…
While I don't know which team will win, they both have impressed. We have a San Fran team that went 4-12 last season bouncing back this season to a 13-3 regular season record.
And the Chiefs bounced back from a 24 point deficit to Houston in the playoffs… outscoring Houston 51-7, after being down 24-0.
Now I'm a big time football fan, but there is one place I like to see a good bounce back more than in sports… and that's in the market.
In fact I'm currently watching CHF Solutions, Inc. (CHFS) for a potential bounce off the bottom. 
And while I will be enjoying the Super Bowl… that's the only play I'm making with my money.
So what the heck happened here?
CHFS was trading in a nice upward channel, and then the stock broke down hard.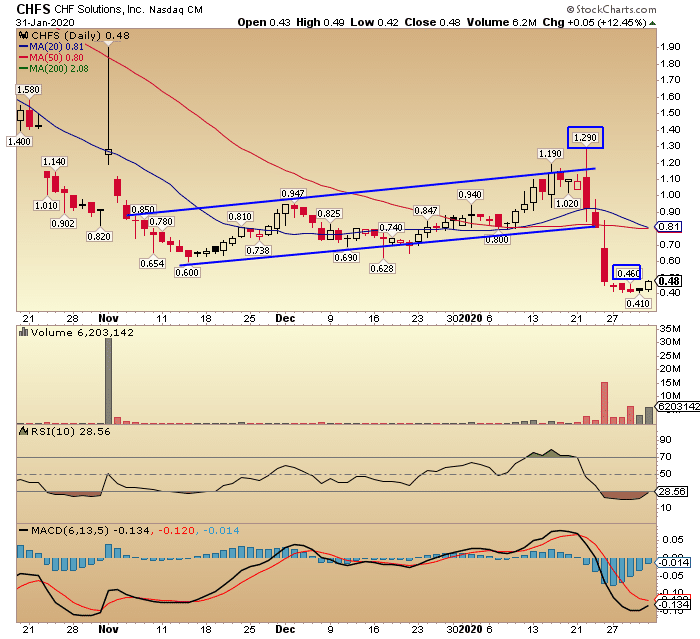 There's really no mystery here. CHF Solutions closed on a secondary equity offering priced at .55 per share… millions of common and convertible shares at .55…
So the move down makes sense, hitting the stock with dilution like that and all.
But what's next? Will the equity offering give CHF the money they need to increase revenues or will they burn through the cash just to do another offering in 6 months?
To tell you the truth, I'm not super concerned with trying to answer those questions. You see, my simple 5 step system finds stocks that are ready to make a pop regardless of the background noise.
I just run my scan at the end of each day, scroll through the charts, and hand pick the very best trades.
And it only takes 10 -15 minutes to do it all… After that I go about my day and wake up in the morning to grab my profits.
Take a look at the 4 hour chart of CHFS for a closer view of the setup: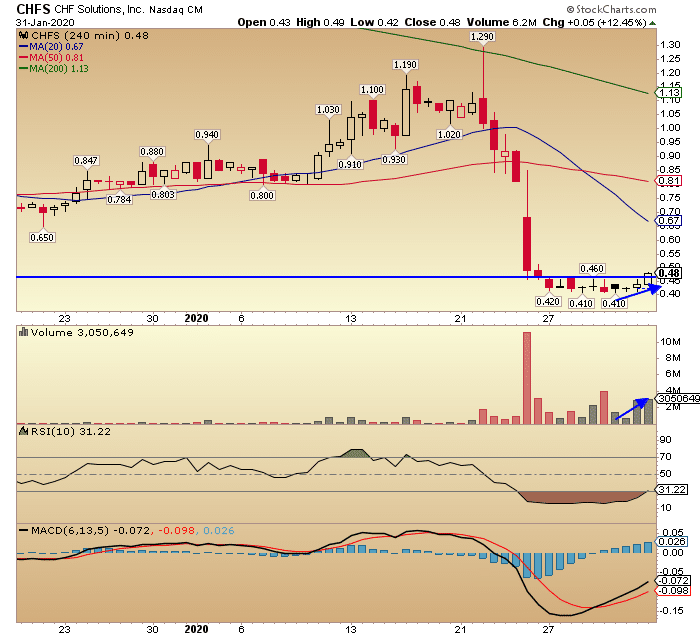 A couple key points for this trade are… the volume ramping up and the stock closing strong.
Volume is key in any trade as it gives us the follow through we are looking for and it allows us to get in and out on the move.
So when CHFS traded up on higher volume Friday, putting in it's only strong day since bottoming in the range at .41, my scanner picked it up.
As you can see CHFS also made a strong close with the stock on highs. This tells us that the interest is real and likely to carry forward to the next morning… in this case Monday.
So a buy at .45 gives me a good risk reward with the current low just .04 below and a target range .10+ to the upside.
But in the end, some trades work out and some don't. That's all part of the game. You just need a system that is consistent and profitable. And that's what Profit Prism gives my members.
I trade penny stocks which are mostly all dogs. But with my system, I know I can find stocks that are ready to make a pop.
San Fran was one of the worst teams in the NFL last season and this season they are in the Super Bowl.
And since my system gets me in at the close and out at the open… I'm not taking long shot bets. 
In fact, because of the short time frames, there's less risk than with most trading systems and investments… plus massive returns.
Since starting my new small account challenge just 2 weeks ago, I am already up over 100%… in just 2 weeks.
If you want a system that puts the profits in the bag… Join Profit Prism Now