If you pay attention, then you probably know that I like to capture profits as fast as possible.
Why?
Well for one…it lets me grow my small account faster.
By getting quick overnight gains, and doing it over and over… the profits add up fast.
The second reason is to minimize exposure to the market.
By jumping on stocks as they begin a momentum move, I am able to also grab my profit quickly and be gone before the momentum subsides.
This keeps me out of the market at times of uncertainty.
But today I want to take a look at something a little different.
A potential swing trade setup in SONN.
I'm going to walk you through what I see on the chart and why I potentially like this long right now.
Sonnet BioTherapeutics, Inc. (SONN) is a biotechnology company that engages in development of bi and tri functional therapies that can simulate or block immune-modulating targets to control cancer.
But this trade isn't focused on what the company does…
This is all about the chart setup, so let's go there.
Looking at SONN, I like the consolidation in the mid 2's throughout September.
Keep in mind this is after two huge moves up a couple months ago… that shows me there is something under the surface that can light the stock on fire.
A consolidation period is a time for the stock to build up pressure for a breakout, so I like what I am seeing here.
And since then, SONN has been slowly moving up showing me the sellers may be done here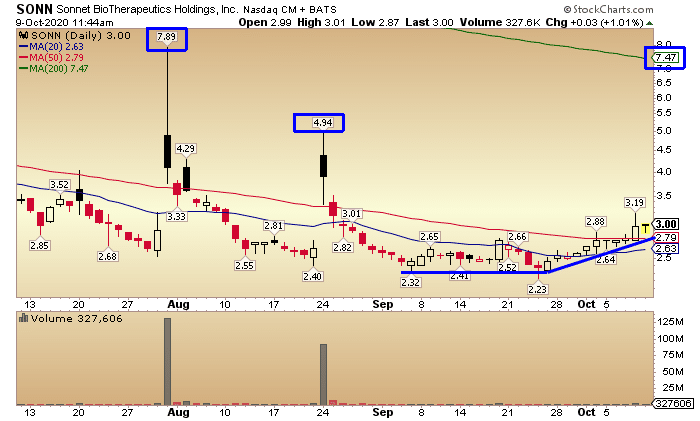 The price action looks good.
But what's the potential here?
Finding a profit target can be as simple as looking to the next resistance level… or a little more detailed by lining up multiple major resistance levels with fibonacci retracements and moving averages, etc.
In this case I was able to line up a number of factors.
If you look at the next chart… I added a Fibonacci retracement from the chart high to chart low.
The 38.2% retracement level is around $4.40 which also lines up with other areas on the chart that show resistance in the $4.30 – $5 range.
So I like the potential for SONN to make a move up to that level around $4.40.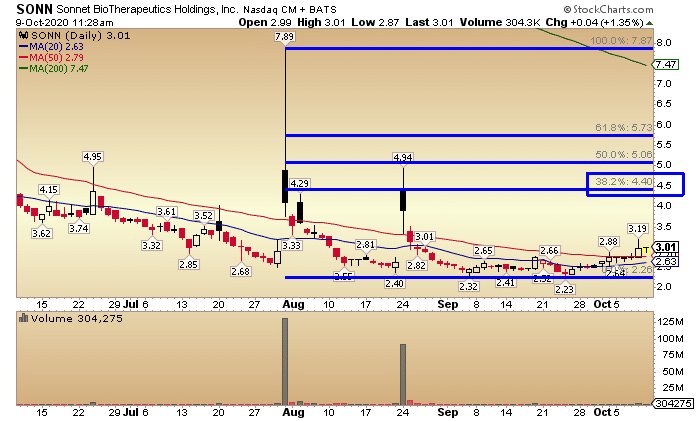 Now let's get a closer look at the chart over the past few days.
Below, you can see the consolidation range from $2.30 to $3… and the slow move up over the past couple weeks.
The reason I'm looking at it right now as opposed to a few weeks ago is the price action from yesterday.
Yesterday SONN made a bigger move up, breaking above the $3 area AND closing above the 50 day moving average.
This is significant as the stock hasn't been above the 50 day since mid August.
After yesterday's price action, I put SONN on my members watchlist last night…
I like it for a swing if it stays above the $3 range and the 50 day.
So it's all about what I see today and early next week.
Being a slow mover, I won't be surprised if it pulls back to the 50 day to retest it and find support.
So I'll be watching the 50 day and $3 range closely over the next week for a potential entry.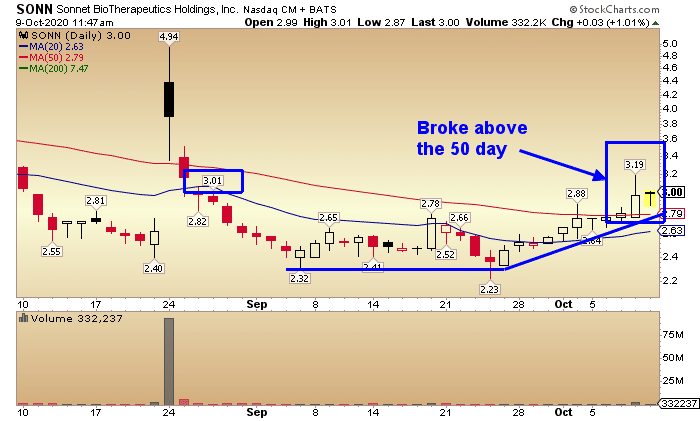 That said there's another interesting piece to this puzzle.. The Float.
With just 13 million shares in float, when demand picks up, the stock can move fast.
Looking back at the end of July the stock popped from $3 to $7.89 and in late August from under $3 to $4.94… both moves were overnight.
So while I like the slow movement up for a potential swing trade.
The reality is… If SONN catches a news release, the stock can explode overnight.
And judging from previous big pops, I'll be looking to take my profits on the move.
Both times it was back down just as fast as it popped, so expecting anything else is just wishing.
It's important to pay attention to the past. While it's no guarantee of the future, there are valuable pieces of information to grab from looking left on the charts.
To find out more about how I pick stocks with my Profit Prism strategy…
And how I find setups like the one in SONN…
Check out my Free Stock Trading Starter pack