In honor of Tesla's Battery Day tomorrow…
I'm sharing a few stocks on my sustainable energy watchlist.
Now if you follow me regularly, then you already know about these stocks…
In fact, you would have known about them before the moves they each made recently.
That's because I highlighted each of these stocks on July 1 in a segment on sustainable energy.
With Tesla's Battery Day before us… it's time take a look at what's next for this sector.
Now I'm not promoting any long term investments… that's not what I do. Talk to a financial advisor for that…
For me, it's about an industry that offers great trading opportunities.
My strategy picks up on demand through volume, price action, movement, excitement, whatever else you might want to call it… 
I'm looking for stocks that have a catalyst behind them.
Something to move them… and that's why I'm keeping an eye on the sustainable energy sector.
Now let's get to it and take a look at some of my Battery Day watchlist stocks… besides TSLA.
If you don't know about NIO by now, then you've been under a rock.
Since its IPO, NIO has been regarded as the TSLA of China…
Now that alone makes my ears perk up. But if you look at the numbers, it's nowhere near what TSLA has been doing in terms of production, deliveries, and sales.
Shoot, TSLA may be the TSLA of China in the end.
But that doesn't mean NIO hasn't done anything. Between surging deliveries, its new "battery leases" and the newest model ready for shipping…
When it comes to EV, NIO has earned its place alongside TSLA at the top… or at least towards the top.
Looking at the chart of NIO, it's been holding the 21-day moving average on this recent move up…
Currently in a consolidation heading into Battery Day, the stock sits just under all time highs of
$21 with support at $15 – $16 range.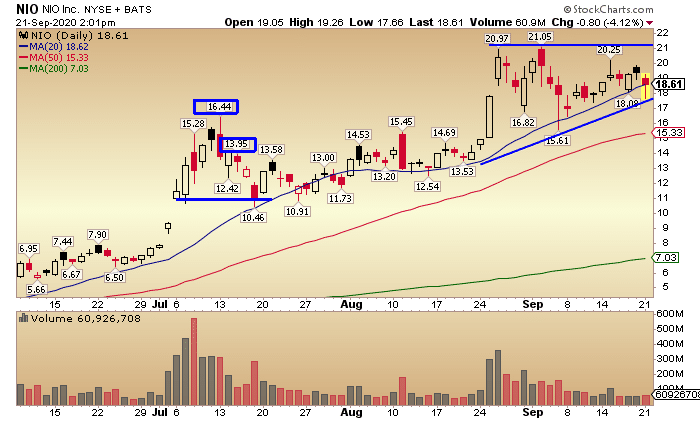 Workhorse Group Inc. (WKHS)
Workhorse is a technology company focused on providing drone-integrated electric vehicles to the last-mile delivery sector. We're talking about battery-electric delivery vans, drones, and of course telematics performance monitoring systems that are fully integrated with the vehicles (real time monitoring and stats).
They have been working with UPS for years now, testing their drones and UPS has already ordered and worked with their vans.
And UPS will be making more decisions on fleet changes in the coming months, so that's a potential future catalyst depending on the decisions made.
Lots of potential in the field.
After a long consolidation starting in early July, WKHS recently broke out.
Volume leaves something to be desired on the breakout, so let's see what goes down tomorrow.
Could this just be a "buy the rumor, sell the news" play leading the stock up into Battery Day?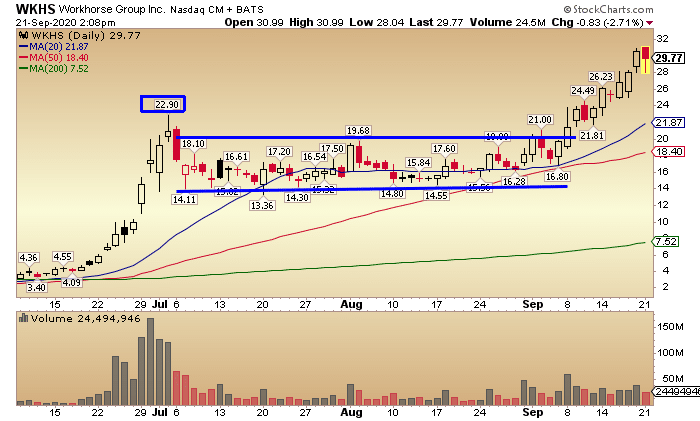 Plug Power (PLUG)
Plug Power Inc. provides hydrogen fuel cell solutions for the electric mobility and stationary power markets.
PLUG's technology touches everything in the hydrogen realm from powering material handlers, providing backup power, dispensing and refueling, Robotics and Aviation… to maintenance and tech support.
Look at this chart…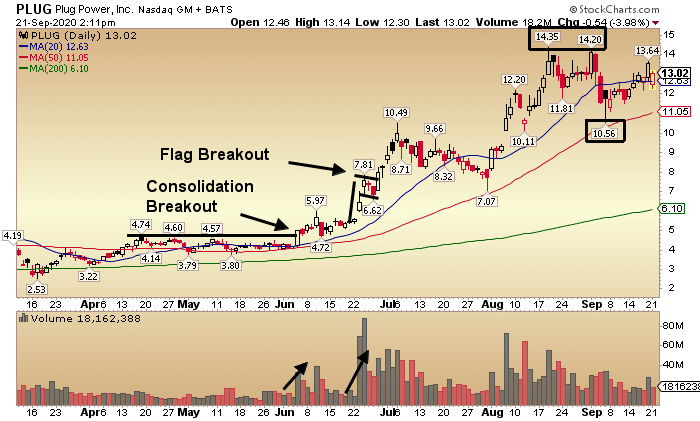 Breaking out of consolidation in late June, PLUG has made a significant move up.
The stock is currently sitting between highs of just over $14 and support around
$10.50 – $11.
I'll be watching for a move to break highs. Until it gets that momentum going, it's a patience game. I don't want to jump in without a reason.
Blink Charging Co. (BLNK)
Blink operates in the EV charging station arena by partnering with businesses & property owners to install Blink's EV charging stations at their location.
Instead of buying the charging station Blink will instal it, own it, and operate it for them… sharing a portion of the revenue with the property owners.
I can't help but picture a vending machine operator when I read that. But to fit the needs of any business, Blink actually offers multiple business models including joint operation and ownership… or outright ownership with tech support etc.
The Blink network currently connects more than 23,000 charging stations across the United States.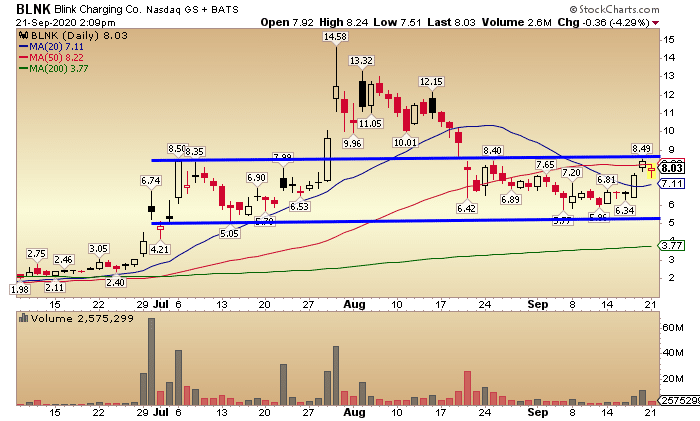 After a nice breakout in Late July to hit a high of $14.58, BLNK pulled right back into the same range that built up to the breakout.
It's been trading in that range for a month now…
Will Battery Day give it the push to breakout again?
Time will tell, but pay attention to volume, don't get caught in a fakeout/ breakout on low volume.
Bloom Energy (BE)
And here's Bloom Energy (BE)… with the mission to make clean, reliable energy affordable for everyone in the world.
The company has a server that delivers clean, always-on electric power by converting fuel into electricity through an electrochemical process without combustion.
Designed for modularity—they can be clustered together in various configurations to form solutions from hundreds of kilowatts to many tens of megawatts fitting the needs of pretty much any company out there.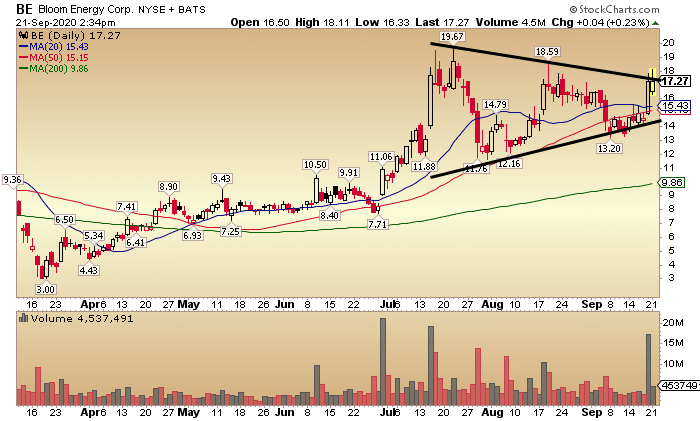 And looking at the chart you can see BE has been in an uptrend since April… and more recently consolidating in a symmetrical triangle pattern.
What's significant about that is while the symmetrical triangle can break out to either side, forming after an uptrend gives it a greater possibility of being a continuation pattern.
So I'll be watching closely at a potential breakout with next highs at $18.59  and $19.67
Every one of these stocks can make great additions to your watchlist as there is a lot of excitement around this industry…
And with Tesla's Battery Day tomorrow… whichever way they go, they will all be interesting to watch.