The 3-wheeled EVolution is upon us…and I've got a few stocks you need to keep an eye on.
EV has been hot over the past year thanks to Tesla, and with TSLA being added to the S&P 500, the flames aren't going out any time soon.
But there's another side to the future in EV…
With a focus on efficiently getting around the city, commuting, delivery, and more…
3-wheeled electric vehicles are quietly working their way into the spotlight.
And here are the 3 companies I'm watching and trading as this movement continues to build steam.
ElectraMeccanica Vehicles Corp. (SOLO) is a Canadian designer and manufacturer of electric vehicles.
The company's flagship vehicle is the innovative purpose built, single-seat electric vehicle called the SOLO, designed to revolutionize commuting, delivery and shared mobility.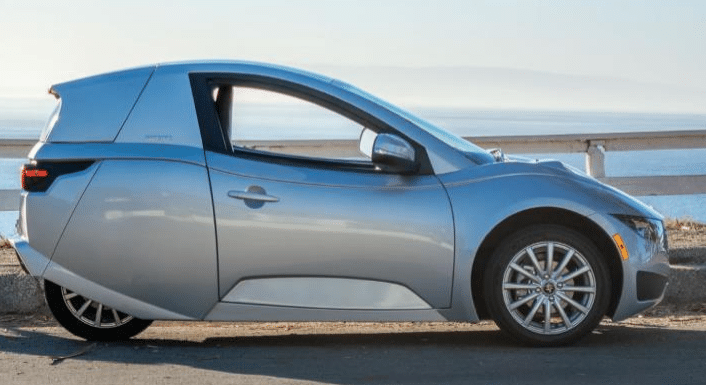 Image Source: Company Investor Presentation

I talked about SOLO in my post on the 12th as it was moving out of rounded bottom formation with support at the 200-day moving average.
Since then it has taken off to new heights.
As the 3-wheeled EVolution continues to develop, I will keep my eye on SOLO watching for new support levels on pullbacks.
Arcimoto, Inc. (FUV)
Arcimoto, Inc. (FUV) designs, develops, manufactures, and sells three-wheeled electric vehicles.
Its portfolio of electric vehicles includes Fun Utility Vehicle; Rapid Responder for a specialized emergency, security, and law enforcement services; and Deliverator for delivery of goods.
So it's pretty much got all the bases covered.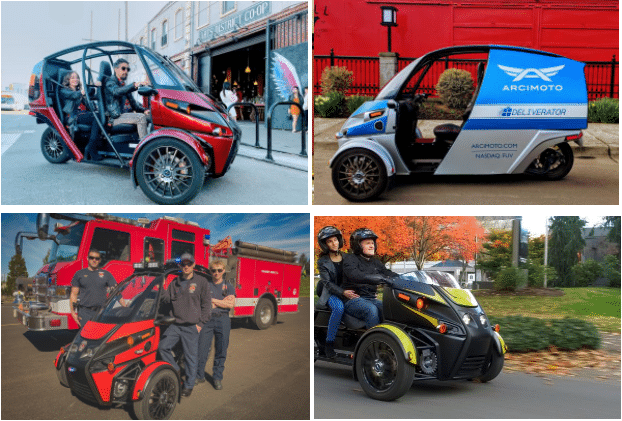 Source: Acrimoto website
In a press release today, the company announced a joint plan with the City of Orlando to test their vehicles in city fleets.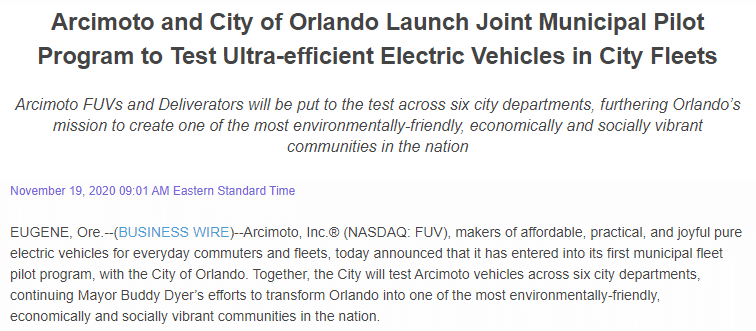 Source: Acrimoto press releases
And this news has FUV popping on increased volume today.
After trading in a channel since July, FUV broke out of the range yesterday…
And gapped up putting in highs at never before seen levels today.
I'll be watching for any pullbacks and signs of continued strength and support before looking for a new trade setup.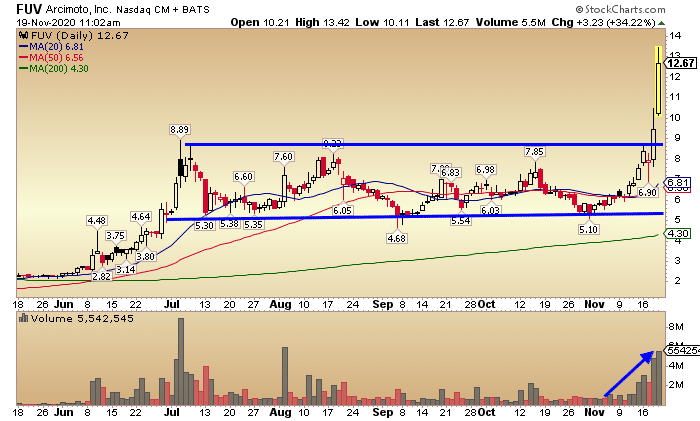 Ayro, Inc. (AYRO)
From the beginning, AYRO's vision was to create sustainable electric solutions for campus management, last mile delivery, urban commuting, and closed campus transport.
Today, AYRO designs and manufactures compact, purpose-built, automotive-grade electric vehicles.
These versatile sustainable vehicles are used as part of a fleet on university and corporate campuses, for commercial and urban delivery, and many other applications.
Below is a picture of the AYRO 311, their 3-wheeled model.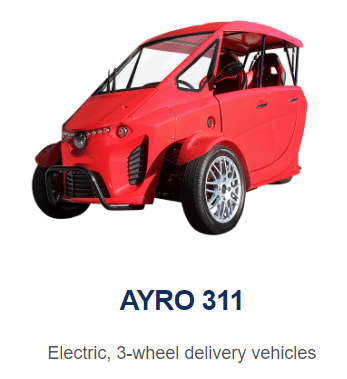 Image Source: AYRO company website
AYRO made a strong base in the mid-2's, consolidating in that range from September through mid-November.
It then started the recent breakout on the 12th when it closed above the 200-day moving average for the first time since mid-August.
A good opportunity presented itself the next day when the stock retested the 200-day and took off from there.
Next highs are at $6.14 and $8.18.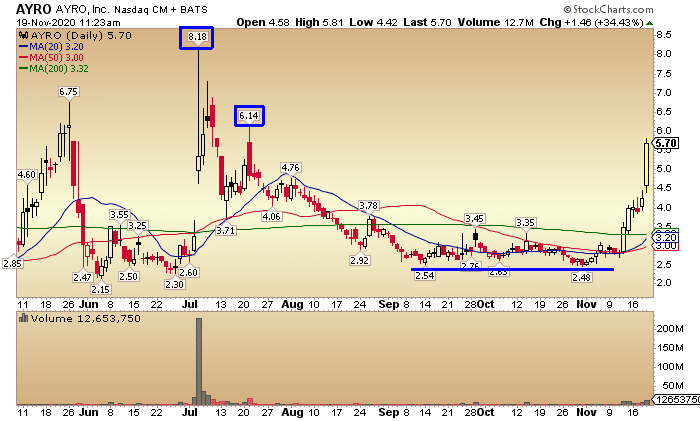 Don't waste anymore time on the sidelines wondering how to spot good momentum trades.
When it comes to the specifics of what gets me into a trade…
I teach it live Every Day in my trading room…but not only am I teaching it, I actually take my trades right there… walking my members through each step… all live.
Get your trading moving forward… Join Stock Profit Pro Today
---
Stocks To Watch This Afternoon
NAKD      +110%
TTNP       +40%
XXII          +20%
NETE        +18%
COTY        +15%
AVGR        +14%
---
To get the most out of your trading, you need to be in my Live Trading Room.
This is where I spend the majority of my day…trading, teaching, and having fun with over 1,000 members.
Learn the strategy, see it live, trade with friends, and do it every day…