Despite the worst jobless claims numbers in history (3.2M people). 
The Bulls are trying to claw back. 
Partly due to a wide sweeping $2 Trillion federal stimulus package.
The stimulus package and uptick in the market send a sigh of relief throughout the investment world.
It's all rainbows and butterflies from here right?
Maybe… but there are still a lot of unanswered questions on the table.
When will the virus actually be contained and how much economic impact are we truly looking at in the end? 
Will $2 trillion be enough and will it make its way into the economy fast enough?
It's early to know for sure.
But that doesn't mean you can't be a bull in this market.
In fact, some of the best trades to take in a bear market are trades to the long side.
I know it sounds counterintuitive, but don't worry, I'm going to teach you how it works. 
Long term wealth from the stock market is by and far mostly created through buying stocks.
Buy and hold long term. That's a no brainer.
Huge hedge funds and proprietary trading companies can cash in on big market downturns, but the average investor will generally get crushed.
A downturn is a great time to average into stocks for the long term, but how do you make money NOW… before things turn up.
TPT Global Tech Inc. (TPTW)
Here's how I "go long" when the market doesn't even know which way it's headed.
I focus on supply and demand.
I simply buy stocks with an influx of demand pushing them up, and cash out while the volume is still rushing in.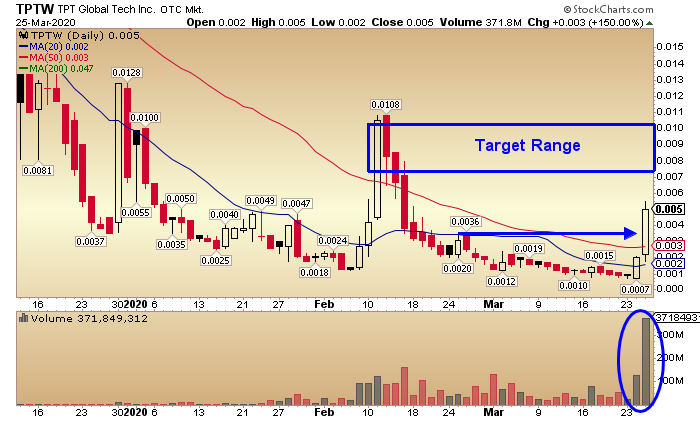 What do you see in this chart?
I'll tell you what I see.
March 24th
Coming off a bottom, it puts in a strong day with increased volume

Breaks and closes above the 20 day moving average
March 25th
Volume spikes as it puts in another monster move

Breaks above the 50 day moving average

Also breaks above resistance at a previous high of .0036
Target Range
The technical chart levels show a good target range of .007 to .01 

And with that range, a

90% – 177%

potential move, you don't need to capture all of it to make good money on this trade
Seeing this set up, I bought TPTW at .0035 as it both broke above the 50 day and was making its way through the previous swing high.
And in just 45 minutes I was pulling out a $1,100 profit.
You might be wondering… Jeff why did you get out when you said you were looking for it to go higher than that?
Simply put, you won't go broke taking profits. I pulled in $1,100 on a small account in less than an hour.
But there's more to it than that.
This was around 1pm EST, when volume tends to dry up and stocks naturally pull back or become range bound while the big money traders hit the lunch circuit.
So I knew I could put money in the bank now, and likely have another opportunity to get back in a little later. 
Simply put, if TPTW set up again later, I could grab even more profit potential… if it didn't, no sweat, I had already grabbed over $1,000.
And this is how I make money being a Bull in a Bear Market…  I trade on increases in demand and take profits while I have them.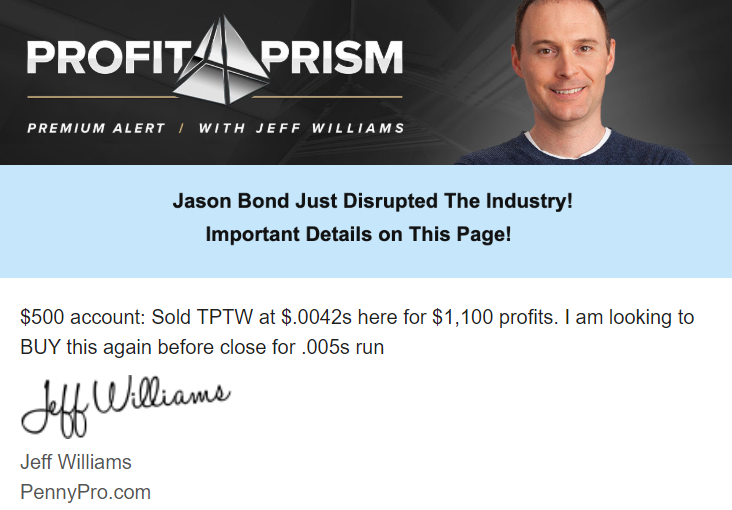 Listen, the market is messy right now.
So I choose to pay myself along the way. And that is exactly why I am crushing this market when most people are turned around and upside down.
My latest small account challenge was started just 9 weeks ago and I have taken a tiny little $500 account and turned that into $8,913.57… that's +1,682%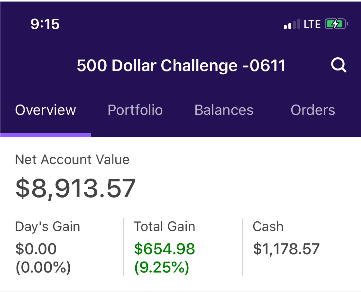 I'm pulling in big gains for such a small account… The returns are massive.
But I wasn't done with TPTW. As mentioned, if the trade set back up I would be ready for it.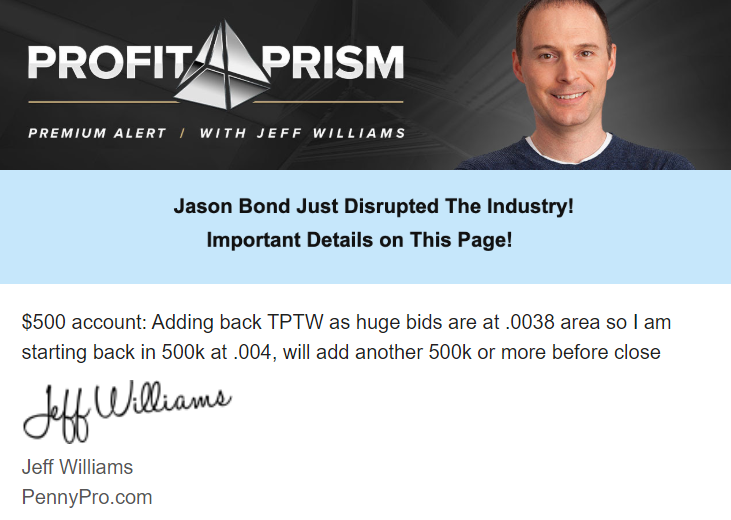 And coming back from lunch, the stock showed me demand was holding up going into the end of the day, so I jumped back in.
I was able to sidestep the risk of the mid day doldrums by taking my profits and just getting back in later when it set up again.
And what happened next?
When I woke up this morning, I grabbed another $550 for a total of $1,650.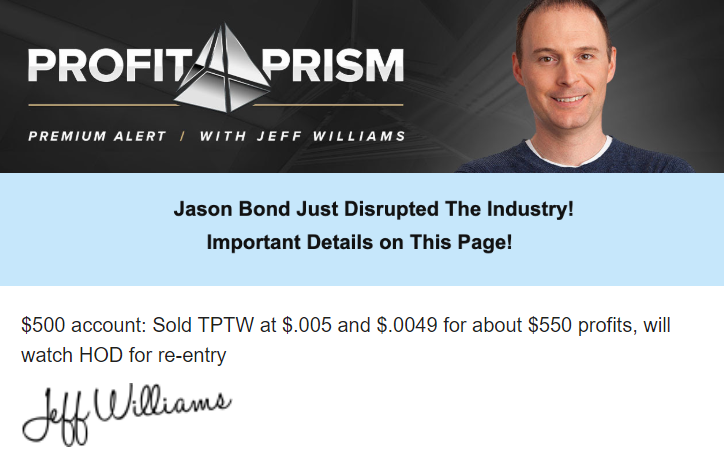 It wasn't quite breaking out, so again… I paid myself. So I put money in the bank, and I will continue watching to get back in if it does end up breaking out.
So while I don't know if the market is ready to rebound…
What I do know is how to make money buying stocks, even in this market.
If you want to trade but don't know how to get started, I have the solution for you.
My Profit Prism Platinum members have access to an enormous amount of learning materials.
And I'm not talking about fluff. I'm not here to waste your time, I am here to help you learn to trade.
I designed my learning materials to cut through the crap and give you what you need to learn to trade, the right way.
And with access to my live trading chat room, you will have access to me every day.
Join Profit Prism Platinum Today