As you know I always have a watchlist going into the week…
But the truth is…  I wrangle up a lot more than just a list of stocks. My watchlist also includes a detailed plan—outlining how I intend to take the trade, and where I'm looking at to get out.
Heck, if you're a paid-up subscriber, then go to the members section to get a detailed video breakdown of the watchlist and my top plays going into Monday.
If you're not a paid-up subscriber, and prefer reading about my victories, and how I've been able to take my latest small account, and juice it up by 144% in just nine days—then you're in for a treat today.
I am going to give you a peek at a couple of the stocks on my current watchlist—ones that I believe can become monster winners come Monday morning.
Here we go… two penny stocks ripe for trading this week are Adomani, Inc. (ADOM) and Fluidigm (FLDM).
Adomani, Inc. (ADOM)
Looking at the price action in ADOM, the stock has been in a 2 month long consolidation.
In early November, it spiked up over 100% in just two days on big volume… over the course of the following week volume dried up, getting lower each day as ADOM completely retraced the move.
But after retracing, the stock put in a consolidation with both higher highs and higher lows and stayed above the 50 SMA as support.
After holding the 50 SMA… in the last two days it held a step higher at the 20 SMA with the stock popping off the 20 on increased volume on Friday.
Looking to next week I will be watching for more increased volume on a move above .17 with a target in the range of the previous high and 200 SMA above .2 for 20% potential.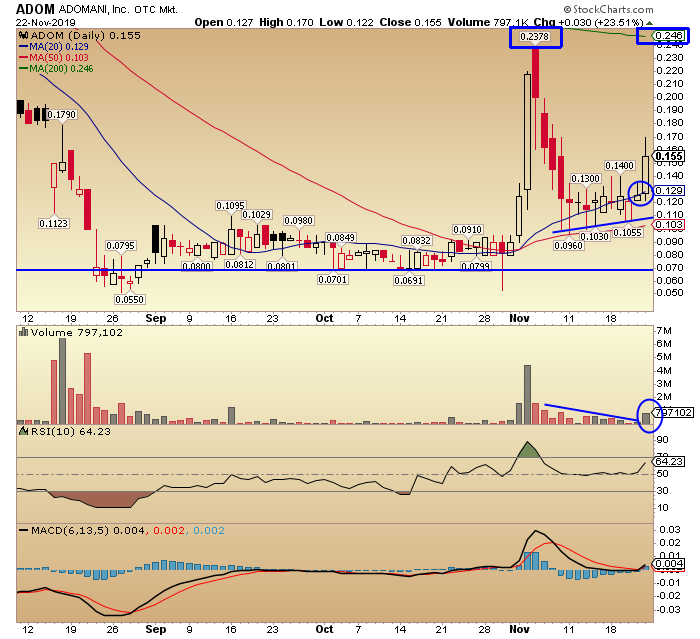 Fluidigm Corp. (FLDM)

Disappointing earnings caused FLDM to not only gap down, but to get crushed after the gap as well… I'm glad I don't catch falling knives because that's what FLDM stock looked like after earnings.

Since then, the stock has been taking a breather, consolidating above $2.

What I like on the chart starts with the hammer candle a couple days ago. There was a spike in volume that day as the sellers tried to push it down through lows and buyers stepped in holding it up…

The extra volume is a good sign as it shows there was a battle there… with buyers winning out…

The next day again not a huge move but from a technical standpoint the stock did close above the hammer candle and near it's day high, both bullish.
Friday it again closed higher than the previous day with a strong solid move up and again closes near the high of the day.

And that's where we are now…

What I am watching for in FLDM this week:
I'm looking for the stock to get above the high of the consolidation channel at $2.61… I would also like to see volume pick up on the move.
If it gets above there and we see more volume come in, we could see a move to the 20 day SMA in the $3 range. That would be a good target area for a trade.
After that we have the big gap… if the stock can break into the gap there is a lot more room to run on a gap fill, but when looking for a profitable trade we always start with the first area of resistance which would put us somewhere close to the 20 SMA.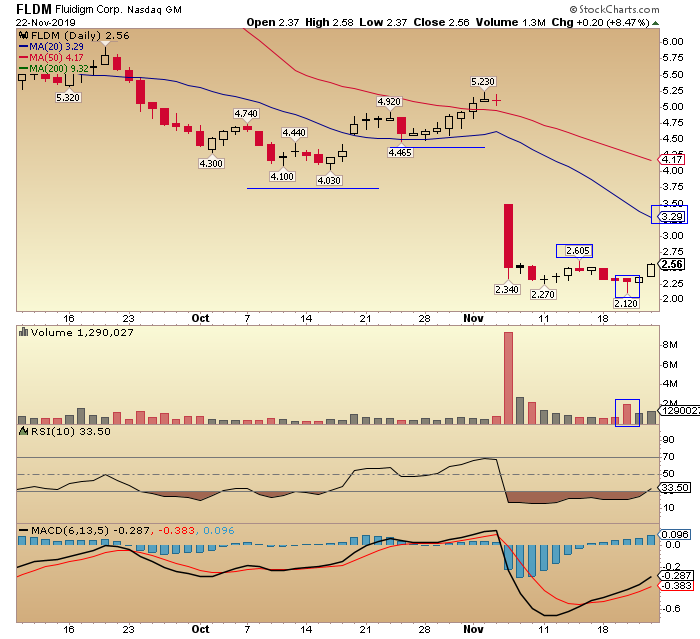 ADOM and FLDM are just 2 of the stocks I will be watching in my members chat room… but they aren't the only ones… this week I put together a video watchlist for my members with about 10 stocks to watch… the market is ripe with action for tomorrow…
If you want a deeper insight into what I see and how I trade them… Join me and get access to my live chat room where I walk members through my trades…
As a former teacher, I have the skill set to break down the complicated or unknown and make sense of it to even the most novice trader… and my members agree…
Nov 22, 10:40 AM
Zac J. — This chat room is the best. I've tried a lot of others and this is tops.
Love the training and diverse trainings you have in place.
Nov 22, 10:41 AM
Diana Y. — I have a Masters in math but this is the most education I have ever gotten for my money!
Nov 22, 10:41 AM
Bruce B. — as far as quality and quantity of information, your site is at the top of RB offerings
Get ready for the best stock trading education out there…