We are still waiting on an agreement for the next stimulus package and virus infections are at all time highs…which feels like the same story for months now.
However, with vaccines beginning their rollout and the holiday season ahead, nothing has been able to stop this market…so far.
And…as I spend every day actively in the markets, there has been no shortage of trade setups showing up in my searches.
Today I've scouted out a handful of chart setups that have potential and are worth putting some eyes on.
And I'll share them with you now, so you can see what I'm finding and learn about how I break a chart down.
ViewRay, Inc. (VRAY) designs, manufactures, and markets radiation therapy systems. The company offers MRIdian, a magnetic resonance image guided radiation therapy system to image and treat cancer patients.
After trending up recently, VRAY formed an ascending triangle over the past month.
Today the stock is breaking out, currently up over 15%.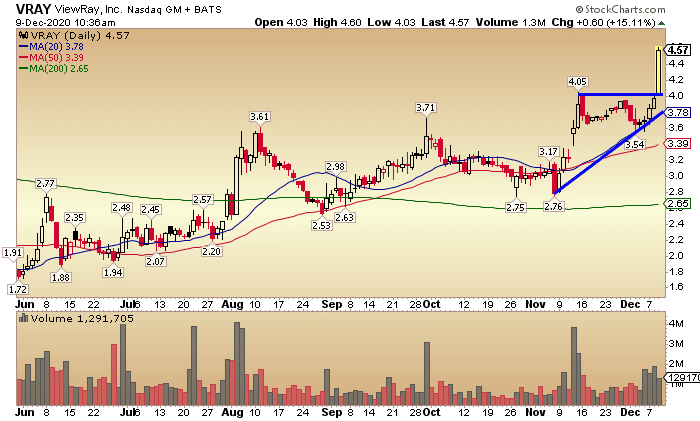 Westport Fuel Systems Inc. (WPRT)
Westport Fuel Systems Inc. (WPRT) engineers, manufactures, and supplies alternative fuel systems and components for use in transportation applications worldwide.
WPRT has been benefitting from the increased love of everything pertaining to renewable and sustainable energy.
After a big move up in November, the stock consolidated forming a flag pattern.
And today it is testing a breakout of the flag with WPRT currently above the top of the flag and up over 7% on the day.
I will have my eye on this stock this afternoon to see if it can hold the breakout or not.
And if it shows the strength I like to see into the close.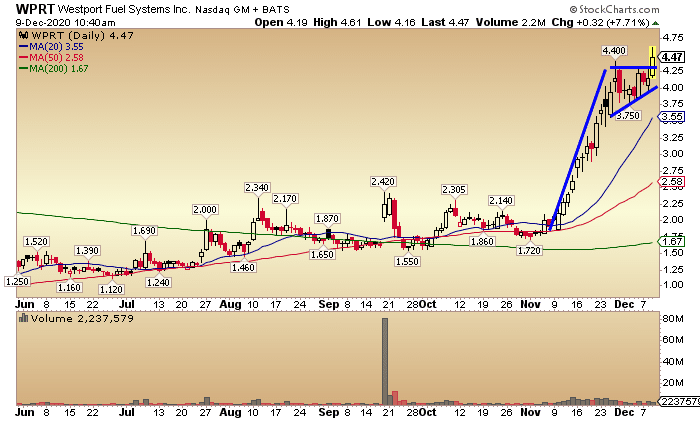 Ashford Hospitality Trust (AHT)
Ashford Hospitality Trust (AHT) is a real estate investment trust (REIT) focused on investing predominantly in upper upscale, full-service hotels.
So this is a stock that can benefit from a vaccine.
I'm looking at AHT again today as it continues its move up off of support at the 50-day moving average.
There has been a lot of options activity in the $5 calls, pointing to a potential move in the stock.
As seen on the chart it has tried to push that $5 mark 3 times in the past month, so the activity around that point is interesting.
And it also offers the next resistance level on the chart.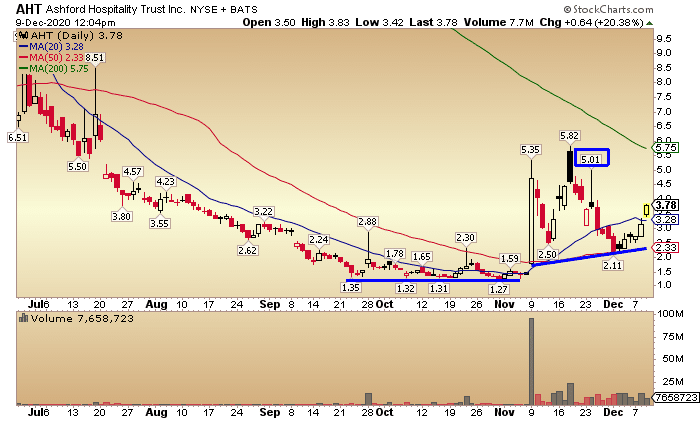 Remark Holdings, Inc. (MARK)
Remark Holdings, Inc. (MARK) develops and deploys artificial intelligence (AI) products and AI-based solutions for businesses in various industries worldwide.
And today the company announced the release of its edge computing systems, the S and T Series Smart Boxes, AI-based edge computing boxes equipped with NVIDIA's new generation of high-performance edge computing modules, with a smaller size and lower power requirements.
MARK is in an ascending triangle on the chart…with a try at a breakout today.
At the moment it has fallen back a little, only slightly above the consolidation…
But I'll keep an eye on it to see how it trades into the close.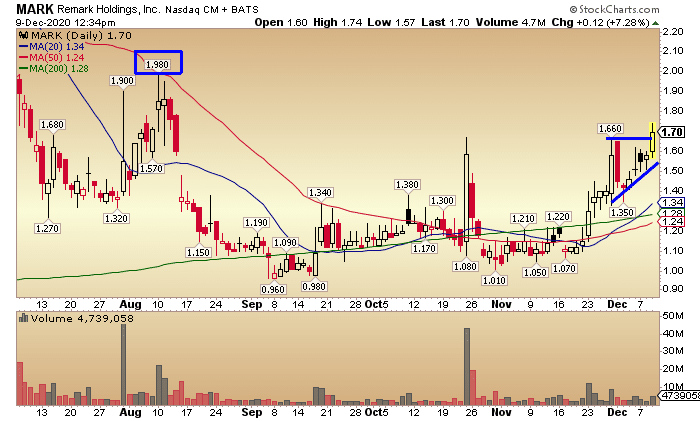 Waitr Holdings Inc. (WTRH)
Waitr Holdings Inc. (WTRH) provides online food ordering and delivery services in the United States. Its Waitr Platform and Bite Squad Platform facilitate ordering of food and beverages by diners from restaurant partners for pick-up and delivery through a network of drivers.
As a benefactor of stay-at-home life, the stock has been in a downtrend since reaching a peak in August.
But it found support on the 200-day moving after…testing it twice and then moving up.
Currently WTRH is trading in a stair step pattern, with higher highs and higher lows.
Today the stock broke above the previous high at $4.10…with the next chart highs at $4.60 and $5.21.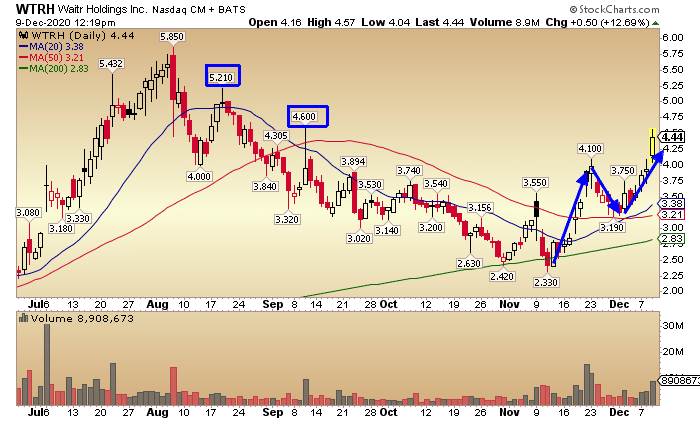 Teligent, Inc. (TLGT)
Teligent, Inc. (TLGT) is a specialty generic pharmaceutical company that develops, manufactures, markets, and sells generic topical, branded generic, and generic injectable pharmaceutical products in the United States and Canada.
TLGT broke out of a consolidation range on high volume yesterday…and closed above the 50-day moving average for the first time in 6 months.
Today the stock is continuing its breakout, currently up over 24% with the next chart high at $1.08.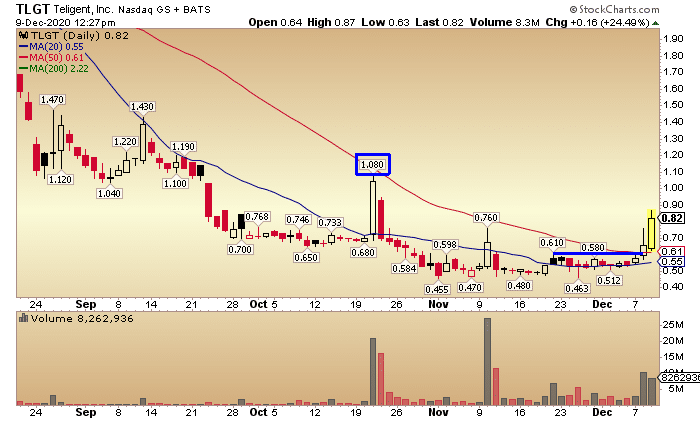 ---
Today's Stocks on the Move
CNET        +38%
ONCT        +26%
RCON        +23%
RAVE         +18%
FRAN         +18%
DS              +14%
CIDM          +12%
---
As always, never trade without a plan…including the setup, profit targets, stop losses, and proper risk management…
And always stick to your plan.
Professional traders don't make money on every trade…it's just not possible.
But they do know how to minimize the losses…and that's key to becoming a good trader.