So we got a bit of a deal with China. A deal that will lead to more sales of US goods and services to China. 
It's all good now…
I mean, isn't that what we've all been waiting for?!
As traders, we're taught to be skeptical…so if you're like me, you are asking… 
What's the catch? 
Well… while this deal eases some tensions between the two global powerhouses— the real meat and potatoes of the deal are nowhere near completion. 
It was even stated that they will start soon but… won't end until sometime after the election.
Talk about timing… I'm not saying it's a planned manipulation, but I will say… Why trade stocks when they are influenced by such random acts of whatever you want to call it?
I learned early on in my trading career that you can't trust the politicians, analysts, and other talking heads.
That's why I feel so blessed to be trading penny stocks—they trade on their own island—uncorrelated to major news that affects most large-cap stocks in the market.  
Don't believe me?
Well, today I'm going to show how to profit in the market while silencing all the noise.
My simple 5 step system breaks it down in an easy to follow fashion helping you make money without being out on a limb.
I never had to worry about if and when a trade deal would happen. And I didn't have to worry about what to do in the meantime.
I've made money through it all… including those dreadful times back in August… you know, from late July to late October when the market moved on crazy whims and everyone was losing their mess.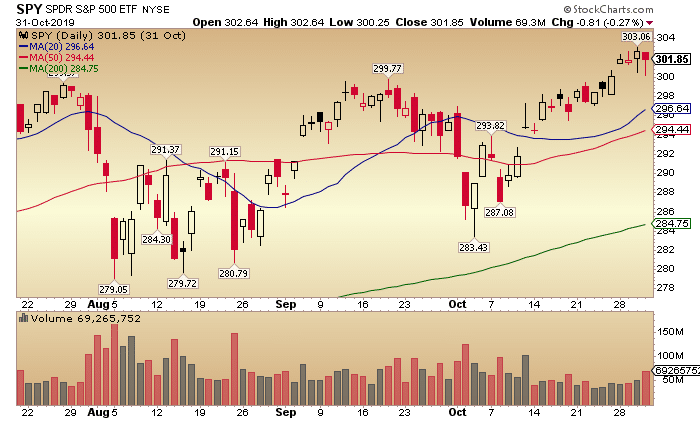 That's a mess of a chart. But what about me and my 5 step system?
I made a 900% return while people were losing their shirts trading back then.
That's right, I took a $3,000 account and turned it into over $30k.
And I'm going to show you exactly how easy it is with the two trade setups below.
Biocept Inc. (BIOC)
Coming out of a consolidation, BIOC forms a stair step. (one of my easy money-making patterns)
The stock then breaks above the consolidation range, pulls back while staying above the previous low… after which it breaks above the new high creating a buy for the next move up. 
Which is exactly what we do, capture the next move. Buy the break above the previous high and sell into resistance at the 50 day.
neal rad: BIOC profit out $275 on small position
calvin roo: Winning 10% on BIOC and 15% on CEI. Good start
mark mol: out BIOC .44 fr. .37 for 19% on overnight hold…..BAM
katie robert: Bought BIOC at 0.37 up 15%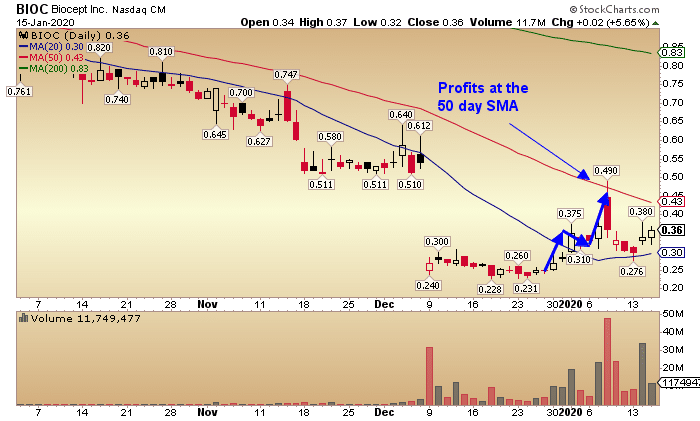 And how long were we in this trade?
This is exactly what I wanted to show you. I don't hold stocks long enough to even have to worry about anything… trade deals, elections, economic releases. They don't matter to me, or my profits.
The reason being, I don't have to hold them long and this is where my 5 step system comes in.
I find stocks that are ready to go. Buy at the right time of day (same time each day = easy to follow) and the profits are waiting for me when I wake up the next morning.
Take a look at the next trade in TBLT.
ToughBuilt Industries (TBLT)
TBLT made formed the same stair-step pattern as BIOC. And what happened here?
We bought the break above the previous high and cashed out for a big win the next morning… after a good night's sleep.
There is no better way to start your day.
dennis uy: TBLT +$265 for me jeff
dan sew: thanks jeff out of tblt + 16.1 %
matthew and: out most of TBLT up 30%. OCO order for last piece at .50 or break of .43. Great call!
charles bes: TBLT +1900
olavo mic: TBLT plus $650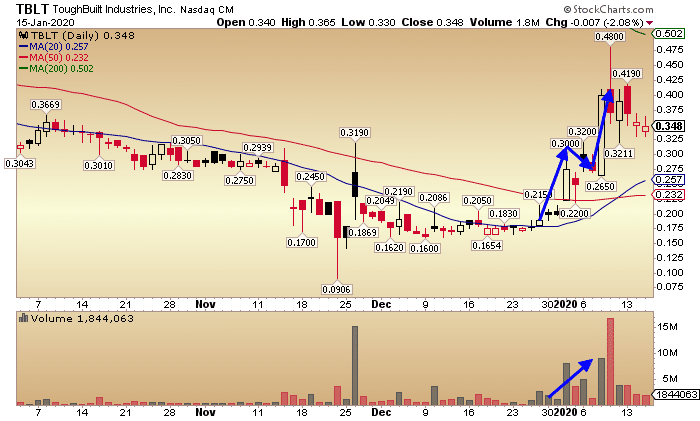 And that's it… I don't waste my time trying to figure out what our "rulers" are planning for us, for their own gain.
I don't worry about learning to decipher fed speak or spend time pouring through earnings reports, I have a very simple system that has me in and out of trades overnight.
Join spend any more time being a sheep…
Join Profit Prism Platinum Now