It happens every year, in fact a handful of times per year. The Holiday doldrums…
This is when trading volume dries up and great setups become scarce. As you know, the volume is an essential element that makes for a great trade…
Of course, this may make trading more difficult for some. But I believe it will work to our advantage.
You see, traders love action—without volatility they wouldn't be able to profit off quick moves in stocks. And if the rest of the market dies down, don't be surprised to see more opportunities in penny stocks.
There are thousands of stocks that we can trade— but traders will flock towards the action this week, most likely penny stocks.
I've put together the ultimate trading plan for this holiday week.  
It's widely known that volume is historically lower around the holidays… with good reason too.
At some point, traders need to take a vacation. It's that simple.
You think the big money managers are going to be hanging out the day before Thanksgiving making big market moving trades? Of course not…
They are going to be using some of their million dollar bonuses to have a nice family vacation, and instead gearing up for the end of year trading moves in December.
When they leave, the volume leaves with them.
I don't know about you, but I personally don't want to sit around watching paint dry.
One of my Thanksgiving holiday trading tricks is to be much more careful… at least the day before and after it…and especially if I intend to hold something overnight!

Volume dies off more and more each day going into Thanksgiving, so by Wednesday with most people traveling and getting together with family, you are probably more likely to make mistakes from boredom than anything else.
While we all love to trade, there are so many great trading days in the year… you may use the slower times to enjoy some time off for once.
It's great to chance to recharge your energy before the much better trading in December.
You can look at Thanksgiving week as the calm before the storm…
With data from the Black Friday shopping, a Fed meeting in mid-December, and end of year adjustments from portfolio managers… we can jump back in.
And you better believe that when I get back from vacation, I will be raring to go!
My other trick to trading Thanksgiving is really basic… Volume.
The first two days of the week I am still trading… and I treat it just like any other trading day… I stick to my setups.
As you know, volume is very important to my trades… without it, my trades are nothing.
In preparing for the week, have a look at the charts of some recent breakout trades below.
Below is a chart for ATRS:

The stock forms a tight consolidation after the gap up, with volume ramping up into the breakout above the resistance level.

When ATRS does break above resistance, volume really pops giving us a great sign that it's a real breakout.

Now check out KPAY: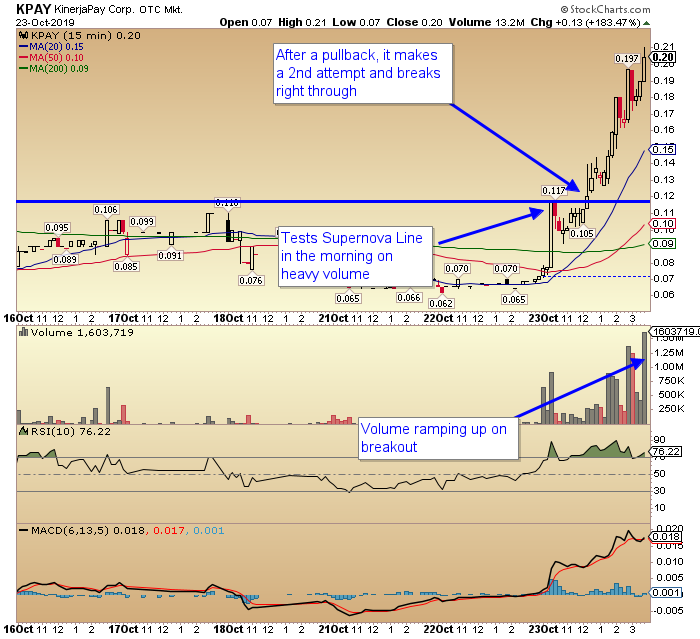 In this chart, again volume is ramping up as KPAY moves up to test resistance… and then ultimately breaks above for a nice move up. Look at the volume to the left on the chart…
Comparing it to volume on the right side of the chart to when the stock is breaking out shows what we are looking for in order to take trades with higher odds of a real breakout.
Oct 23, 2:22 PM
Glen C. — In/out KPAY .0954/.17 +78%!
Now look at the chart of BE below: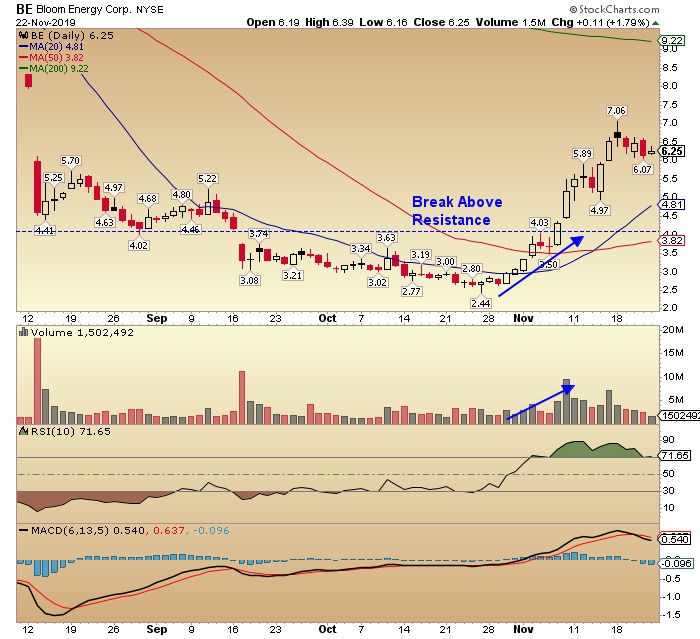 BE forms a nice rounded bottom. As the stock begins to come up to resistance, volume ramps up nicely… and as expected, we get a nice breakout play.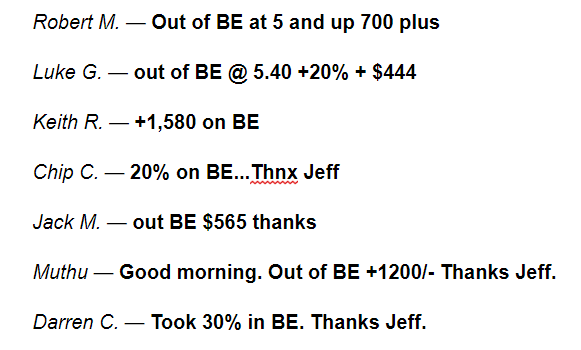 Every one of these charts is meant as a reminder of the importance of volume when trading!

Coming into the Holiday week, we need to be very aware of this as overall market volume will be slow…

The trick is to be prepared for lower volume trading ahead of time…

And be aware of it as you now are!

If I get a breakout on no volume, I am not interested in it… how can I expect it to follow through and hit my targets without enough volume to propel it?

Don't get caught in FAKE breakouts… keep a vigilant eye on volume.

So my two step plan for Thanksgiving week is to trade the first two days with extra care and emphasis on volume… and step two is to take time off for the rest of the week…

… coming back to crush the market in December as volume ramps back up…
With that said, enjoy the time off… and when you come back from the holiday, come trade with me and my team of members to accelerate your learning experience!
I started my most recent small account challenge just 10 days ago and my account is already up a whopping $4,300… considering I started with $3,000, that's a monster gain in two weeks…