Believe it or not… I can teach you a trading system that when it comes to returns—it knocks the socks off anything you'll get from an ETF or mutual fund.
You see, we've all been conditioned to view the stock market in a certain way.
Maybe you've heard this before:
The market is efficient…

Invest in long term…

You can't beat the market…

No one makes money trading…

Any of these sound familiar?
How bout all of it!
But what if I told you that none of it is true?
In fact, I used to think the same way. That is until I decided to find out for myself.
And now I see things through a completely different lens… it lets me see the stock market from an angle where money can be made… a profitable lens.
Still skeptical?
I'll prove it and make you rich in the process…
The fact is, we see the world through our own lens and our brain has fixed it to pick up only on what is familiar and comfortable…  to see based on what previous experience and information we already have.
Take trading for example, we see an impossible task because we have been conditioned to see it that way… because of that, our brain has fixed our lenses on that belief…
Once this conditioning has taken place it's extremely difficult, if not impossible to see it any other way.
The funny thing is, it's just not true… not in the slightest… it's only true for us because we see it that way.
We think it, therefore it is… perception is what creates our reality…
It's no wonder only 1% of people can make money trading…
Our brains have been wired improperly when it comes to beliefs about the market.
The way to change this belief is to not by altering our circumstances, but by altering the way we perceive them.
It's not too late to change your perspective and see the market through a new lens…
For example, to see the market the way I do…
When I started, my beliefs were no different than yours…
I was a school teacher brainwashed into thinking the only way to make money in the market was through saving and long term investing…
But I wanted to change my life… and I knew trading was the way to do it…
But how? When we are told it's not possible, how can we change our fortunes?
So I set off on an impossible journey… a journey that would change my life forever.
I set off to learn how to trade… I was running to my computer between classes and after the bell would ring… I was determined to make money in the market… I believed it could be done.
I went through rough times… it's not easy to learn on your own… but I was determined…
I studied, traded, lots of trial and error… and what happened next was unreal…
I was able to start pulling money from the market on a consistent basis… and that's not all… I saw the market differently…
Making money in the market was no longer an obstacle, it was expected…
And once I had this new perspective I never looked back…
After becoming a multi millionaire trading stocks, I began trading in small accounts to help people see the market through a different lens…
People who don't have a lot of money to start and think it's impossible to get anywhere…
In my past 3 small account challenges…
I turned $6,700 into $25,000… $5,000 into $16,000… and $5,000 into $35,000…
That's 275%, 220%, and an eye popping 600%…
Imagine if you started with $25k in my last challenge… you would have $175,000!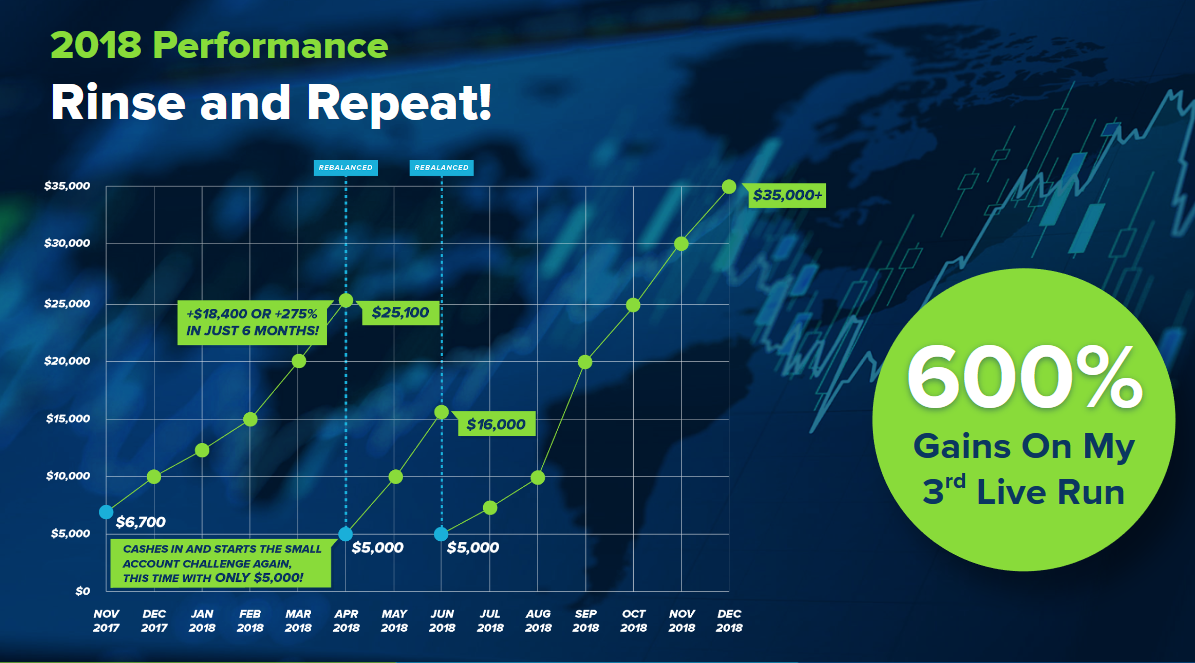 But that's not all…
In my most recent challenge, I started with $3,000 back in mid-June… and here I am, just 4 months later (as of 10/10), with $24,125 in my account. That's an unheard of 704% return…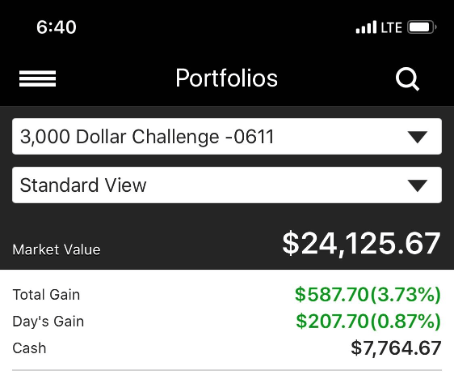 I told you I can show you the market through a different lens… Look at the market through my eyes and it will unlock massive profit potential for you…
Are you ready for the catch?
I am about to wipe my account and start over from scratch with my next small account challenge… I call it Rinse and Repeat…
You see, my goal in this challenge was $25,000 and here I am just 4 months later knocking on the door…
But as always, once I reach my goal, it's time to start fresh… and what better time to start a new challenge than with a few months left in the year… for one last end of year profit push.
If you want the chance to trade along side me and grab your own 25k payday… you better act fast because time is running out on this challenge…
And a new one is right around the corner… so get in before it starts…
I will change the way you view the market and make you rich in the process…