At this point, you've witnessed the fastest 10% drop from an all-time high in history, the fastest drop to bear market territory in history, the worst day since Black Monday 1987, and the worst week since the 2008 financial crisis.
Talk about a Storm!
But the truth is we see a big financial event every 10 years or so, and we have always come out stronger than ever.
That doesn't mean it's over. Far from, it just means there's no need to panic about the future.
And in the meantime, there are things you can do to come out on top.
I want to help you succeed at trading the stock market.
And right now you may be too worried to even get started.
Well, let me tell you this… if you can learn to trade now, you will be a stronger trader than most
when the fog of fear and panic lifts… which it will.
I've heard people talk about the best time to start a business being in a recession because it teaches you how to survive under pressure.
Well, I think the same could be said about learning to trade during market crashes and extreme volatility.
Learn now and you will be prepared and confident for anything the market can throw at you.
Convinced? Here's how to do it…
Learning to be confident is key.
So you're looking to get started trading and maybe you've been on the sideline for a year or 2 just waiting for the right moment.
What kept you away? Maybe it was fear, capital, or simply know-how.
And now that the market is crashing and swinging all over the place, it's probably scarier than ever… no way you should start trading at a time like this right?
Wrong!
This may actually be the best time to start trading.
There is no better way to learn to trust your strategy and trading skills than trading during a rough market.
Over the years, I have learned to make money in any market.
The real difference when things get rough is that you need the emotional skills to stick to your strategy and trading plan.
You'll learn to kick fear and greed to the curb and instead take profits and protect them.
Think about it like this.
If you start when it's easy… you can make mistakes and still pull a profit.
But you end up with weaknesses because you don't learn to correct the little mistakes.
If you learn to trade right now, you will be forced to fix mistakes from the very beginning.
And with that, you will be a stronger trader coming out.
It Starts With A Strategy
I have been trading for a long time.
And one thing I have learned about trading strategies… the simpler the better.
I use a few key setups and basic technical tools to choose my trades.
And keeping it simple to run, I even created an easy to run scan that narrows down 1000's of stocks to a handful of candidates meeting my criteria.
This lets me zero in on my patterns quicker and focus on what's important. The pattern and price action at the close.
Learn The Fundamentals
With Profit Prism Platinum, I provide all the resources you need to learn what's important with none of the confusing excess. You aren't trying to get a master's degree in technical analysis here.
In fact, one of the reasons it's good to keep it simple is to keep you away from analysis paralysis.
If you want to make money, keep it simple. There's a reason this works.
I look for stocks where demand is pushing the price higher… and I simply capitalize on that. The end.
Don't waste your time trying to learn some crazy complicated system with 7 indicators and a magic eight ball.
With a few simple tools and basic patterns, you can learn to trade the right way.
Mentorship/ Live Coaching
My Profit Prism Platinum chatroom is where it all goes down.
I'm in there every day, walking my members through each and every trade. 
Chart patterns, how to use the scanner, how I decide which trades I am going to take, daily lessons on an assortment of topics, and answering any and all questions that members have.
As a member, you will receive txt and Email trade alerts… but a benefit of the Platinum membership is you can also be there in the video chat room as I take my trades.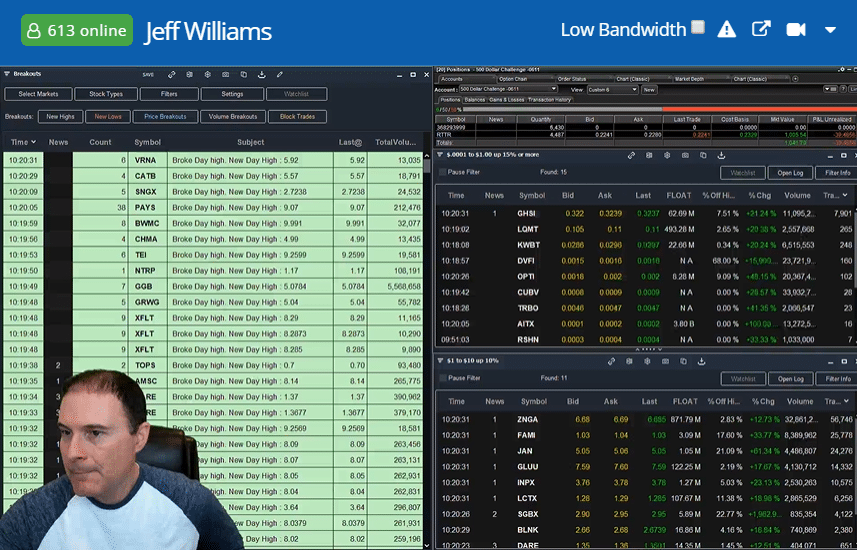 And that's not all… there are plenty of stocks with good setups each day. I may take one or two… but my members don't always take exactly what I do.
After learning to trade, they may decide they like one of the other setups better, maybe it fits their style or comfort level better… or they may even find completely different trade on their own.
What you are getting in the chat is priceless. Every one of my members is active and talking about what they see.
They ask questions and I'm there to answer. Repetition is key… and you will see a lot of that because I keep it simple. So as you learn, you will get more and more confident to trade.

And in an environment like this, you will gain a skill set from the very beginning that will help you when it comes to good and bad trading conditions.
Fake it Till you Make it
You don't have to trade with real money starting out..
I get that you may be scared of the current whipsaw market conditions. If you were hesitant during the longest bull run in history. Then you are certainly going to be nervous now.
But you don't have to be. Use a fake account and learn with me and my members. Full support from everyone.
And when you are ready, take your account live… and start small.
You don't need a million dollars to start. Heck, you don't even need thousands.
I started my last small account challenge with just $500 and it's sitting in the thousands after just a couple of months.
Keep it simple and work your way up.
Strategy Preview
Take a look at my strategy and why it works in any market environment. Then decide if it's a good time to learn. Then check out this link to get started.
Take a look at PCTL.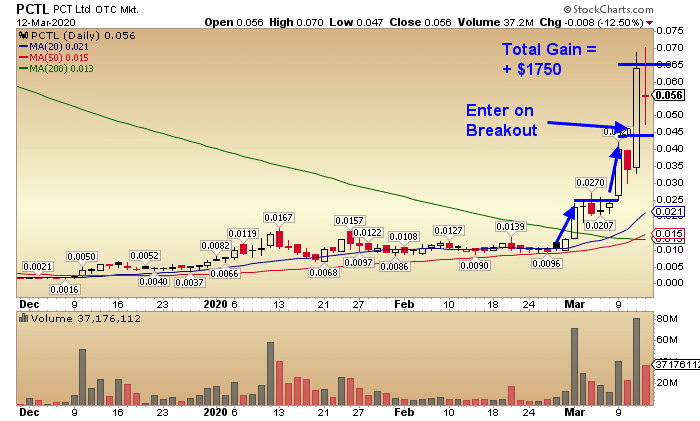 What was the market doing while I was making $1750 on PCTL?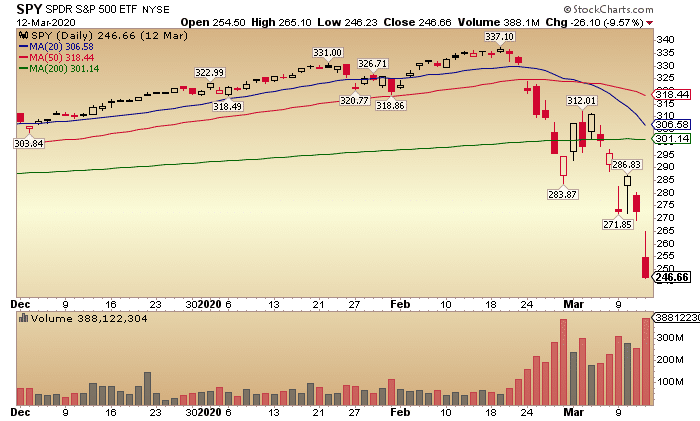 While the market was getting a beat down, PCTL was making a strong move up.
I got in on a break above the previous high and took a quick profit only to enter again holding it overnight.
The next morning, the market again was opening on a Huge Gap Down and I was able to grab a gain from my overnight hold on PCTL before it retraced.
Thus bringing my total gain on the move to $1750. Not bad for a quick move up while the market was crashing.
And I'm not the only one making money on these stocks.

Trading isn't rocket science. But it does take work to get ahead.
And it takes a lot of emotional control, especially when the market is moving a thousand-plus points per day in opposite directions.
Final Thoughts
Starting a trading career during major market volatility can give you the confidence to trade going forward, under good and bad conditions.
Plus give you the added insight into any adjustments you need to make during market crashes, along with a mental fortitude that may take most traders years to develop.
If you can master a few simple tricks and techniques, you can learn to trade now and be prepared for any environment.
There are stocks that are ready to explode every day.
With the right patterns and a read on supply and demand, you can make money trading them.
Don't waste another minute of your life not learning how to trade.
It changed my family's life and it has the power to change yours as well.
Join Profit Prism Platinum and get started down the path to enlightenment.