J.C. Penney (JCP) may be ready for a pop… and I'm going to tell you why.
We are all familiar with J.C. Penney and its many retail outlets… and back in its day… before Amazon took over the world… it was a powerhouse.
When is the last time you were in a J.C. Penney store?
Most people are shopping online or shopping at the discount stores like Marshalls and T.J. Maxx these days.
And when it comes to makeup, for which Penney's has relied heavily on Sephora, it's feeling heavy pressure from Ulta—with its ability to draw younger shoppers with the Kylie Jenner line.
Clearly none of this bodes well for JCP's stock price, which is barely floating above a $1 per share…
However, there is something that many of the analysts simply can't see. And it's a strong reason why I believe JCP could be set to take off from here.
Facts of the case:
Debt – J.C. Penney had $1.7 billion in free cash flow to end the 2nd qtr 2019 (reported Aug. 15)…
However, they have roughly $4 billion in debt coming due over the next few years. Not good…
To make it through the holiday season to help with the turnaround efforts, they are talking with creditors to ease the debt load.
Lower losses – J.C. Penney reported a 

smaller-than-expected quarterly loss in the 2nd qtr

… reduction in excess inventory and reining in permanent price markdowns, among other measures helped to offset still sinking sales.
Holiday season – if they make it to the holiday season, we could see some 

buying/speculating coming into the holidays

…
The Real Reason it could Pop:
Listen… no lie, all of the facts listed help me understand the underlying pressure on the stock and what the company is doing etc.
But there are 2 things I am really interested in…
The first, as listed above, is the potential for speculation going into the holiday season…
And the second and most important reason to be watching a dog like JCP…
—- a stock like J.C. Penney is likely to have major insiders that want to keep this thing from being delisted, in which case they need to keep it above $1.
Let's be honest here… when we talk about the chart below… how do you think it walked into the pump that put it's share price back above the $1 mark in the first place?
So I am definitely going to keep an eye on this for more potential manipulation…
So what's the play?
The truth is I'm not here to speculate on the long term value of a stock like JCP.
What I am looking at is the potential for a setup to grab some money and run…
Look at the chart below. This is a trade I took back in September.
When JCP broke my Supernova Line, I bought it at the end of the day and I took my profits when it gapped up the next day.
These are the setups I look for everyday and trust me, there is no shortage of them… there are more than I can even take…
That's why I like to narrow it down to the very best each day…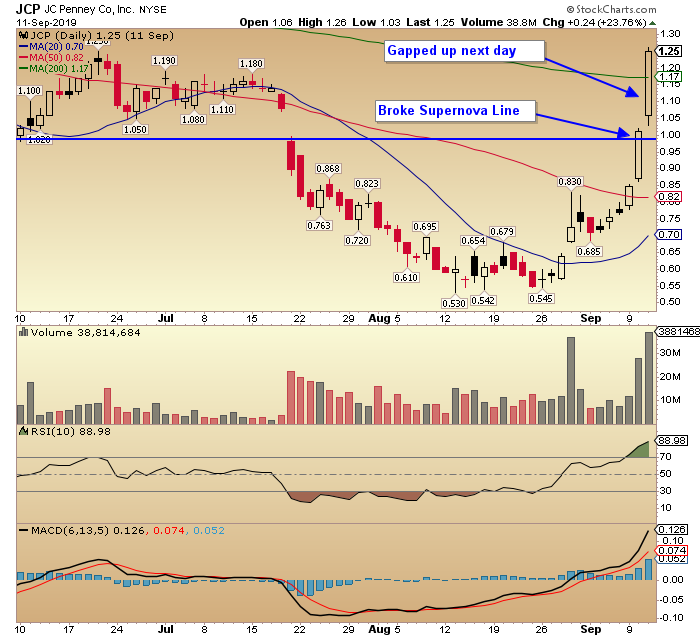 Now look at what the stock has done since then…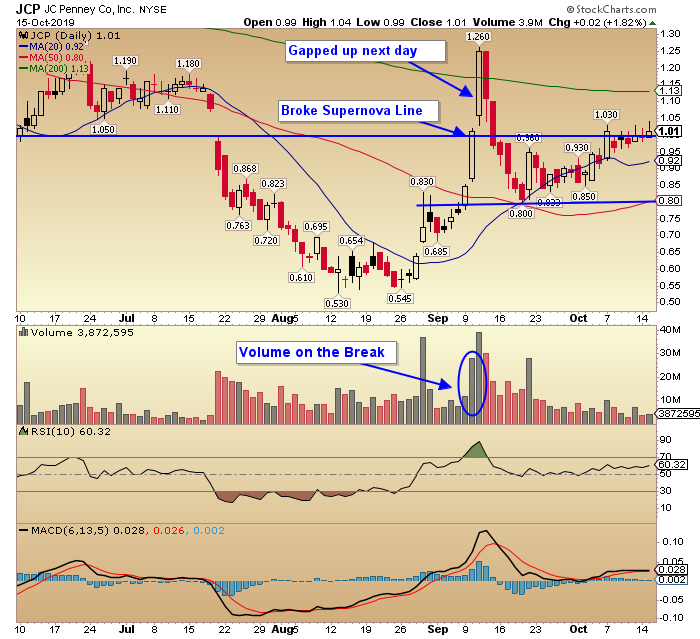 That's a pretty good graphic to illustrate why I take the money and run…
After the trade, the stock traded back down below the Supernova Line and found support at the previous breakout point.
Inching back up, now it's trading right at the Supernova Line again.
Now there hasn't been any volume on the way back up, so I am not in a trade right now…
You see volume is a major part of trades like this…
So while I am not trying to invest in JCP as a turnaround candidate… I am, however, watching for another great Supernova Boost setup to make a big return overnight or even over a few days…
But first I need to see the right chart setup and increased volume…
Then I will pounce… like I always do… and so will my members…
Sep 11, 9:01 AM
trevor whi: Thanks Jeff – just sold JCP for a $900 gain
Sep 11, 9:55 AM
neal rad: JCP 225.00 profit thanks Jeff
Sep 11, 9:54 AM
michael lon: I sold out of JCP too, at 1.07 and on Yuma made 100% yeah, got out too soon, but like you said, take profits when you can
Sep 11, 9:49 AM
tony bre: Got my 10% on JCP
It's not too late to get in on the next JCP setup… along with all the other setups I find at the end of each day… stocks that are ready to gap up and give you profits overnight…