You've seen all the wild action in the stock market, it's been going on for a while now… but how do you make sense of it?
Regardless of headlines… being that stocks move based on supply and demand, it all boils down to buyers and sellers duking it out. 
But how do you know which side you should be on?
One simple answer… volume is providing the map, all you need to do is read it.
I am going to walk you through how to read the map, so you can always be on the right side of this wild market…
Analyzing volume can help you determine the strength or weakness of a price move.
When a stock is moving up or down in price, the strength of the move can be determined by the volume for that period. This is because traders put more significance on stock moves with higher volume attached…
Why?
High volume suggests a heightened interest in a stock. So when a stock chooses a direction on high volume, it is often viewed as a signal of strong momentum in that direction.
As you can see in the chart below… The increased volume in the stock is coupled with a price move down. The volume is confirming the significance of the move and trader confidence in the direction of price.
And with that, the stock made an extended move down…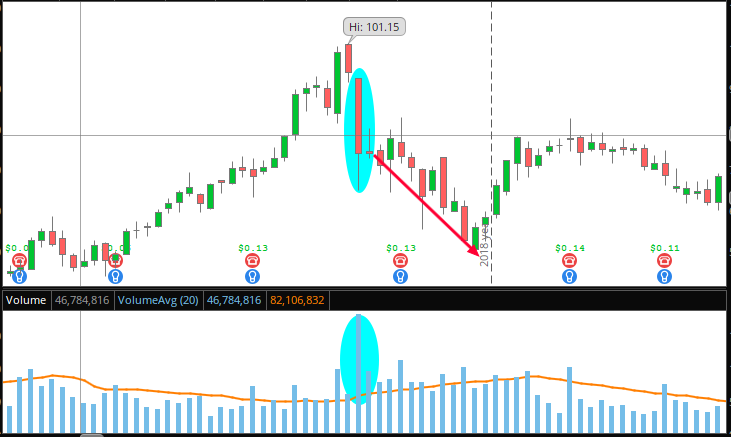 Causes of Volume Spikes
The volume of a stock is usually higher around news or other big events. 
This is due to the new information being released.
Investors then have to factor this new information into their trading plans creating more transactions than usual as they adjust their portfolios.
Examples of high volume events:
Earnings reports

Product announcements

Mergers and acquisitions

News relevant to a company's operations

News that affects competitors or a whole industry
Traders can use this spike in volume to take advantage of the volatility, so it can be a good idea to keep an eye out for these types of events.
Using volume to in trading
Stock volume is loaded with valuable insights into the movement of stocks. Unlocking this value, however, takes practice.
Being able to put volume into perspective is key. Average volume does just that by providing a reference point.
Using the average daily volume, you can get a better idea of the significance of a change in volume… 
If a stock has an average daily volume of 9.3 mill and suddenly trades 61.2 million shares, that's significant… time to open your eyes.
Visually you can see this by overlaying the average volume line in the volume window of your chart.
Comparing current volume to the average volume is the simplest way to find trading interest in a stock.
Here's how I use it in my trading:
I have overlaid the volume bars (blue bars) in my charts with the average volume line (orange line), to show you how easy it is to spot when a volume spike is significant…
Now you can see when the blue volume bar is in the range of the average line, or way above it… I trade when it is spiking way above the average line… letting me know the moves have significance…
I labeled my Supernova Line in the chart of HMNY below…
When I see a break above the Supernova Line coupled with significant volume increases above the average… that's when I want to look for an entry…
Now here's the other trick when trading penny stocks for these quick overnight moves… I also want to get out on the large volume spike as well…
You see the increase in liquidity is our chance in and out quickly for massive gains… you don't want to be the person holding the bag when everyone else is gone.
As you can see these are quick moves… I enter when I find the right setup on volume and I am exiting the next morning on the continued increase in volume… before it's too late.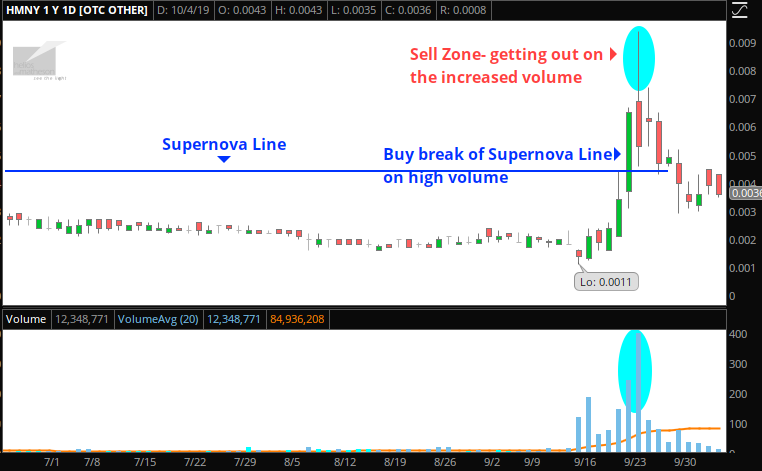 Here's another example trading CLSI:
In CLSI, I got a break above the Supernova Line on great volume… and again an exit the very next morning…
As you can see the volume the next day dried up quicker than in HMNY, however, there was enough momentum to get to my target first thing in the morning…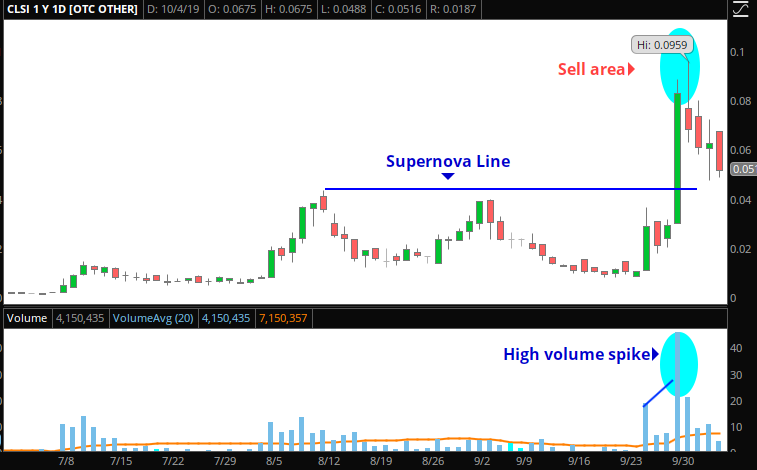 Both of these trade setups show why you don't just want to get in on the volume spike… you also want to get out on the volume… 
Once the volume dries up, the trade is over and we look for the next setup… whether in the same chart later or a new symbol.
There is no shortage of these setups… this is my bread and butter trade and if you want to learn how to find and trade setups like this, you can get everything you will ever need to know from me… along with trade alerts, so you can join in on the massive overnight gains I am getting on the daily…
It's quick and easy each day…