An often overlooked yet powerful piece of information when it comes to trading is as simple as knowing how a stock closes (trades at the end of the day).
Is the stock strong and closing on the high, or is it falling back and closing in the middle of the range?
You might think who cares, as long as the stock is closing up.
I get it, it can be frustrating to miss a move or a portion of a move.
So when stock starts moving in the morning, you want to jump in right away.
If the stock stays strong all day then great.
But when it doesn't, well that can be downright depressing. All you had to do was be patient and wait for more confirmation.
Today I want to share another little trick I have found to put the odds in my favor.
And it's as easy as paying attention to how a stock is closing the day.
I use this little known technique as part of my strategy to find the stocks that are most likely to make a continued move the next morning… allowing me to grab profits overnight.
I'll show you exactly how I use this little trick with a trade I just took last Monday in T2 Biosystems, Inc. (TTOO).
This is one of my favorite setups in the market, the consolidation breakout.
There's nothing complicated about it.
In the chart below, TTOO is trading in a consolidation range (between the two blue horizontal lines).
This just means that it is trading in a defined range between support and resistance as seen in the chart. Basically it's a period of indecision.
It's a chance for the stock to catch a breather while investors jockey for position in the next move. It could be building demand for the next move up… or vice versa.
For a long trade to set up, TTOO needs to break above the range.
Which happened on Monday.
Another key to trading a breakout is volume. It's really very important to this type of trade.
When a stock moves on strong volume, that is letting me know there is real demand behind it.
So I want to see a spike in volume when the stock breaks out of the range, as seen in the chart of TTOO below.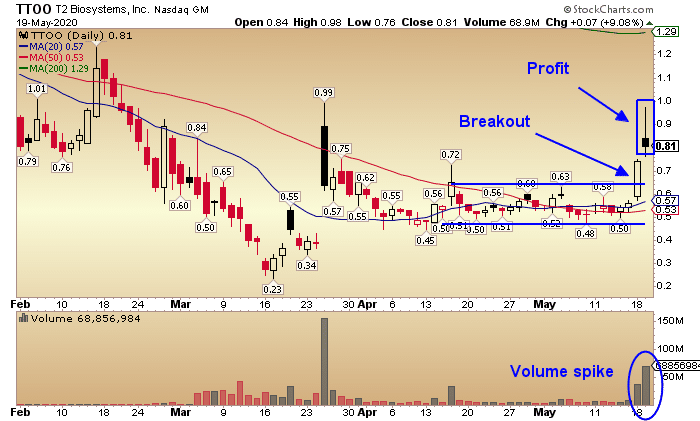 There's got to be something more to it right?
Now look at the next chart below.
I marked two more times where the stock had a spike in volume and a nice move up.
But for some reason it didn't follow through the next day.
This brings me to something I always keep my eye on… how is the stock closing.
Look at two days where the stock didn't follow through. Where TTOO close on those days?
On the first day marked, the stock closed way down. And the second I have marked, it pulled back at the end of the day to close in the middle of the range.
Why is this important?
If you think a stock is going to be up tomorrow morning, are you going to sell it the day before?
No, of course not.
So when I see a stock closing strong, as TTOO did on Monday, I know people want to be in that stock.
And that ups the odds of the momentum continuing into the next morning.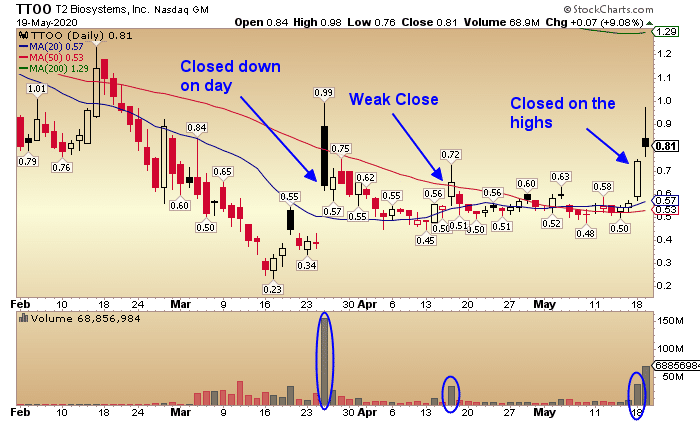 Let's get a closer look at this:
In the 15 min chart below, you can see volume ramp up in the morning as TTOO began to break above the consolidation area.
But I'm not buying yet.
Like I said, I want to be in a stock that other traders still want to be in at the end of the day.
So after an expected pullback in the afternoon, TTOO starts to make a second move up.
And the strength is as clear as day, with the stock closing near the high on increased volume.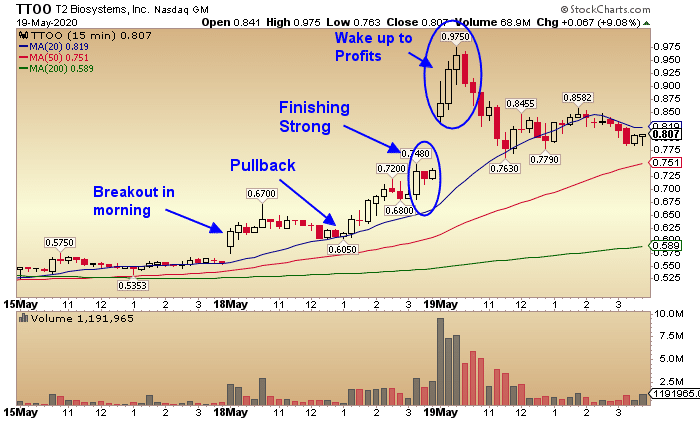 This is what I want to see.
So I grabbed my shares and sent my members the trade alert.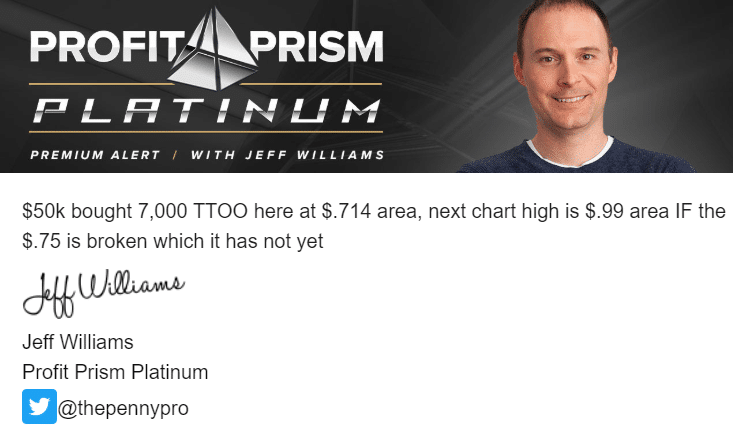 And the next morning I was grabbing $1,025 in profit.
There is nothing like a good coffee and green trade to start your day.
That's why I pay attention to the strength of a stock at the end of day.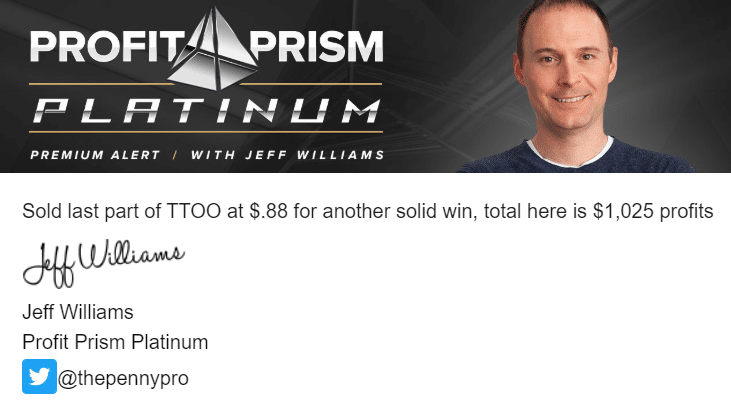 My members didn't do too bad either.*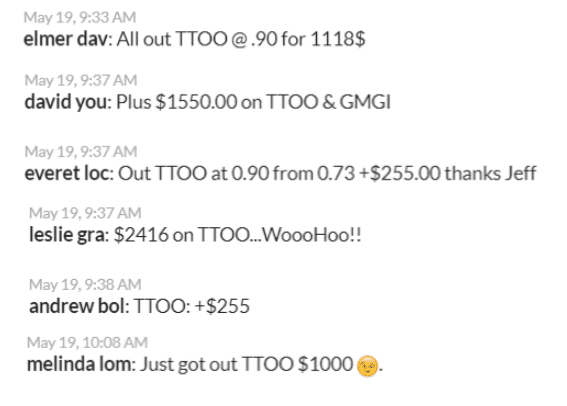 If you want to learn more about the strategies I teach my members and use myself to take small accounts and turn them into something real, check out my getting started guide.
You'll get all the information you need to get started on the right foot and more.
And if you're ready to jump in and start trading, get all the tools and guidance you need…
Join Profit Prism Platinum Today